It's overwhelming at times isn't it?
Those days, those days longing to be a parent, they're long gone and now, now you've found yourself here. In the midst of motherhood. At times feeling like you are drowning in things that once looked exciting, cute, and fun. Sure there are the fun moments, the moments that look like the Pampers commercial that you helped pay for with your years of purchasing diapers, but often, often motherhood, and motherhood in the midst, is a great deal of surviving through the day.
And sometimes we forget that those feelings of surviving are in fact moments of thriving.
Moments of discovering yourself, of getting stronger, and honestly, changing the world just a teeny bit day by day. So today, today I'm sharing with you six truths to remember on those days when you feel like throwing in the motherhood towel for a moment.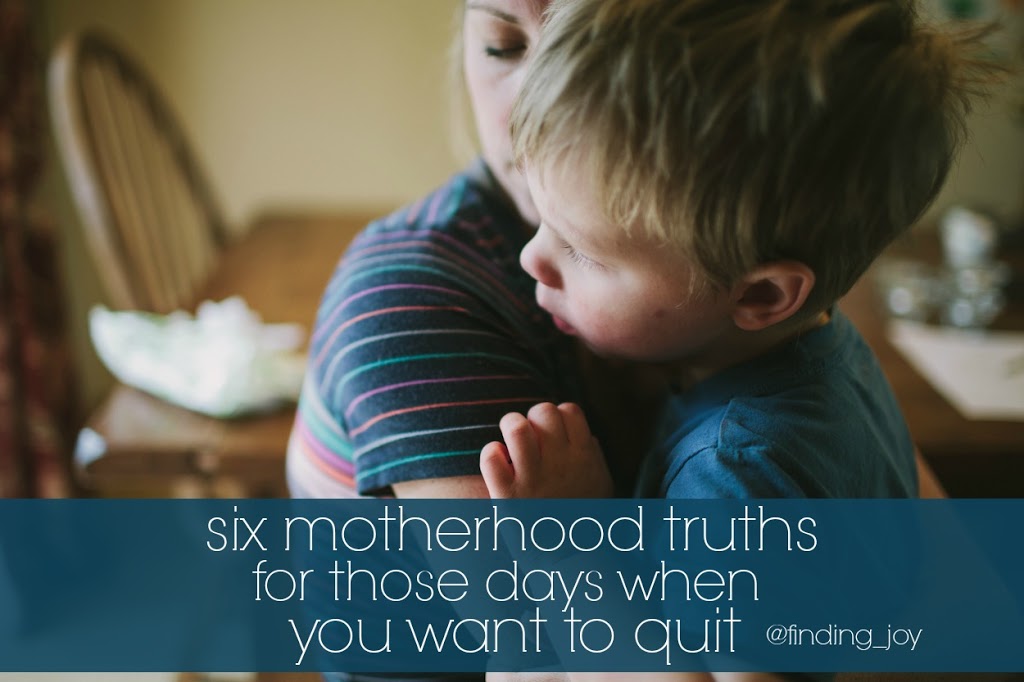 Here are six things you must remember during those motherhood days.
1. Throw the idea of failing out. (read Dear Mom Who Feels Like She is Failing)
So you had a bad day – that doesn't mean you failed. It is a day. Or maybe a week. Or a season. But seriously, there is not all bad in everything. It's perspective, truly.  Maybe your birthday party was just ordinary with not one hand made item – not failing. You bought the juice boxes with the high fructose corn syrup and brought them to soccer – not failing. You forgot to sign them up for dance – not failing. Your child was the one screaming at the checkout line because you wouldn't purchase the $3.99 Little Pet Shop that was placed at convenient preschool level – not failing. Normal, really.
Yet, you and I, we live in a world where all of these externals could so easily grade us as mothers. Seriously, now, sweet mom, do those things really matter? No. The grade of motherhood isn't based on external perfection. True failure happens when one quits. You're up now. Reading these words. And as you read them you, the mother, are a warrior – a silent diaper changing nose wiping picking up books folding socks driving to soccer making dinner with nothing in the pantry warrior. That's not failing. That's fighting.
2. Even if you're not thanked what you are doing matters. (read Dear Mom this is Why You Matter)
This. Again. You may not be thanked. You may feel that what you are doing doesn't matter. You may feel that you are not valued. You may feel like those kids of yours hate you. You may feel like you're in the midst of the most thankless job around. But, here's the deal – what you do every single day matters even though often it feels like not much. So I'm telling you today – thank you. Thank you for getting up at night. Thank you for helping with math homework. Thank you for counting to ten when you wanted to scream. Thank you for saying I'm sorry after you got too mad. Thank you. I stand up and I applaud you and all the other mothers that read this site applaud you. You are amazing.
3. You will never be the same. (read 13 Mom Truths)
It is impossible to make it through motherhood without being the same. Impossible. Motherhood means giving of the heart and investing in the heart of others and in that process a beautiful metamorphosis takes place. You're still you – with all of your beautiful gifts and dreams and desires and talents – but now you've adapted to take those gifts and to combine them with the beauty of motherhood. Yes, the beauty. Even though often it doesn't feel beautiful. It still is. One painting, one hug, one chocolate chip cookie batch, one buckling up in the carseat, after another day.
Don't lose the beautiful premotherhood part of you. Continue to cultivate it and let your children see you thrive as well. So you love art? Paint. Gardening? Garden. Reading books? Read. Running? Run. Teach them your skills, tell them about what you love, and explore life together. Motherhood isn't about losing self instead it's about growing self and sharing self with those children blessed to call you mom.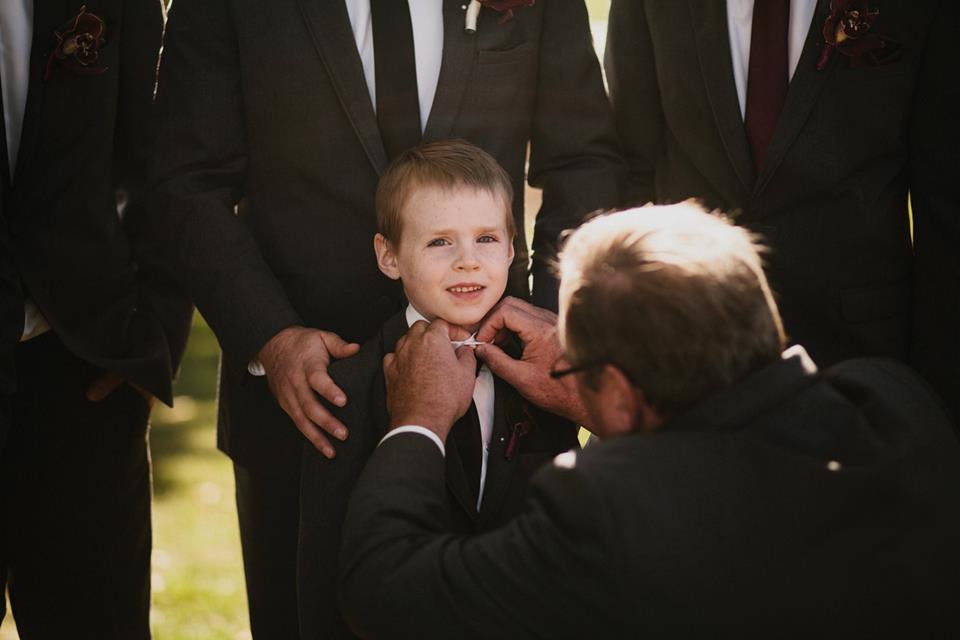 4. The ordinary moments are the most beautiful. (read Seeing Motherhood: Why the Little Things Matter)
Little things matter. If there was one thing I'd want to tattoo on my arm as a reminder to me it would be those words. Or, lol, maybe I should just get a shirt or a coffee mug instead. But, here's the deal, sweet mother who needs a reminder today about the value of motherhood – the little moments matter. And often the most. Do you know what I remember about my mother? I remember a time where we sat in the kitchen after cutting corn off the ears because we were freezing it and she looked at my dad and smiled and loaded us all in the car and we went to Dairy Queen. And then once there, when I got ready to order my standard cherry dilly bar she looked at me and told me to get whatever I wanted. I remember – that peanut buster parfait was my favorite one ever. She probably doesn't. But, I do. It was a little thing. A little moment. That has stuck with me all these years. As does the time she put a note in my second grade red Tupperware lunch box with the individual boxes that now would be incredibly cool even though I always wanted one of those tin ones. The note said I love you Rachel. Have a good day. And I remember it.
So savor those little things. They matter. The little notes. The hugs. The times spent resting in the grass looking at the clouds. The times in the car where you listen to their music and try to appreciate what they love. They matter.
5. Everyone's motherhood story is different and yet all equally important.  (read the mom confession)
Your story is different from my story which is different from my neighbor Maria's story which is different from the mom at your preschool's story and on and on. And that is beautiful. And important. Embrace each other's stories – don't compare – but instead learn to celebrate. Maybe you are a horrible cook but fabulous at gardening. Trade. Bless each other.  You provide the veggies and she the meal. That's doing life together. We can't do everything perfectly. And honestly? Perfection would get old. There is beauty in imperfection.
Motherhood in reality is living in imperfection. There are spills, fights, lost homework, meals that are totally disliked, days where a shower seems like a gift, deadlines, and more. But there are also hugs, I love you's, moments where you watch them sleep and just breathe, and times of bliss. Mine will look different than yours. But they're both beautiful. Celebrate each other's story. Don't compete.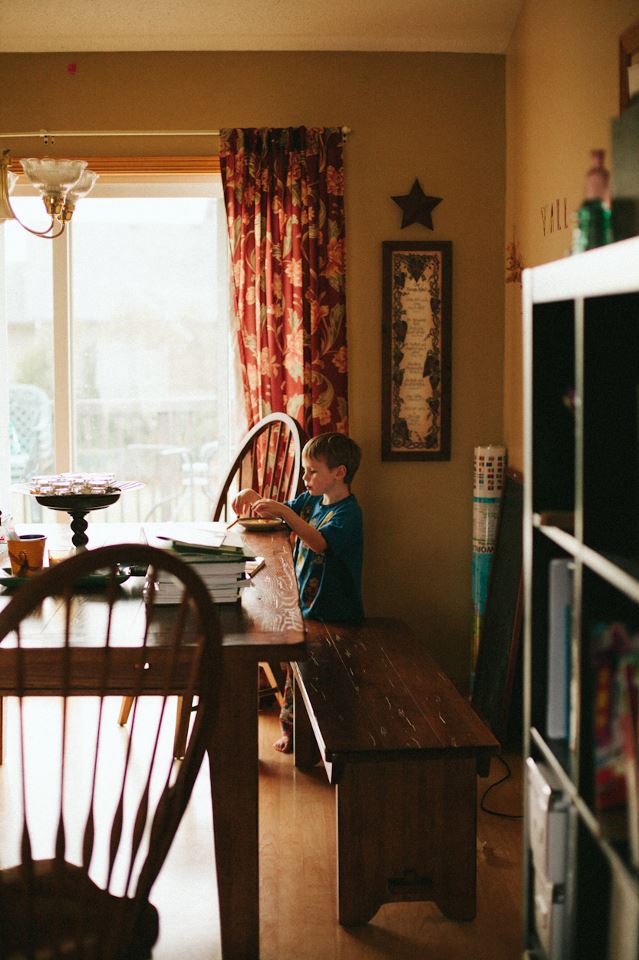 6. Moms are heroes. Real, everyday heroes. (read Why Moms are Heroes)
A hero, according to Merriam-Webster, is one who shows great courage. When you stepped into motherhood you demonstrated great courage. No longer was your life centered on you, but now, your life is a beautiful example of giving. Of fighting for your children. I know you fight dear mother. Some of you fight for their health, for their hearts, for their time, for them to go to bed, but whatever you do you fight. And that matters. That's part of being a hero.
You're a hero when you get up when you're exhausted. You're a hero when you give of your food for them because they're still hungry. You're a hero when you try to do those pinterest crafts (for real). You're a hero when you forget your agenda and sit on the couch and read. You're a hero when you fold those clothes after they're all dumped out again. You're a hero when you want to quit and you keep fighting. You're a hero. And when you feel otherwise, take a moment, and look at all you do in one day. And then remind yourself that you, as a mother, you are truly amazing.
Six truths.
For moms. In whatever stage of motherhood you find yourself today.
Onward, brave mother. Onward.
~Rachel
Looking for a reminder of your own bravery? I hope you read my book The Brave Art of Motherhood. You can get it Autographed or on Amazon or at bookstores near you.