I thought I was invincible.
I thought I had it all together and could stay on top of everything. I mean, after all, this was the week where I wasn't behind on laundry and the crockpot was utilized and the kids weren't late.
And then in the quickest turns of events, I found out again, I wasn't.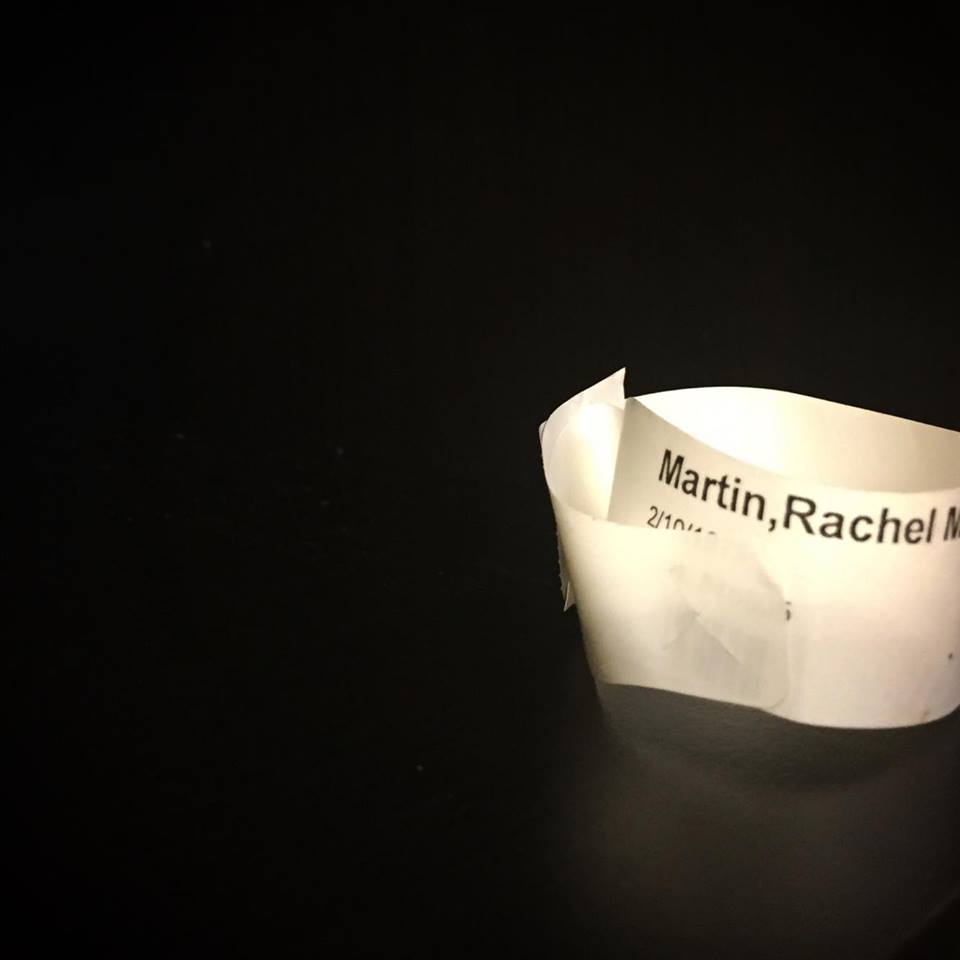 I found it out the painful way. You know the learn your lesson kind of way that we as moms kind of hope happens to our kids? Like the natural consequences of not studying for a test or sneaking candy or all of that? That they have to deal with because they didn't listen?
Oh that's me. Non listener. Or a listener of the lie of mom invincibility.
I don't know why I live with the illusion of being the supermom of invincibility. Like I can just handle everything and don't need to worry because I have unlimited stores and nothing can take me down. And if something tries to, well, I'm a mom and will just kick it's butt.
Until yesterday.
That was when I found myself laying in the emergency room bed, with the oh-so flattering gown, and legs not quite freshly shaven (of course…) – after being sent there by my doctor. I realized my so called invincibility illusion was shattered while they took blood from my arm and the next round of endless oh I how I wished they would have stopped tears began to pool behind my eyes and tumble down my cheeks.
You okay, honey?
That's what my super sweet put together nurse asked me, as I was all alone in that hospital room. Yes, alone, because I had enlisted my friends to help me pick up and take care of my kids because now, all of a sudden because I believed the invincibility lie there I was 90 minutes prior to afternoon pick up checked out in a bed in a hospital. But, haha, even in the broken places we still mother because I wouldn't get in my friend's car who was taking me to the er until I knew the kids were taken care of first.
I think I didn't do what I write and tell other moms to do…I think I forget about me.
That's what I whispered back to her as another big fat tear rolled down my cheek.
I didn't do what I want us to do.
For the last year or so I've been feeling so tired. Fatigued. Cranky. And just worn out. I've found so many other things to blame it on – stress, being a single mom, working on moving, dealing with drama, just being a mom, being above 40, stress again – and on and on and on. I kept pushing and pushing and pushing and pushing. And drinking a great deal of coffee so I could keep going. Starbucks is responsible for me making it this far.
And yet, over the past month, I think I've cried to my friends I'm failing… dozens and dozens of times. They'd all look at me and tell me I wasn't, but I had this just aching fear of failing – because I was so tired.
So I pushed harder and perpetuated the cycle that so many of us find ourselves caught up in.
Work more, smile harder, don't give up, be invincible and thus ignore self.
Yes, ignore.
Because I was ignoring me and the pretty much blaring and blasting symptoms that my body was giving me. I didn't want to stop. I didn't want to be the mom that quit. I'd take care of my kids and bring them to the dentist and doctor and whatever and I'd always say, get them done and then me… knowing that the me part was probably not going to happen. It was just easier to say I'd get to it so at least I didn't think I was completely ignoring myself.
But yesterday, as that IV pushed those fluids into my absolutely fatigues and worn out body I realized that no longer was waiting for me an option.
I had failed.
At me.
I am not invincible.
I thought I was, but I'm not. As I found out yesterday dealing with anemia – which is what I have and what landed me in the er – it was causing all those symptoms that I ignored. You know what? I would joke about being cold all the time thinking that it was just me but it really was just me screaming at me that I wasn't taking care of me. And my tiredness? Well, one cannot run on empty, my friends.
I know so many of you are – just like me.
Empty runners thinking we're invincible.
But fumes only go so far.
I know so many of you have to-do lists that trump mine and have urgent after urgent after urgent. But, friends, I'm imploring you – take care of you. You are urgent too.
(In case you forget please see examples Rachel and her IV and the picture I took to remind myself to NOT LET THIS HAPPEN AGAIN.)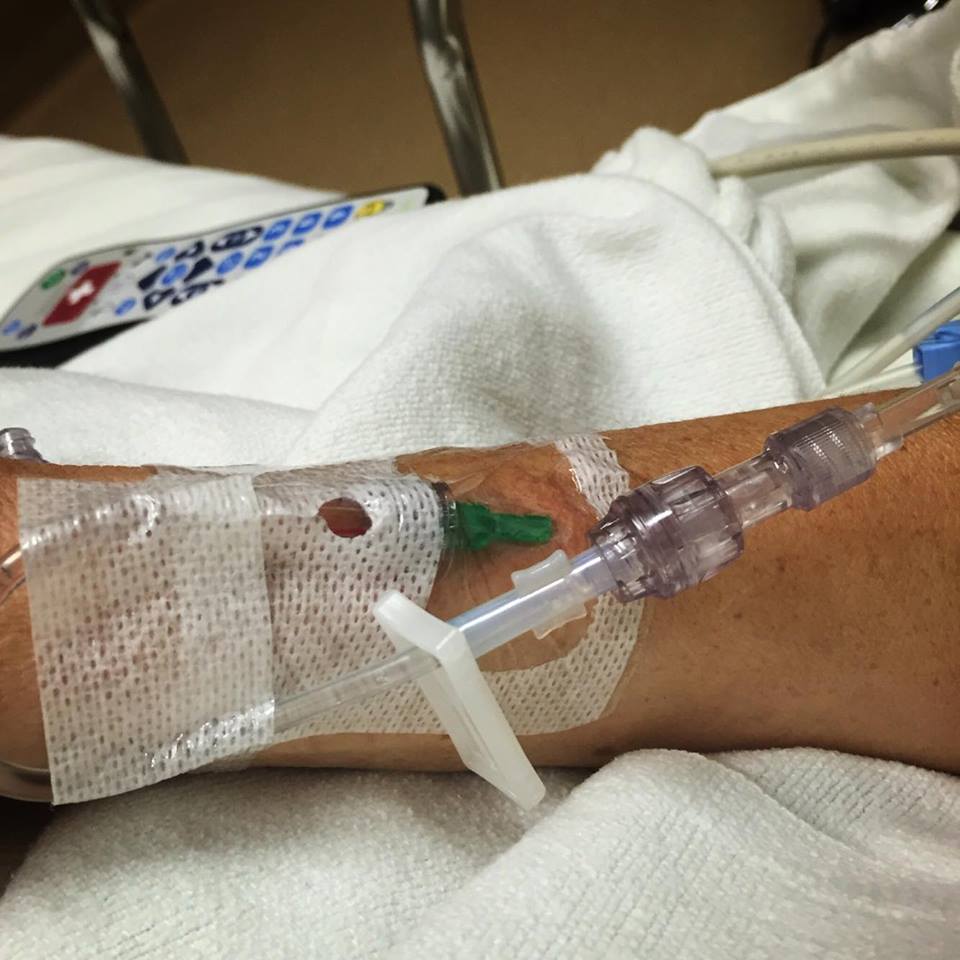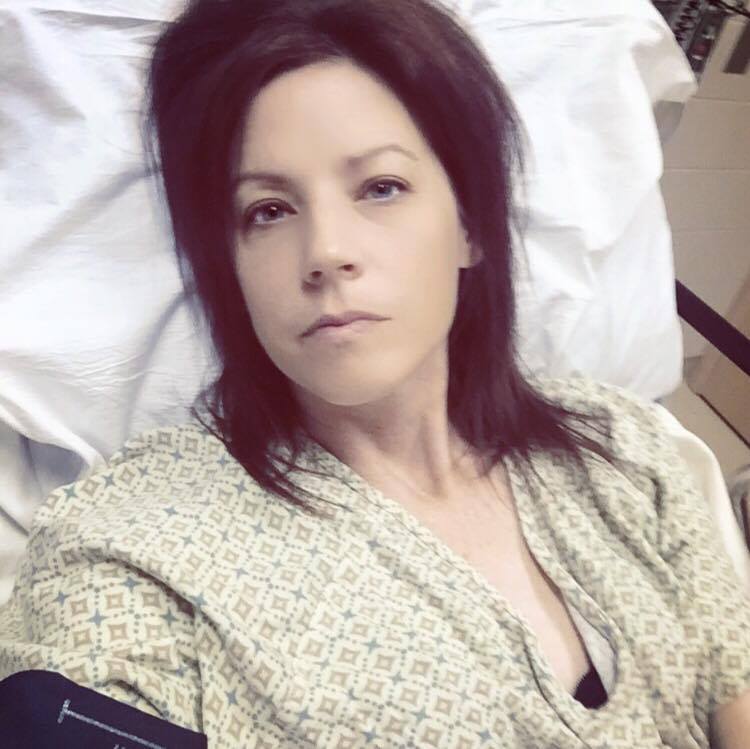 Do you know that yesterday when I hit the bottom I couldn't mother?
I couldn't pick them up or go to the conferences or do any of the stuff that I so thought I needed to get done. I was forced in that moment to lay on a hospital bed with tears in my eyes and to tell those so kind doctors and nurses that I forgot about me.
They didn't judge me. They didn't think I was a bad mom. They were glad I was there. I think I was told at least five times within the first two hours that they were so thankful I came in. They told me I needed to take care of me, too. And the kind kind nurse told me that so many times when a mom comes in – right at school pick up time – they know that mom is spent and they pay attention.
Because we don't quit.
We fight and fight and give and give.
And then sometimes we break.
But not anymore.
Now you and I and your friends and your friends friends – we are going to make a pledge to NOT FORGET US. I need reminders. I'm super super stubborn (as you can see). I need to make sure that my oxygen mask is on first. I've been putting it off and off and off.
Friends, we're going to do this. Every day. You and I are going to do things that make us better and stronger. And we're not going to have guilt for all the times in the past when we put ourselves on the back burner. You know why I know that? Because last night when I got home I was crying (again) and saying, I should have seen, I should have seen that I was burnt out. And my dear friend told me that it doesn't matter that I was because now I know to not let it happen again. And that now is the start of the new beginning.
That's my dream for you too. Maybe not even a dream. That's my throwing water in your face wake up and take care of you too so that you don't end up in the er at school pick up time warning and plea to you as well.
Today is the start. Today is the day that you come face to face that you are not invincible. You are real. And being real means that you must take care of you. You don't deserve to be on the back burner anymore.
I care about you. And if you're tired right now. I understand. And if you're worn. I get it. And if you feel like you're failing. You are not alone. But these things, sweet mom, they are the warning light. They are not indictments about your strength or ability to mother, they are, instead, telling you to refuel you.
Take care of you.
It doesn't need to be gigantic. It can be small little things. Or it can be, like me, fighting to get my anemia back under control. Getting sleep. Telling others how I feel instead of hiding it behind I'm fine. Saying no or yes or actually putting ourselves on the schedule.
Today is day one.
You, my friend, are not invincible. You are real. You are a fighter.
You are so worth it. Let me say that again.
You are worth it.
~Rachel
ps. Do me a favor? Find a friend to join you in the "take care of yourself" challenge? Share the post? Tag them? Take them to Starbucks? (I'll join that…hahaha)