When my girls were little I would buy Ben & Jerry's Ice Cream. I'd hide it in the cart, tuck it under the frozen fries, sneak it into the house, shove it behind the frozen veggies in the freezer and at night, when they were asleep I'd tiptoe into the kitchen, remove the peas and corn and would pull out that chocolate ice-cream. I didn't feel guilt. I did wonder how many times my mom hid ice cream from us and thought that to be the coolest mom secret ever. And then one morning, my oldest daughter walked into the kitchen, decided to drop something in the garbage that was critically needed, like a marker cap, and she discovered the lid of that secret ice-cream.
I knew it. I always knew you had ice-cream. 
That's what she told me.
Sometimes moms need extra stuff to keep going.
That's what I told her back.
Sometimes I sit in my car an extra ten minutes when I get home OR when they were little I'd drive the long loop home and get myself coffee from the drive-thru. I waited, again, until they were asleep so that I could order it without anyone asking.
Sometimes, my friends, I push bedtime a bit earlier because I'm worn out.
Sometimes I lose my patience. The other day I lost my patience at the pool because my kids were all asking questions at the same time. As my sweet eight year old came up to ask my yet another question instead of being the yoga chill mom of awesome I snapped and sharply said  honestly! what do you need now! and he, surprised that his normally tame mom reminded him of the Hulk, told me he needed help with the latch to get out of the pool are so he could walk to the bathroom.
That's just the way it is in motherhood. I always snap when it's innocent, humbling, make me look like the worst mom ever moments. Like they'll ask me a million questions on how to spell stuff and when I finally wear out I can guarantee I'll come in and see that they're making me a You're the Best Mom Ever card where I got irritated they needed help spelling ever.
Now that pool night, of course I looked around thinking that all the other moms and dads and teenage lifeguards at the pool would judge me for my very impatient parenting moment. At least no one could see how I was embarrassed because I was sunburned.
A little secret: No one noticed.
They were all busy. In their worlds, mothering and fathering and watching. But I noticed. I had that you are the worst mom in the world and you have scarred them for life because you got mad about him asking for the bathroom and you should have realized it was important bit. I totally missed that I was at the pool with them, giving of time and quickly slapped that label on myself over one moment in a sea of moments of giving.
Motherhood is messy and tiring and sometimes you need reserves. Like ice cream. Or perspective.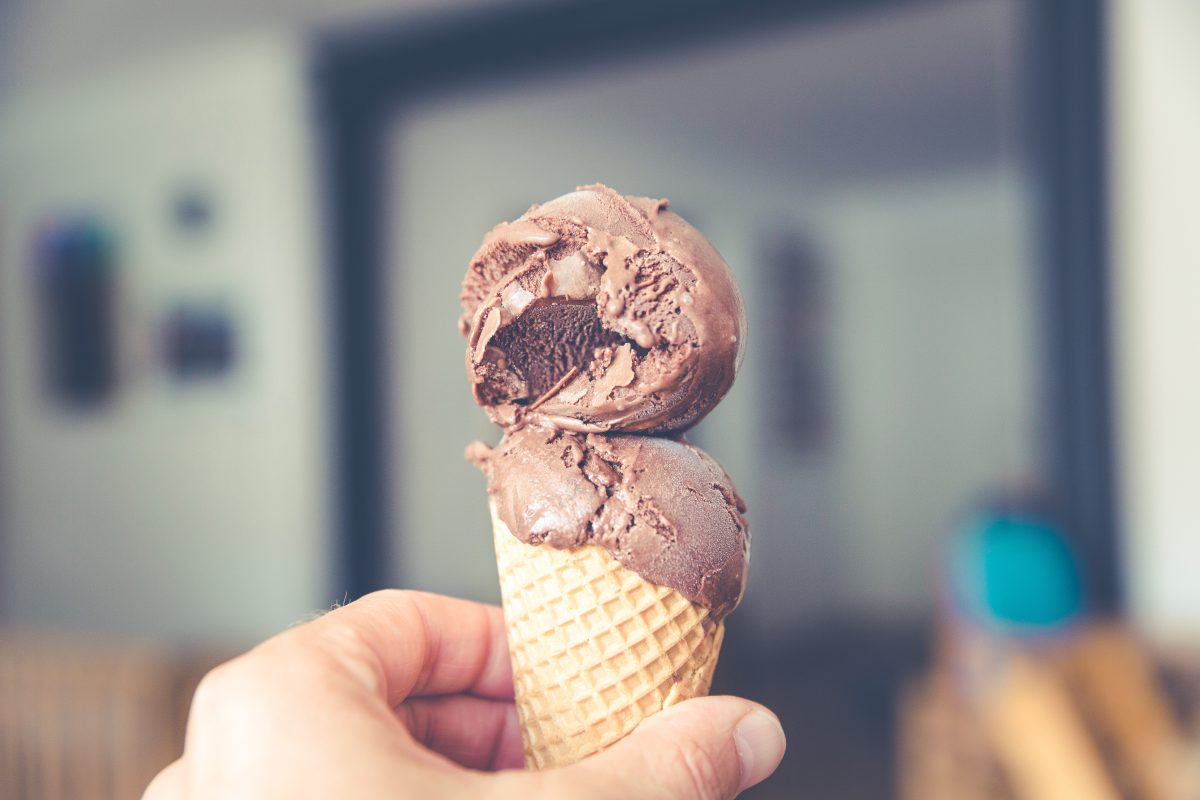 We are always giving to our kids. Day after day after day. We deal with rooms that are spotless in the morning and then look like they were sponsored by Lego late in the day. We have permanent marker stains on walls because our kids decided to be creative – which we want – and make a game and use markers and it goes through the paper. So, if you're like me, you struggle with intense frustration and hope that there are Magic Eraser markers below (and you hope you haven't stripped that section of the wall down to the primer by using them so much) and being like awesome! way to be creative! maybe next time don't use the permanent marker that was in the drawer that I've asked you to ask me about first!
When you hide ice cream it's not because you don't love them. It's because you have to love yourself too.
Our kids, despite all their awesomeness, are probably not going to save us the last popsicle or buy the Magic Erasers or stop asking a million mom questions every single day. And we are not going to get breaks too often. So we have to decide we are worth taking care of ourselves too.  Let me repeat that a different way. YOU HAVE TO DECIDE YOU ARE WORTH TAKING CARE OF YOU.
And that means reserves.
There's no guilt there. Just like no one was judging me at the pool when I had my mom snap. You know why? Because if you're a mom you get it. You get that there are nights where Netflix is your friend. You get that vans get messy. You get that sometimes you crave silence. You get that Ben & Jerry's could use the slogan God's gift in ice-cream for moms or Save a mom, buy her ice-cream. You get that motherhood is exhausting.
So think about yourself too.
I'm not joking. I'm guessing that out of your day there are more hours spent on everyone else than you give to yourself. And I'm guessing, that if you're like me, that guilt might creep in when you give minutes to yourself.
There's no guilt in taking care of you. That's the motherhood truth bomb.
If you burnout, they burnout. You live a life of giving, but there is nothing noble, powerful, beautiful about teaching our kids that moms don't need to give to their own hearts as well. So buy that ice-cream. Sit at the pool and watch them swim. Read a book. Forgive yourself when you snap over little things.
And take care of your heart too.
That's the most beautiful gift you can give everyone. So you hide the ice-cream. You know what it tells me? It tells me you value your heart and you know there might be a night in the future when your perfectly clean home looks like it exploded, where the wash is as tall as Mount Washmore, where no one went to bed well, where you found late homework and had to deal with creating a cell model and you valued yourself enough to have some Ben & Jerry's tucked behind those frozen products.
And that?
That is succeeding at motherhood.
~Rachel