It feels like yesterday when I sat in my grandmother's living room with my newborn daughter, Hannah.
This was my sweet grandmother who would love to braid my hair and hold my hands, who baked Christmas cookies for weeks, and who sat next to me and taught me how to play Pathetique Sonata by Beethoven. She was my grandmother who was content to watch birds from her window and loved to simply have her family over so they could be around each other.  Now, we were together, in her home, on a warm and muggy day in the middle of early July. I was there with my first baby feeling proud and overwhelmed and very much like a rookie. As I sat in that humid room, I watched my grandma look at Hannah with wonder as her grey blue eyes glassed over with tears.
I don't feel as old as I am, Rachel.
I looked at her, my grandmother with worn hands that have lived, and I saw her holding my newborn's hands in her hands. She rubbed those little hands, those hands of my Hannah with an entire life yet to live, and got lost in a bit of memory.
My grandmother, who less than two years later would die from Alzheimers and not even remember those words about life, and moments, and finding joy that she blessed me with, impacted my motherhood perspective life on that humid summer day.
It will go by fast, so so fast.
A sigh and a look of nostalgia.
Don't race through it, Rachel.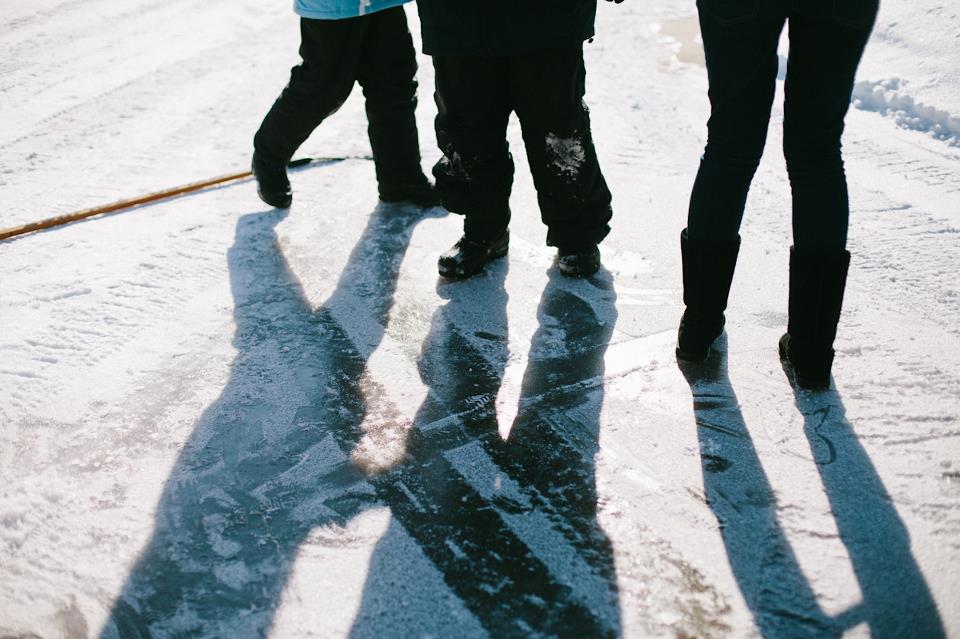 Don't race through it. As the years tick by, and the calendars get flipped for a new one and a new one and a new one, I've watched my years of being a mother expand from just those months to now over twenty years. Yet, it still feels like it was yesterday that I sat in that room on her floor and listened to her talk about time and motherhood and joy.
It would be easy to miss a motherhood.
It wouldn't be intentional, but it could be easy. It could be easy to live thinking that when this gets fixed, or our home gets updated, or when we move, or when our finances are better that then I can be happy and can enjoy this moment in time with my kids. Don't make motherhood based on the context of things, events, or the idea of perfection  – you'll miss out on today. And I know that today might not look anything like you want it to look like. Today might even hurt, be tricky, be painful, and actually be hard to look at. But for those kids? They need to see you. They need you – not all the things that you think you need to do.
Don't put off till tomorrow what you could be doing today.
Don't miss today, and all of the beauty of motherhood, by racing so fast just to get to tomorrow.
For you see tomorrow means another page turned, another moment passed. And today, right now, this very second is a gift in your motherhood journey. You don't know when the lasts will happen – the last time you carry them up the stairs or they ask for the covers to be pulled up just so or they need you to make their pbj sandwich cut into triangles or when they want you to hold their hand through the parking lot or when they will want their favorite story read aloud or when they will go out your front door not to return except to visit.
Those days will come.
They will.
I know, because my grown oldest daughter now leave a thousand miles from me.
Years ago, when I was a lanky eighth grader with frizzy and untamed reddish blond hair and a face smattered with freckles, my same grandmother wrote these words to me,
…that you may live life and find joy…
It wasn't until about two years ago, and after my site was already named,  that I found those words again.  She is right – live life and find joy.
Motherhood is the same.
Live your life, live out these motherhood years, right now in the midst, and find joy. The beauty of this embracing life is that you can start right now, today. It's not dependent upon yesterday, but your choice today, and then next, and the next.
My grandmother lived a beautiful life, not a perfect life, but a beautiful life.
Don't miss motherhood.
Live life. Find joy. Don't fear the stumbles. Just stand up, start again.
That, my friend, is life.
~Rachel