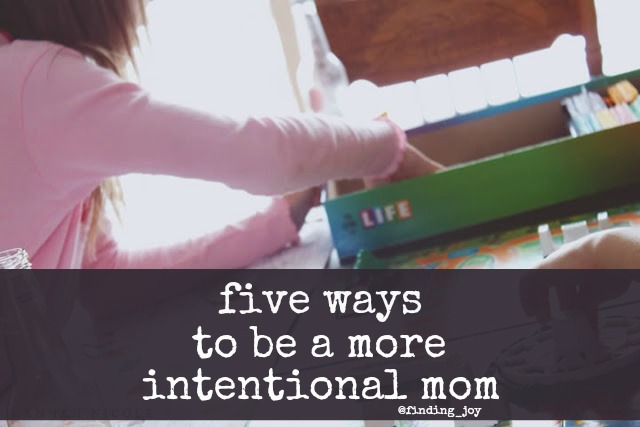 Five simple things that I try to do every day to help me to be more intentional which in turn helps me to remember to find joy, see the little things, and to be grateful for the moments with my family.
1. Give of your time. Starting today, take your schedule and block out moments of time where you are dedicated to your kids only. Not the laundry, dishes, vacuuming, cleaning, what's next on the to-do list, and all of that. Focus on them. Read, play, walk, dream, but be present. In my own life I've had to learn this skill – The Distracted Mom Learns to Listen – and have had to practice it daily. Set the timer and give intentional time. I'm not talking hours on end, but rather moments – ten here, fifteen there – where you can focus on your family and not only their needs but what's important for their hearts.
2. Focus on the importants. Do you do this? So often motherhood is defined by the things that aren't done or what is missed or all that we think we should be doing. Being a mother matters. The important things are often the little things in life. Breakfast made. A smile on your face even after you've counted to ten and the milk is spilled. The time spent driving in the car. The thank you moms that are often forgotten to be said but are truly there. The importants matter. Start to look at your life with a lens that picks out the little moments in the every day. Force yourself to begin to see them.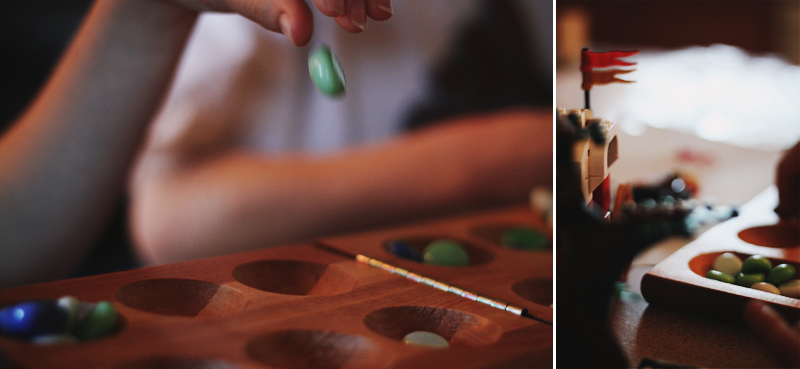 3. Find time for rest. You, the mother, need to rest. There is not a Supermom 101 Pinterest board that shows the perfect mom never resting. Mothers need rest. And this one is often hard to swallow. Take time to rest, sweet mother. This is a lesson that has taken me years to manage and is one that I consistently have to practice. Carve out time within your week to rest, to recharge, to laugh, and to dream. Your family needs you to value you.
4. Start new every morning. Let me repeat this. Start new every morning. Yesterday was yesterday. Learn from it, but do not cling to the things that didn't work. Instead use them as a springboard for today. And do not define your children by the mistakes and trials that happened yesterday as well. Instead give them grace. And in that breath – speak well of them to others. This is a necessity. I know how challenging children can be, but practice speaking highly of them. Does this mean that you don't ask for advice or discuss issues? Absolutely not. But rather, step back, and honor them in a way that you would want to be honored. Each day is a new day that together makes a beautiful life.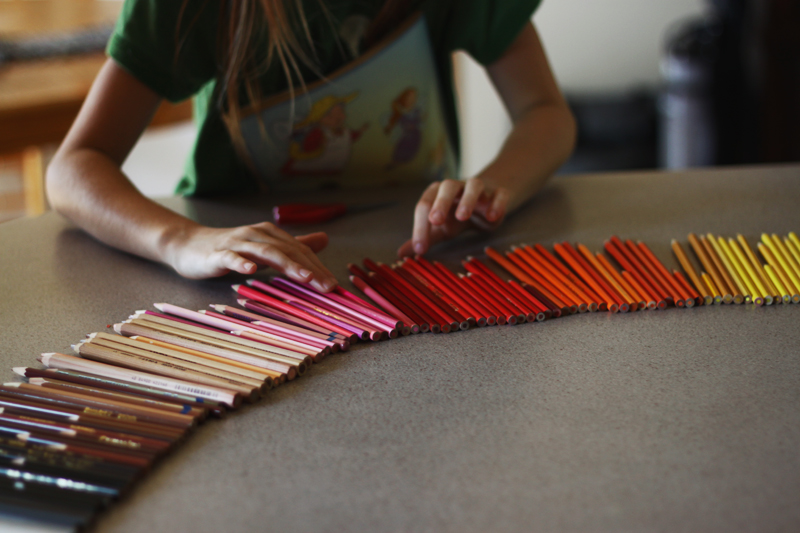 5. Be grateful. Pause. Just for a second, and be grateful. Take a moment and think of just one thing that you love about each member of your family. Remember moments that you've had together. It's easy to race through our lives and forget to practice gratitude in the middle. You're given little moments that are joy moments in your days. Open your eyes to those moments more than the moments where the frustrations abound. And, you will have those days where it seems like the weight of the world is on your shoulders. You'll have those days when you want to quit, or you feel like you've failed, or that you don't measure up. Expect them. But don't let them define you or your role as mom. Instead, be grateful for the good days, mark them down, and force yourself in the midst of the hard to see the good. Remember the video from yesterday (meet Joel)? Practice gratitude.
And finally, just be real. Be real, but continue to push not only yourself but others around you. We are stronger when we are in the journey together. Living with more intention involves choosing to step back just a bit and seeing the world with a different lens. And, sweet mother, it takes practice.
Keep working at it, keep practicing, keep moving forward. You will be blessed.
What are some simple things that you do during your typical day to help you live with more intention?
~Rachel
Images and original content are sole property of Rachel Martin and may not be used, copied or transmitted without prior written consent.