It will be three years in January since Samuel was diagnosed with Celiac Disease *update 1/19/06 (it's now five years). Samuel has lived more than half of his life gluten free, and in fact, really has no memory of ever eating gluten. It really is a blessing that he was diagnosed so young as this isn't just a choice, but rather is simply a way of life for him.
That being said, living gluten free has been a new adventure for me. I haven't had gluten since he was diagnosed as well, and I've had to learn how to thrive gluten free in a gluten full world. And trust me, you will find normal.
Here are ten things I've learned about raising a child gluten free.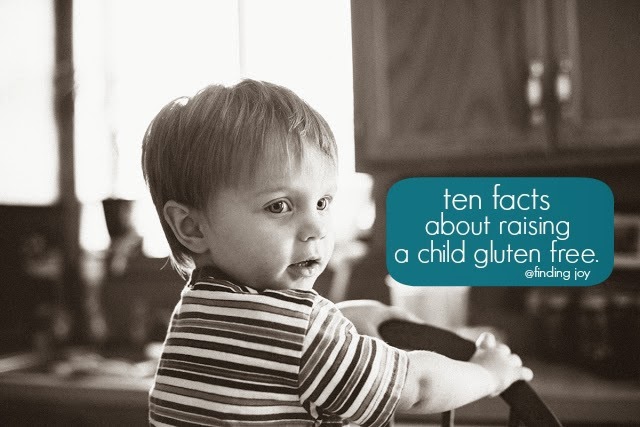 1. You mention the words gluten free every day. I'm writing this post at 7:30 in the morning. Besides typing the words gluten free I've also heard Samuel ask for his gluten free bread and his brother state not to put the knife in the peanut butter that is only for the gluten free bread. (You need to get separate containers or never ever double dip. Also, if your entire house isn't gluten free you'll need a separate gluten free toaster.) When one lives gluten free one talks about gluten. When Samuel was little he used to say me gwooten fwee! For him, that's a normal part of his life.
2. You quickly learn which boxed cereals are gluten free. And to not apologize for the 90% of the cereal aisle that is gluten full.  In the beginning I used to dread bringing Samuel down the large gluten full cereal aisle of colorful packaging and kid's characters. Now? Now we go down the aisle, he asks if it's gluten free and I simply tell him nope and we grab one of the five or so varieties of Chex Cereal. I've just learned to be matter-a-fact about what he can have and cannot. There are no options, no cheating allowed, so it is what it is. And, grin, it really does make shopping for cereal quick and easy.
3.  Kids still don't eat the crusts on the bread. Even on fabulous gluten free bread. Now, as I finish typing this, while Samuel is upstairs playing with legos, I am looking at a super cute plate with crusts left on the gluten free bread. What is it with crusts? *update: even at age six he still sends home his crusts from school.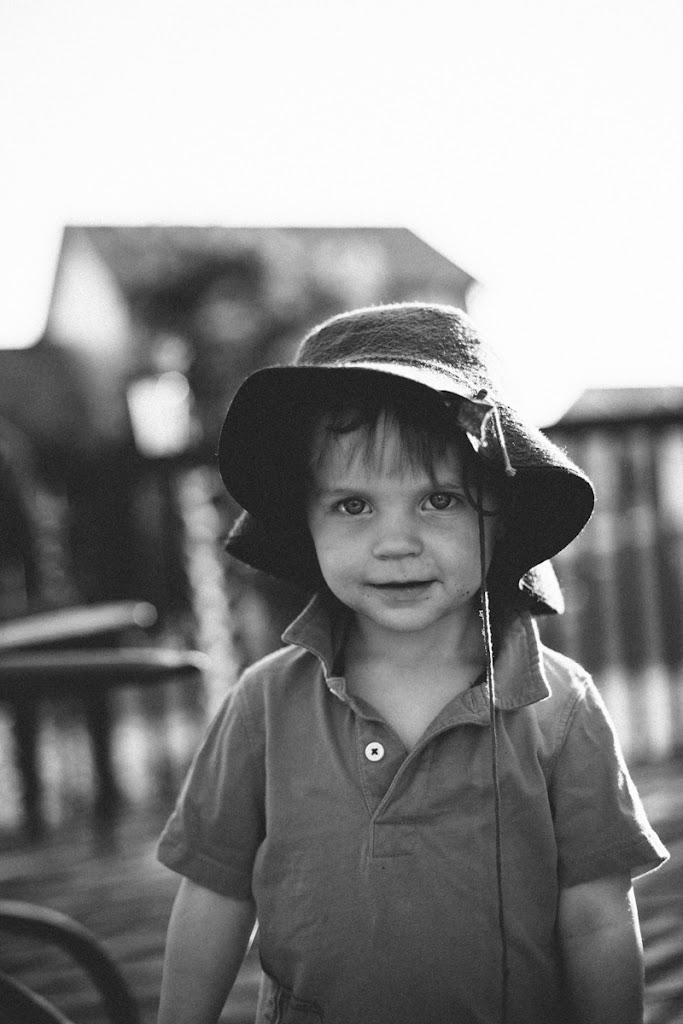 4. You smart phone is a valuable resource. There are apps that will scan food that will tell you if it's gluten free. I have looked up websites so many times on my phone – I'm the gal in Costco that may look like she's texting, but in reality, I'm typing in the words gluten free + whatever company I'm searching. And don't overlook calling companies. However, oftentimes, they have the same resources as the website. In those times I look at it as an opportunity to exercise patience and to express thanks when a company goes above and beyond and labels their product gluten free. Remember food manufacturers are only required to label the top eight food allergens – and gluten isn't one of them. They'll list wheat, but there can be many hidden sources of gluten. Be careful.
5.  Leaving them in classes can be hard. Truth, it just is. He can't have any gluten full snacks, often times I have to bring him another snack that is different from everyone else's snack, and he can't ever play with playdough. That one is still challenging for me. I have to be very adamant that Samuel cannot have even a cheat day with regards to gluten. I've learned to bring a snack, to verify that there is no playdough – and going beyond that to ask that they do NOT play with playdough while he is in class unless they provide gluten free playdough. Not only is there tremendous cross-contamination risk, but I don't want him to be the one kid isolated and not able to participate in a project. It's all about grace and education. By the way, here is a gluten free dough we've used (you can make your own as well).
Soyer Gluten Free Dough *update: Samuel is in Kindergarten and I have no worries with him. He is hyper careful with his food and his teacher is amazing.
6. They don't know what McDonalds is. Seriously. I remember going to a well child checkup and one of the questions was how many times a week does your child have fast food? And I checked none. I guess it's a cool benefit – he, by necessity, will rarely experience fast food. Now, that being said, more and more chains are recognizing the importance of providing gluten free options. But you have to be diligent, to make sure they use a dedicated fryer for their fries (if they're gluten free – McDonald's fries are not), and to weigh cross contamination concerns. But, in my house, it's strange because the powerful golden arches brand isn't recognized by my four year old. *update – now at the age of six he knows what McDonalds is but also knows he can't get anything there.
7. Baking feels like chemistry at times. Okay, okay, okay…truth…most of the time. Baking gluten free is so different than regular baking. Gluten is the binder that keeps items together and gives that awesome elasticity texture found in bread. In order to balance that one must use a variety of different flours and blends. Words like xanthum gum, tapioca starch, guar gum, and flour blends become normal talk while baking. And have patience. Yes, patience. And learn to be grateful for what works. Like these pumpkin bars of mine -> gluten free pumpkin bars I also love this cookbook that you use with Gluten Free Mama's flour. Gluten Free Mama's Best Baking Recipes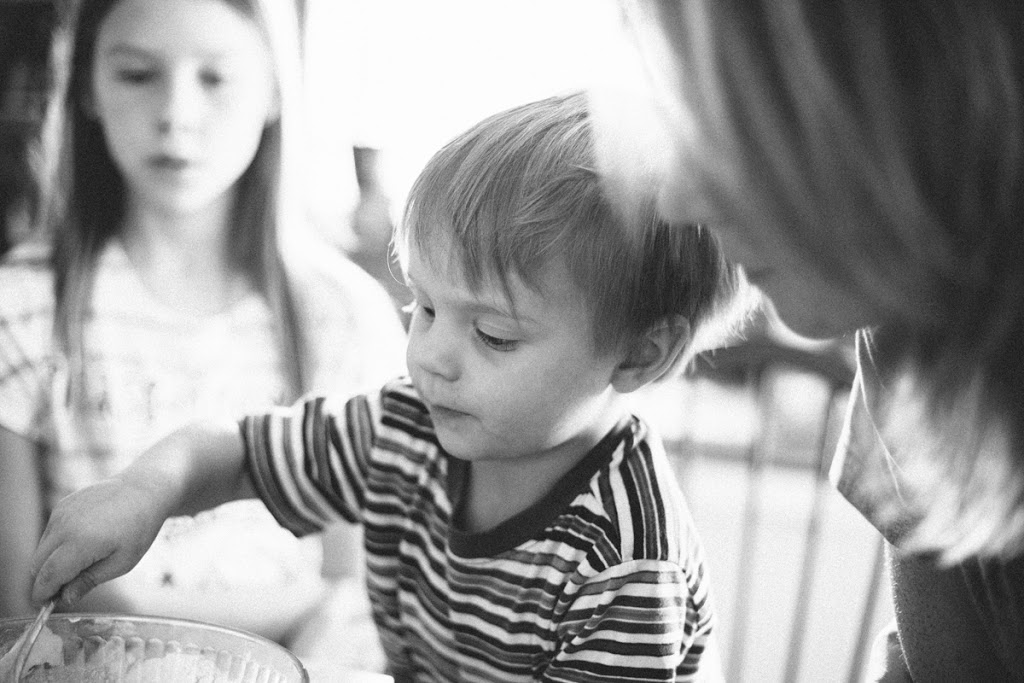 8. The words modified food starch and natural flavorings become your nemesis. Could those label words be any more vague? When in doubt – don't buy it. Unless you can research it and verify that it is for sure gluten free. I love the companies that go the extra mile to label their product gluten free. Call them, thank them, purchase their products. It used to take me double the amount of times to go grocery shopping thanks to poorly labeled products. Besides the apps, smart phone search, and phone calls I've found this book -> Cecilia's Gluten Free Guide to be a valued item in those initial sifting through the gluten full to find the gluten free shopping days.
9. You become an advocate. Yes, yes you do. For two years I talked with my Target about getting Udi's Gluten Free Bread on their shelves. They now have it. At my local grocery store the gal in the Natural Food Section will ask me what is good and what to order. I've been working to try to get Starbucks to carry gluten free food. I've talked with the pharmacist about the importance of labeling meds as gluten free (think about amoxicillian – what's the binder?). I network with companies when I travel. I write and talk about Celiac Disease Awareness. And, in just over a week I will be speaking in Florida at FPEA about Raising a Child Gluten Free in a Gluten Full World. Truth? You, too, can become a voice for gluten free living. For Samuel? It's not a trend. It's a matter of life.
10. You find normal. Yes, this. I always end with this when I'm talking about gluten free living. Normal can be found. It's a new normal, but it's normal. Samuel has Celiac Disease, but do you know what? I don't like to think of it as a disease – for him – eating gluten free is life, health, and vitality. In fact, My good friend Dan Morris has told me to not think about Celiac Disease as a disease, but to think of it as a way of life. We've chatted about the truth that if this world was sans gluten then Samuel wouldn't have Celiac Disease as it wouldn't exist. Truth? He's healthy. He just can't eat gluten. It's a normal that's full of gluten free awesomeness. Think about it that way.
Ten gluten free truths. Are any of you raising a child gluten free? What would you add?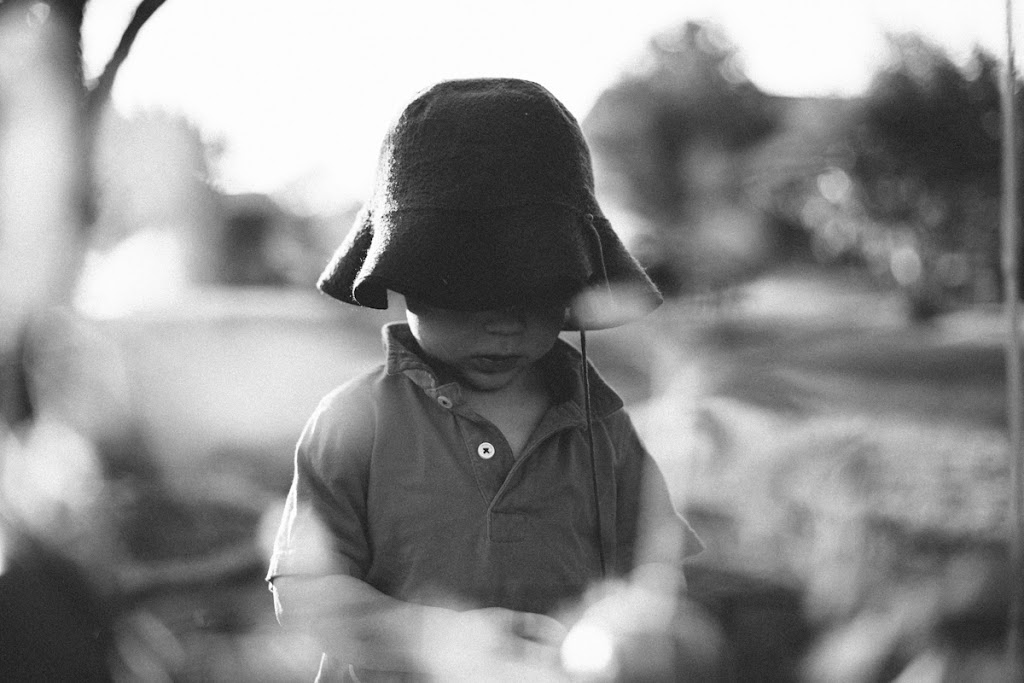 ~Rachel
Today's photos? A mixture of real life live from the instagram feed.Find me there at finding_joy 
Images and original content are sole property of Rachel Martin and may not be used, copied or transmitted without prior written consent.