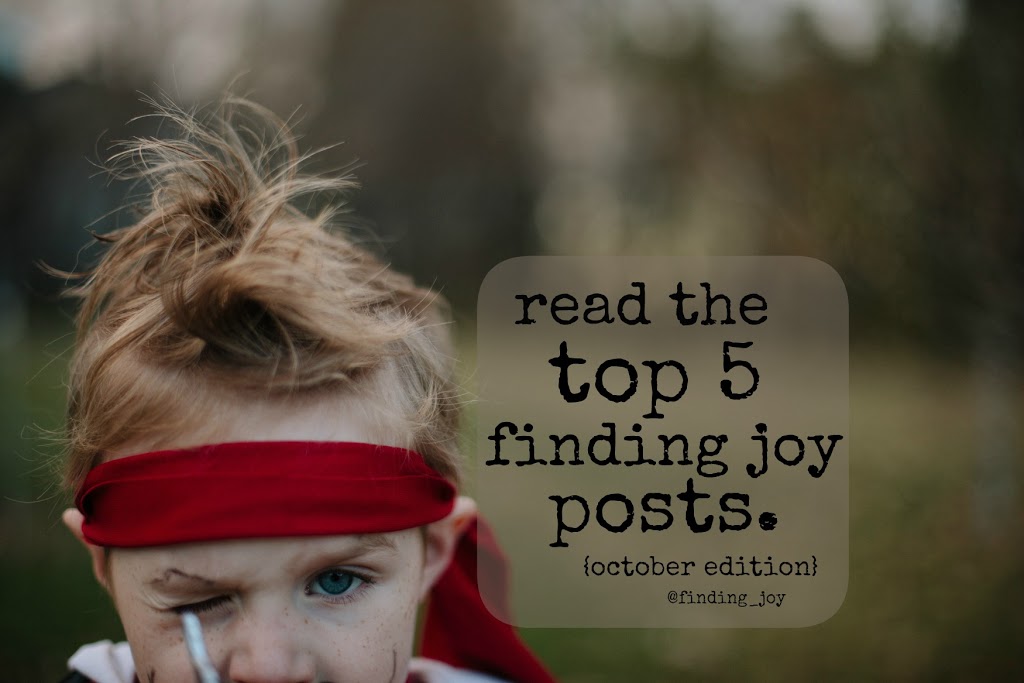 Here are my top five posts for October.
Click the titles to go to the posts.
Dear Mom This is Why You Matter
"You could just keep saying that it's just what a mom does, and not look at the impact that mothers truly have on lives. But, today, today I encourage you to embrace how much all of that real life motherhood stuff that you do everyday matters. Look at that list of things that you do with fresh eyes – eyes that are giving yourself grace – knowing that despite the ups and downs and ins and outs and good days and bad days that what you are doing really makes a difference.
What you are doing is not a small thing."
Dear Mom Who Feels Like She Doesn't Measure Up
"You know what I want to tell you? Don't think about measuring up. Think about being the best mom that you can be right now today for your family. Give yourself grace in the morning. Learn from the past. Don't label yourself. Do one thing and do it well.
Just keep trying."
7 Ways to Invest in Your Kids
"Sometimes in the midst of the busy it's easy to lose perspective beyond the dishes. Yesterday, as I was trying to reclaim spaces within my home – after the boys decided to make a massive fort in our family room with every possible blanket and book and item – I thought about how it was actually important that they built that hideout. Even with the mess. It was about being able to step back and see the bigger picture, the hearts of those exploring and creative boys, and in turn investing in who they are and are becoming."
Why it is Okay to Take a Mom Break
"We run on empty so often.
You run on empty. I run on empty. It's the nature of our society to push everything until the last drop – and then we are beyond worn out. We wait to get gas till the light warns us that the tank is empty, we save the last drops of milk, we scrape the peanut butter from the sides of the jar – and we do the same with our self. We push, and give, and push, and give, and we often ignore the warning lights telling us to refuel.
It's hard to remember that you matter when you're exhausted."
Read. Save Lives -> Do Not Drive Distracted
"He stopped his truck to save me and the girl whose car was in front of mine smashed into the median.
When I sat in the middle of the interstate for those long seconds before that semi truck stopped the thing that kept running through my mind was see me see me see me – pay attention – please – stop – slow down. I knew that if people weren't watching they'd slam right into me and my daughter stuck in the middle of a place where we never wanted to be sitting still."
*****
I'm looking for ideas for Dear Mom Letters for November – what are some letters that you'd like to see written? I'd love to hear.
Make sure to subscribe — simply click subscribe to finding joy — so that you don't miss a post.