I shared a post today that I thought was brilliantly written.
It was about this woman sharing about being called "fat" when she wore a swimsuit and how the name calling and looking at the exterior often means missing so much of the beauty inside. She shared about how all the parts of her that might not measure up with what the world thinks is perfect and beautiful are in fact, the parts of her that have made her who she is today.
Except the picture that goes with the beautiful words on facebook was a picture that to me, was the opposite of the point of the article. It was of the bum of a woman – not even the woman in the story – that didn't match the image the author shared.  I debated sharing it because of that alone. But the words about worth and beauty and how we live in a world that judges the exterior and misses the strength and bravery in-between is so often lost.
I loved the voice.
But but but – we live in a world of marketing. Getting the clicks and driving the page views and what better way to drive traffic then to put an image up that doesn't embrace the heart of the article and incites a bit of debate.
Traffic was driven, indeed.
Including from me.
(that's the picture and a link to the article on the FB page)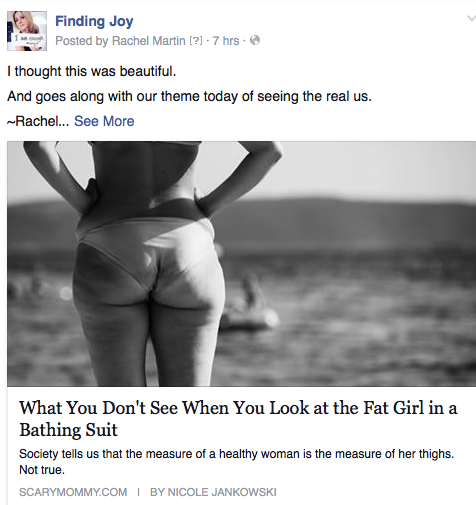 But as the hours ticked on and comment after comment came in on the Finding Joy Facebook Page about this picture not representing this idea of "fat" that was talked about in the article it got me thinking. The point of the article was for us as women and moms to see ourselves beyond the exterior – to remember our awesome and that our bodies mother. Mothering isn't weak and doesn't involve not giving of self or aging or any of that. And this picture distracted me and so so so many from the power of the words.
Maybe that's the best example of all of how it's easy to see the outside and miss the message.
I wish the picture had been of feet in the sand or something neutral so that all of us women could relate or seek to understand. I know how hard it is as a writer to write in such a way that is not polarizing but is rather unifying. Yes, unifying. There are so many things to be polarized about in this world, but our strength as women and mothers?
Strength as women should be something that unites us.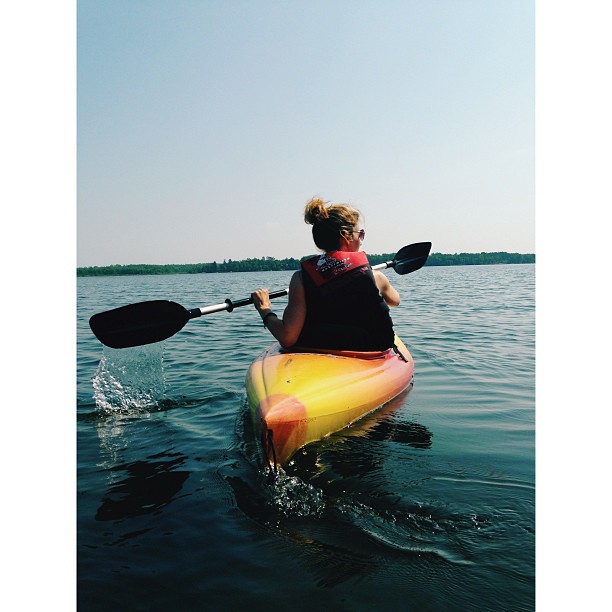 (that's me at the lake kayaking. It was hard to choose a pic for this post…)
We should see other moms and be proud of what we do day in and day out. We should kick comparison out and love each other for all of their differences. We should wear our bathing suits because we love us for who we are and those comments from outsiders who don't know us don't need to stick. We should be giving each other a high five for coming to the pool and hanging with the kids and mothering.
That was the point.
That opinions don't need to dictate our happiness or our joy or our identity.
So to all of you I want to tell you that you are beautiful because you are you.
This world is by nature set up to divide. I say we forget about trying to divide ourselves and instead figure out how we can be better as moms and women. I say that just like so many of us had to do today we look beyond the picture and understand the heart.
We all have stories.
Some of our stories are messy. Some are beautiful. Most are a mixture of both. A mom writing about her heart and about being called fat in a bathing suit and then how she realized that that didn't matter or need to stick because that body in the bathing suit was beautiful exactly as it was is a story that should inspire.
Remember that.
So when you scroll through facebook and you see all the marketing and images and voices and words telling us what to do or who to be or where we're not enough or where we need to do more I want you to stop. Stop and remember.
None of that defines you, your beauty or your bravery.
That comes from deep within you.
And that, my sweet friend, matters the most.
~Rachel
ps. Community comes when what we decide to do betters us as women. Community and support happens in the real and raw and open moments when we look at the other mom for who she is inside and love her no matter what.
pps. I love the actual pics in the article. They were beyond beautiful.