When I was in Haiti I learned about real perspective. But it took all these years:
When I was young I would spend hours and hours and hours building these lego homes. I'd arrange the bricks just so and make staircases and bedrooms and dream about my home one day. There was a spot for everything.
When I was in college I imagined my home – it was this sanctuary of beautiful colors and furniture and always put together just so perfectly. I'd read decorating journals and do my sketches for my architecture classes and ponder what would it be like to live that awesome space.
When I was in my twenties and had a home I became frustrated and embarrassed that my home didn't look like I had imagined it. I didn't like the old hand me down furniture or the couch with a rip and I really didn't want people to come over because I was afraid they would think like I didn't have it together.
When I almost turned forty, which is in a couple weeks and I might be going through just a bit of crazy anxiety over the number rolling to a new decade, I realized what really makes a home.
I know. It will sound the ultimate in cliche.
It's not the stuff.
Oh how I've wanted the perfect stuff that I imagined I'd have.  I'll just be bold and admit it. I wanted those Pottery Barn inspired kids bedrooms and kitchens with the awesome glass tiled backslashes. I wanted the couch that was super duper comfortable but looked awesome. I wanted my girls' room to look so crazy perfect and fun and colorful for them instead of the mismatch of furniture that filled that space and clearance Target comforters. And then, when I didn't get it, I ended up feeling resentful.
And believed my home was a reflection of success and joy and life.
Isn't that what we're told? We're told to buy this, change this, get this, pain this, create this, and to spend all this time creating a utopia.
Utopia. That's perfection, you know.
What I've realized is that there really isn't the perfect utopia in life. There's real.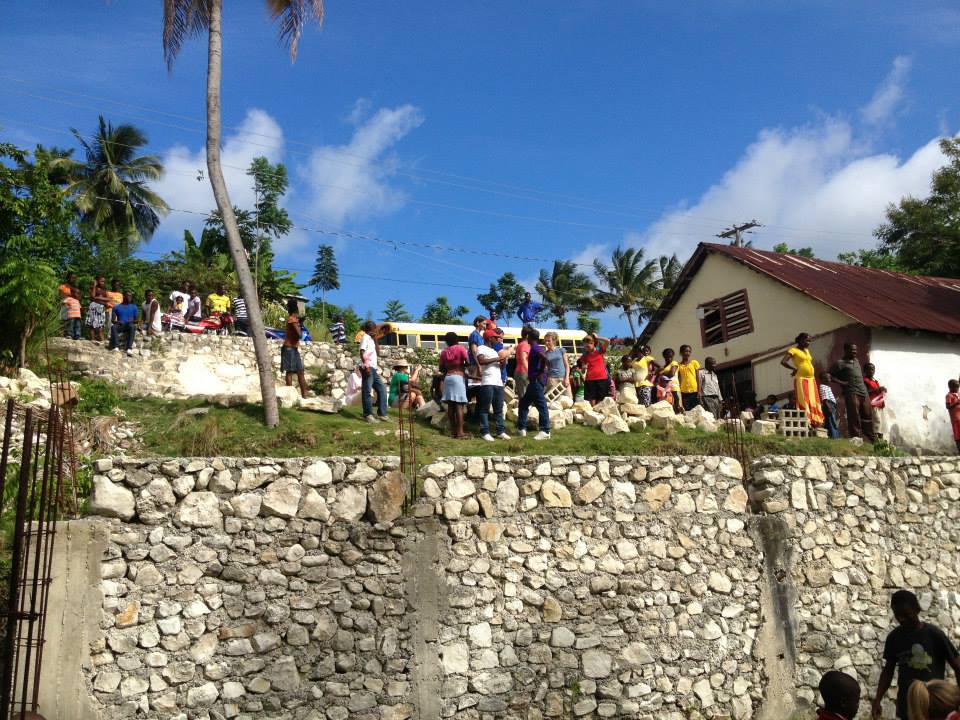 But a real house isn't defined by the stuff that's inside. It's not defined by redoing the bathroom or having awesome curtains or kids rooms that never get to be a mess (Trust me, they'll get messy). It's not defined by always keeping it clean or perfect or always together.
The stuff that makes a home simply cannot be bought.
It must be found in the moments that we share within that space.
Now, don't get me wrong, I really still would love that tiled glass backsplash and a bedroom set that wasn't handed down from the seventies. And there's nothing wrong with nice things. In fact, it's awesome, especially when we keep perspective. It's when having that defines us and dictates our joy. Truthfully? I didn't ever what people over because I was embarrassed about my home.
I lost community those years. Being real. Friendships.
I lost gratitude. Listen to this.
When I was in Haiti I cooked with these amazing women in this teeny tiny kitchen that was outdoors. It had a corrugated aluminum roof and a concrete floor and part dirt floor. There were wooden shelves, no running water, and three cooking areas with pots over extremely hot coals. There was one large knife per person, one cutting area, and eight women working in a tiny, cramped, and very hot space.
Not one of those women apologized for the lack of awesome in their kitchen.
Instead they welcomed me in. They did chuckle a bit that I was fumbling cutting the string out of the beans with a large knife, but I mean, it was a bit funny – me the American in a pink floral skirt trying so hard and then getting exasperated at beans. But they loved me and welcomed me into their space. Their home.
I did laundry with them too.
I washed clothes in a pot of water with powdered detergent in the Haitian sun and scrubbed scrubbed scrubbed until my knuckles bled. Again, they didn't apologize for not having the coolest front loading washing machine or dryer. They just appreciated me attempting to help. (I honestly think that I am still a topic of conversation for them even today. I can imagine it, "remember when Ray-shell (that's how they said my name) was here and helped us?)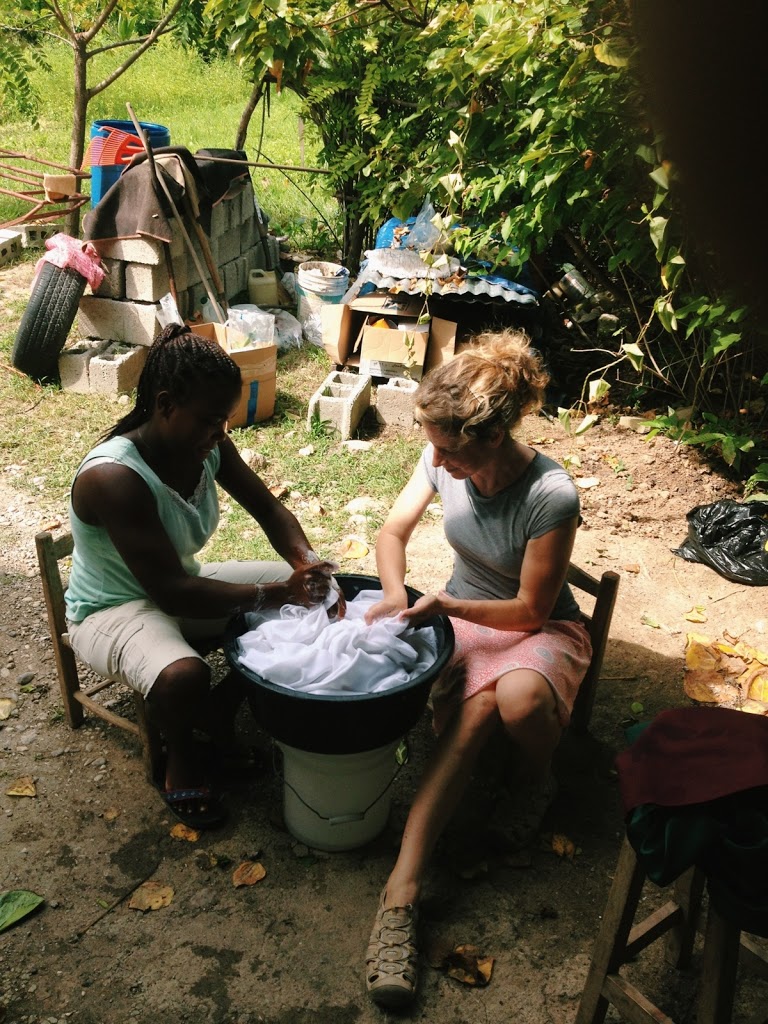 My point?
I grumbled about laundry all the time. All. The. Time. And honestly? I still catch myself complaining.
And I have a washing machine and dryer. Not front loading, but a brand new washer and dryer that I bought last year. I open the lid, dump detergent in, close the lid, and come down 40 minutes later and move the clothes into another machine for 45 minutes where they dry.  And I take them out, they smell clean and are soft, and I fold them and put them in a basket and put them in drawers that are bursting with clothing.
My hands don't bleed at my home in Minnesota.
It just takes time. Perspective, really.
So this year, I'm working to be grateful for those things. For a couch in a home that is kept at 71 degrees when it is -10 degrees outside. For a washer and dryer down in my laundry room with a cement floor and framing still exposed.  I'm grateful for the friend that gave me a dishwasher (that I installed all by myself – including the wiring – thank you very much) in my kitchen with what designers would consider out dated cabinets. For clothes in closets for my kids to wear and me to wear and that I have clothes that I donate (isn't it easy to grumble about having too much sometimes?). For cars to drive and shoes to wear and well, just that stuff that is in my home.
I learned from my beautiful Haitian friends that at the end of the day it is community and realness that matters most.
I learned to not apologize for not having things perfect, but to simply try.
I learned to smile and be grateful.
I learned that love, friendship, and camaraderie matter more in a kitchen then every single gadget.
I learned gratitude.
That's really what makes the home.
Not stuff.
It's you loving your children and doing your best and trying to remember to be grateful for the simple things in your life that are so easy to take for granted and miss.
And really? Opening the door to those around you.
I'm working on doing that now. It's not easy. I want to apologize for things that are a bit messy or for the rip in the couch or joke about the handprints on the walls. But truth? Those are things that represent life and a family.
Life isn't perfect.
They'll be handprints on those walls, mismatched rooms, and messy floors. But in all of that we will remember the moments. The connections. The family. The friendships. Not the stuff.
And I guess that's what matters most.
~Rachel
#findingjoy
This post -> Why Cooking and Laundry Changed My Life gives more in-depth details to that day spent in the Haitian women who ultimately became some dear friends of mine.