(If you share one post from my Haiti journey – this is the one. My yesterday changed my life.)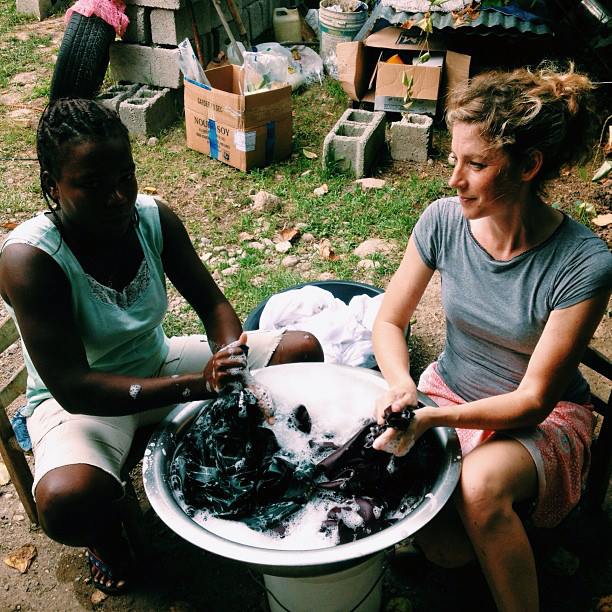 I didn't even like typing day five in my title. My heart has fallen in love with Haiti and this amazing culture. And yesterday? Yesterday was perhaps one of the best days of my life. Words to describe it to you will not do justice. But, I will try to articulate the beauty and life lessons from my blessed day.
Because yesterday brought more perspective. Perspective is good. Yesterday changed my life.
When we lose perspective we start to grumble about the little things. 
When we have perspective we start to be grateful for the little things.
Think about that.
Where is your perspective on life?  And then read this and find out how mine shifted forever.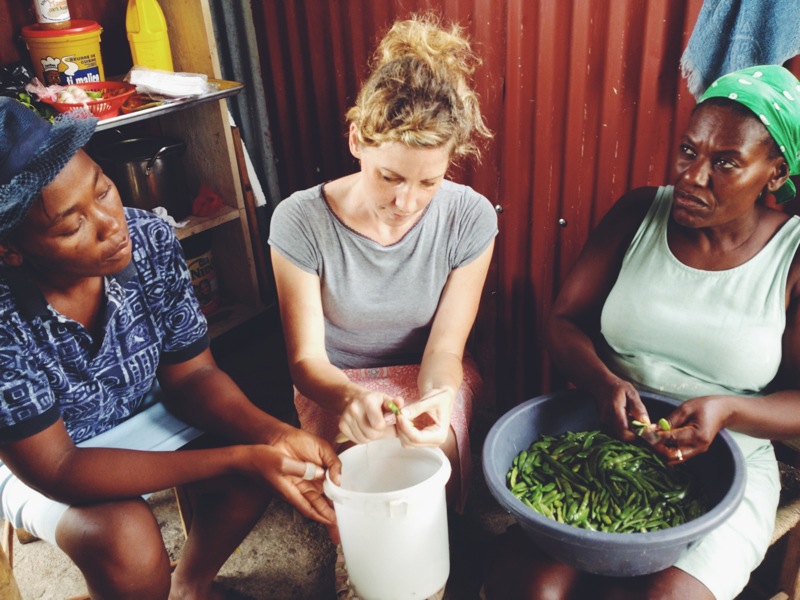 I was given the gift, and I say gift, to work with nine Haitian women preparing meals for the teams on our missions trips. I was dropped off, introduced via a translator, and then left in that sweltering outdoor kitchen with these women. Me, the American who quickly forgot that konmen yo di sa'a? meant how do you say? So I was left with pointing. And one sweet women, Juliette, in the mint green dress next to me, who knew my name and called me Ray-Shell  had patience with me. She also quickly learned the word Stop as otherwise I didn't know what to do and would probably keep stirring whatever they were cooking.
So they welcomed me in. Started to find tasks for me to do. I started with cutting pineapple – spiky pineapple where you can't grab the top. And that reminds me – you do NOT need your drawer of utensils – you simply need a large knife and a spoon. That is all they use. They cut the pineapple holding it in their hands. I had to use a tray. They chuckled. I laughed at myself and from that point on they started to warm up to me.
I spent an hour working on beans (second picture) – pulling the strings from the side (using that big knife to start it) and then slicing them on the diagonal. I fried bread fruit – in fact, I made an entire batch by myself. Drained it from the water with my hands, threw it in the hot oil over coal (do not ever complain about your stove/oven again), and then stirred it with that one spoon. Carefully. It was bubbling oil and a blazing hot pan and none of those safety things that we have. But, I got the hang of it and they cheered when my batch was finished.
I got to introduce lunch and dinner meals to the teams because I prepared them. Total joy.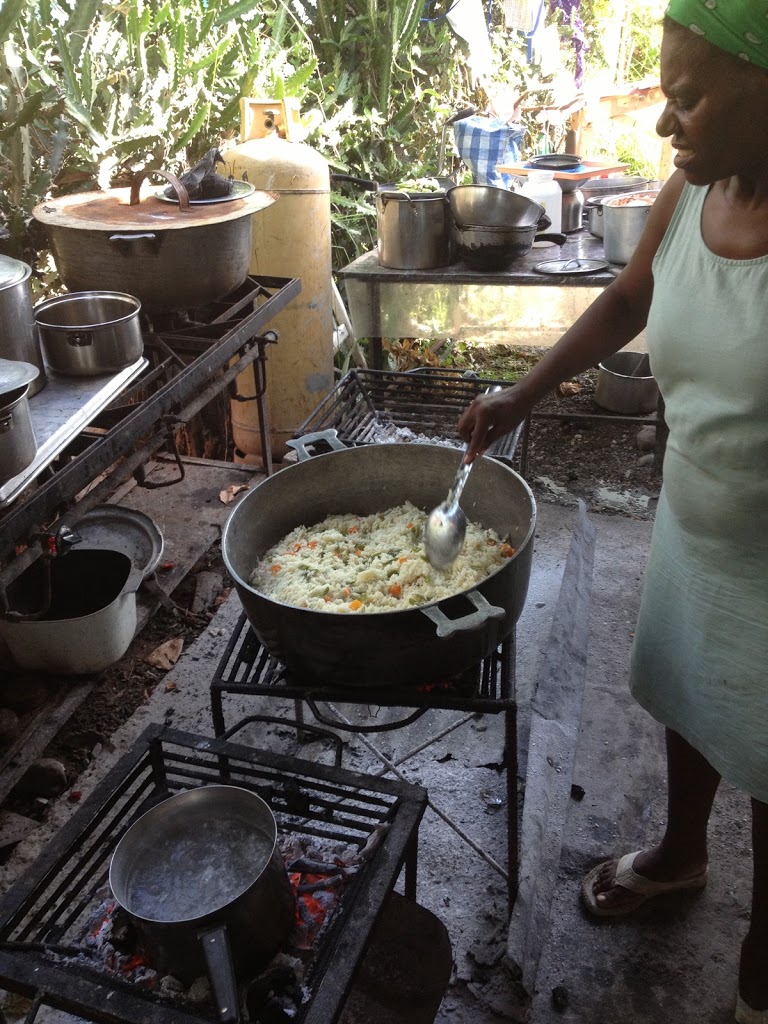 And then I worked for hours rolling these fried hamburger/bread balls with a spoon. In that picture above that is what I was doing. They even got me a stool because they were afraid I was tired, but I just smiled and shook my head no and told them that I was good. Bon. In the beginning I couldn't make those hamburger balls without using my hands.  But, by the end I was almost as fast as them using just a spoon and a bowl. They would look at me and tell me good job and it was an amazing experience of bonding even without speaking.
We became friends in those hours in the blazing hot kitchen.
Everything is done by hand. In fact, one lady was helping me prepare those hamburger meat balls and I noticed a bowl was set aside. No bread was put in it. And then I humbly realized that was my bowl – they were making me gluten free food. So I pointed at the bowl and then me and I said that mwen, mwen. And the look of joy on their faces when they realized that I was the one they were preparing a separate meal for made me teary. And the joy I felt – especially after seeing how hard it was to make meals – that they made gluten free food for me was humbling, incredible, and endearing.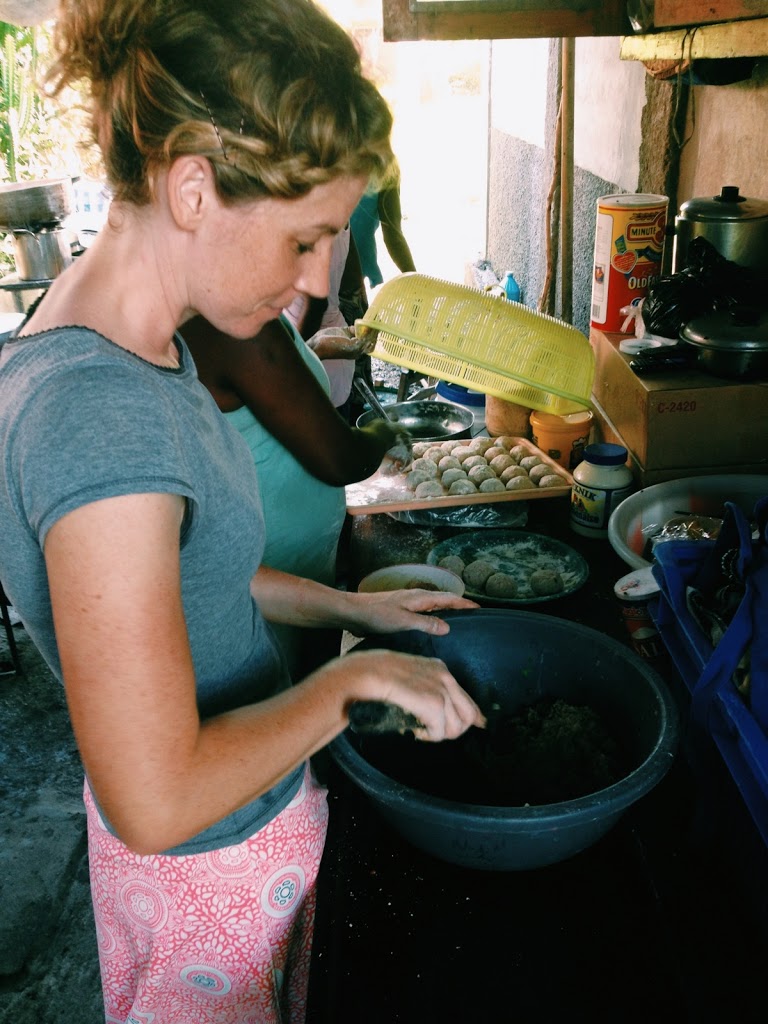 We cooked all day. I mean, all day long – not our expression of all day, but really the entire day.
All of us women in the room. They would chat and laugh and I would smile with them and they would pat my shoulder and smile and think of any English word to help me. They knew the word love and one of the girls must have been in love or had a boyfriend because they would point at her and say that and laugh and I would laugh with them. It was amazing as they welcomed me in their community.
Then in the middle of the day they had me help with laundry. Washing the sheets that go on the table for each meal and then some things around the home. They filled bowl with water and powdered soap and I sat on a stool in the middle of the Haitian countryside while I heard the surf crash into the black pebble beach and a peacock (for real) ran in front of me and two cows bellowed behind and I was so incredibly joyful and content.
We scrubbed those clothes and linens by hand. And my hands began to bleed and she helped me with them.
I was humbled.
Do you know that my hands bled within an hour of scrubbing those clothes? One hour and I had raw knuckles. And she washes those tablecloths twice a day.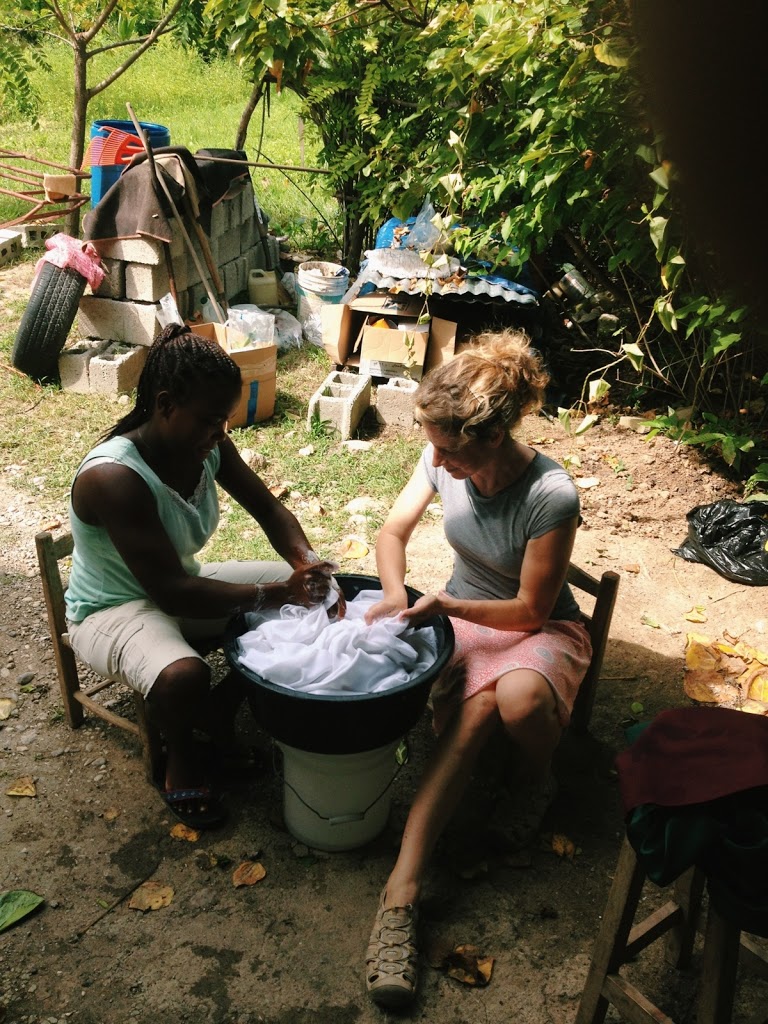 How many times do I grumble about laundry?
I turn a dial and throw clothes in and take them out. I do not think I will ever look at laundry the same. In fact, I am taking the picture of me and blowing it up and putting it in my laundry room above my washing machine.
She never complained.
She just worked. Laughed. Helped me.
I want to live that way. Loving life. Not being so concerned about the stuff.
These women loved each other. They loved each other in a way that we need to learn. They didn't care what the other was wearing or what task they were doing. They just worked together, took care of each other, and loved one another.
At the end of the day, another sweet friend (learning their names was so hard for me – I really tried) took me by my hand and led me into the house to the bathroom so I could wash my face. She turned the sink on and then handed me soap and the towel that all of them shared. I was part of them – their group – and they loved me.
I cried.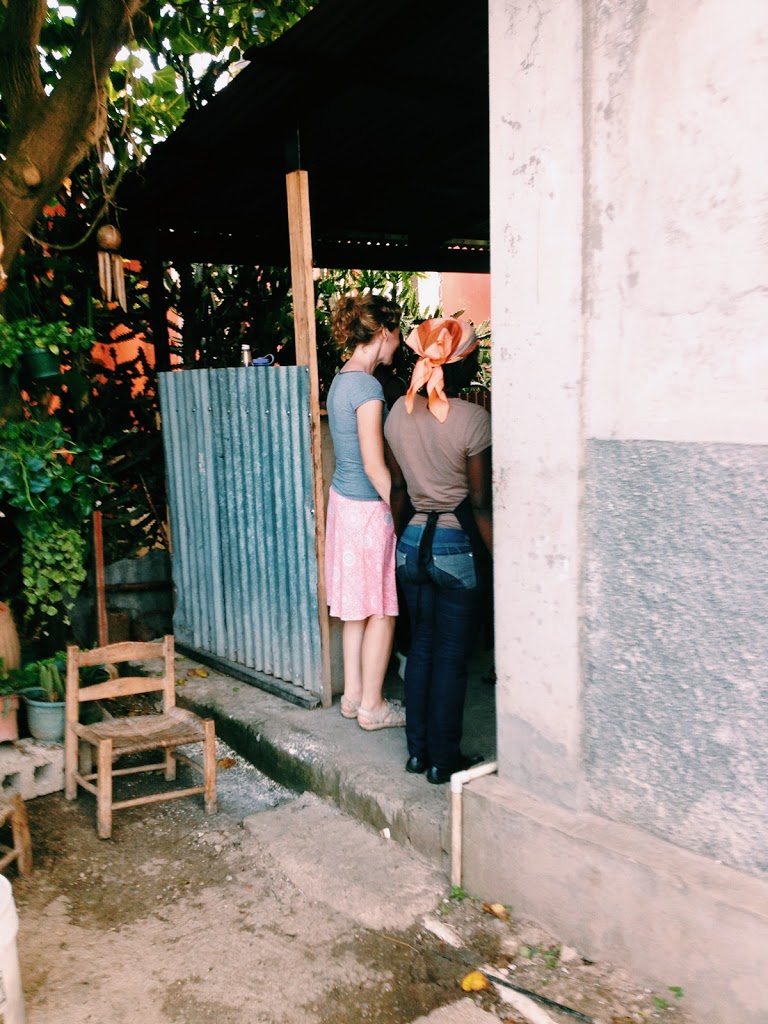 They didn't exclude me because I was slower at what I was doing. They welcomed me. Embraced me. Loved me for me wanting to help and learn.
They taught me about life.
And so when my Haitian friend Jonas arrived we walked back to that kitchen with a partial aluminum roof and a tarp and a space outside where there are three buckets where you wash and clean things and I asked him to tell them words from me.
I want you to know that I am forever blessed by you opening your arms and kitchen to me. I look at you all as my friends and as my sisters. I will remember this day for the rest of my life. I love you all and am so grateful for today.
And I cried.
Big fat tears rolled down my face and I could hardly talk. In fact, even as I write this tears are rolling down my face.
Please tell them these tears are tears of joy, Jonas.
And they were.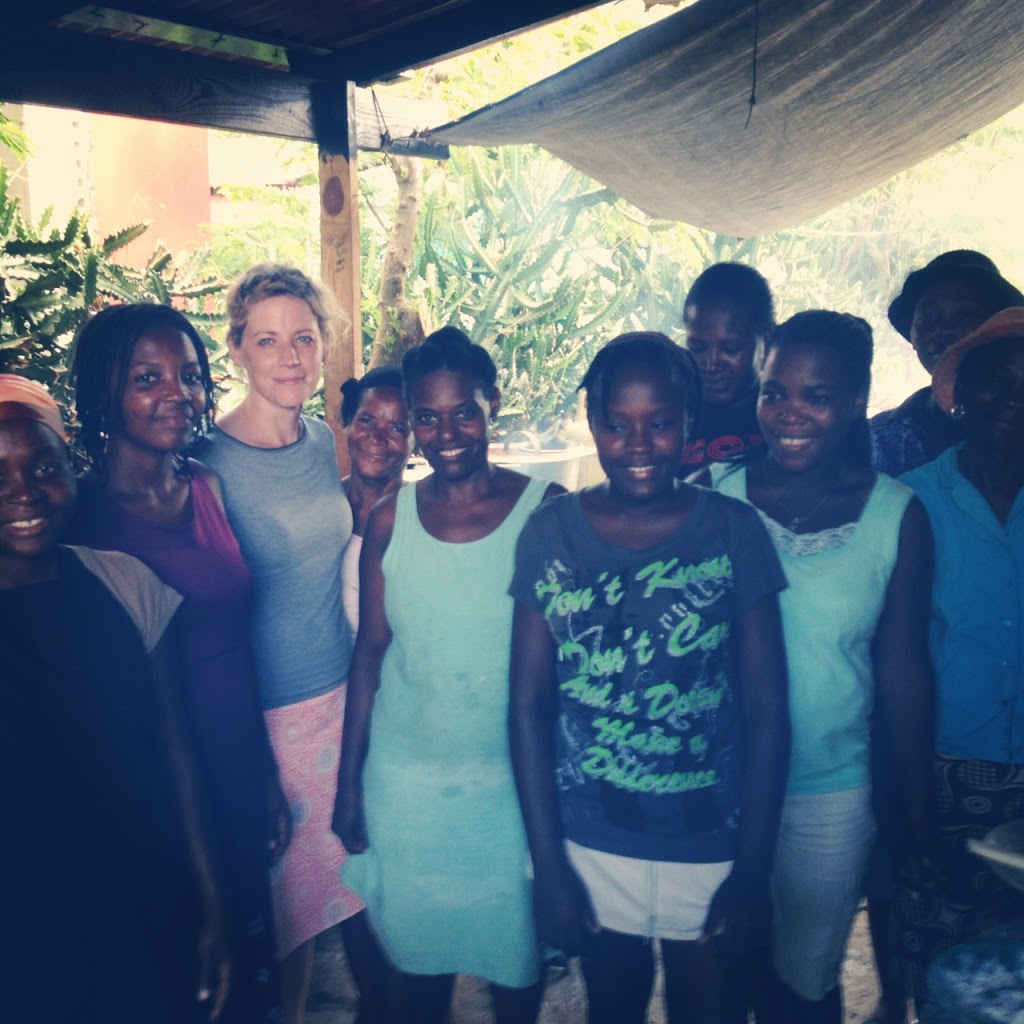 Learn from those women.
Open your arms. Find joy.
Even in laundry and cooking.
It's perspective. And mine forever changed.
***********
You can also search the hashtag #findingjoyhaiti on instagram to find my pics right away.
Make sure to follow Praying Pelican Mission on their facebook page Praying Pelican Missions and on twitter at PrayingPelican To learn more about Haiti please read Haiti Short-Term Missions.
Images and original content are sole property of Rachel Martin and may not be used, copied or transmitted without prior written consent.