I took a picture this morning.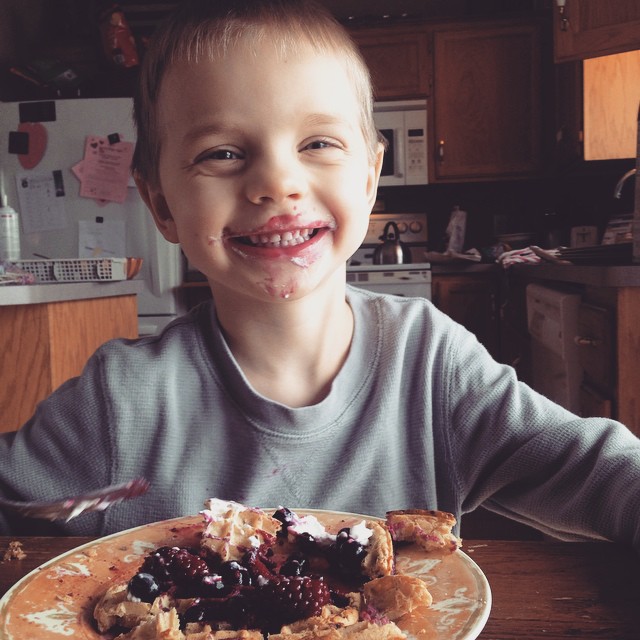 It was of Samuel eating berries and whipped cream and waffles. And he's so happy in it. Like I mean ridiculously happy in it – can't you see it in the super exuberant smile and grin and berry juice plastered all over him? And after all, I did give him extra whipped cream. And crispy bacon.
But you know what? What's the truth?
I hesitated posting it.
Ha. My word. I can't even type it because it is so ridiculous, in a way.
But that's the truth. There were these reasons, these doubts, these things behind the picture that I didn't really want to share in that moment. So silly, really. First because the waffles were Eggo's new gluten free waffles (which, in my world is awesome) that I didn't make them from scratch and even though they are gluten free are for sure full of junk that isn't good for you. And then, then instead of seeing Samuel I saw the kitchen behind him. With the silverware basket on the island and a cabinet door not closed and chip bags open on top of the fridge and stuff littering my counter.
And truthfully again, I tried to crop in the picture so you wouldn't see the behind the picture. You know the normal stuff. And as soon as I realized what was going on I thought no way – this is my real.
Let me tell you. It was not Pinterest worthy. It wasn't a picture of the neat kitchen. It wasn't organic fabulous home made waffles.
It was just real.
It was us, in the moment, sitting in a kitchen with remnants of breakfast but enjoying little things.  Living life in the middle of the most seemingly imperfect background and yet joyful.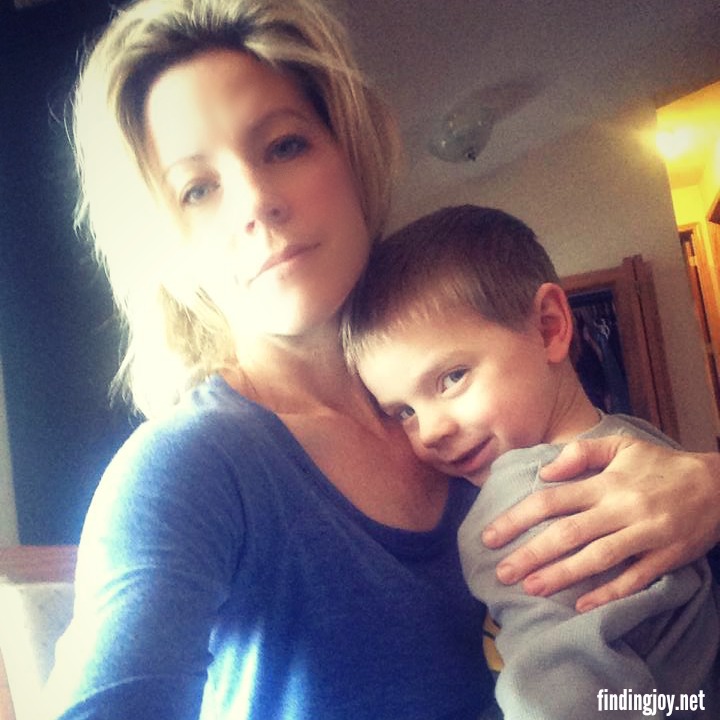 Oh sweet mom reading this sweet little note of mine pounded out late on a Monday night,  I've realized over the last year how much I wanted to tell you the tale of a life all put together and to give 15 steps to finding happiness. I've also realized that sometimes I just wanted to shout I quit trying and to throw the motherhood/provider/girl towel in for just a moment.
I want to give wisdom. Or answers. Or words that the hard stuff will vanish if you just do this or that or read that or try that program. But as life ticks by and the moments build up into months I've realized that most of life is spent living wrestling with the tension of living in a world that is mostly behind the picture.
It's in the moments spent after snapping that little one with the berries all over their face while you wipe down the kitchen and realize that berries stain grey clothing and hands. It's in dealing with kids that don't listen and push your buttons and empty chip bags put on the top of the fridge because no one wanted to throw them away.
I wanted to write profound words about life behind the picture. And they're not really that amazing or earth shattering or any of that. But it's this.
Be proud of your behind the picture.
Oh my word, yes, yes, yes… be proud.
Be proud of the stuff tucked in the corners of the picture of your life. Be proud of the mismatched boots or books in the corner or messy backseat with kids cheering as you pull through Dairy Queen. Be proud of the times where you aren't perfectly put together. Be proud of the times where you pick up the phone and say I need help right now and you let the tears fall.
Be proud.
Even if the picture isn't perfect.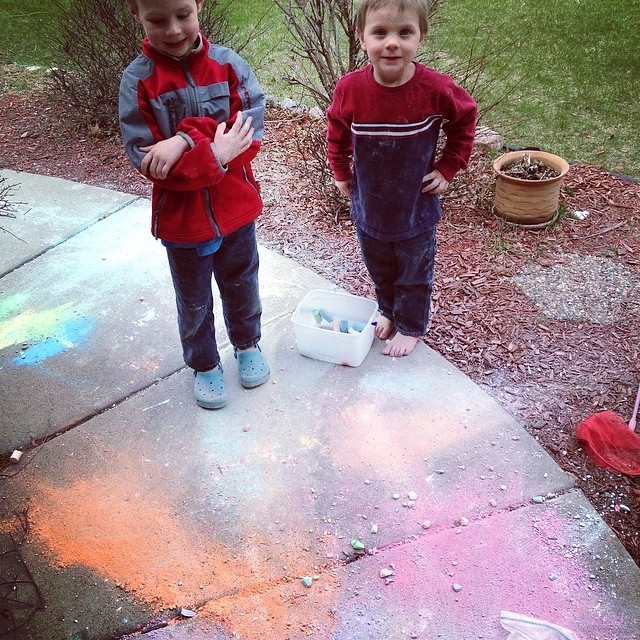 We have those moments, don't we?
We have those moments where it is just heavy and hard and we feel alone.
We have those moments when we wonder if our life picture is the only messy one.
I know I do.
When I was younger I used to ponder what the meaning of life was and thought that someday I would figure it out. Hahaha – I thought for sure by the time I was 40 it would all make sense and I would be this wise person sharing her heart. Instead,  I'm just me, wearing yoga pants with my hair in a pony tail, worn out from the day and writing words from her heart into the computer.
Words that are unedited and not designed to look like life is a perfect picture with all the ducks in a row and things pushed off the counter. Words about motherhood and that sometimes I know that you feel alone in what you're doing and you just want to yell will someone please see everything I'm doing just once? I know about the thoughts about just wanting a break or the worries about messing up your kids.
I so get those moments. Because I've had those thoughts.
Those worries.
Those hopes and dreams.
Those behind the image moments of motherhood.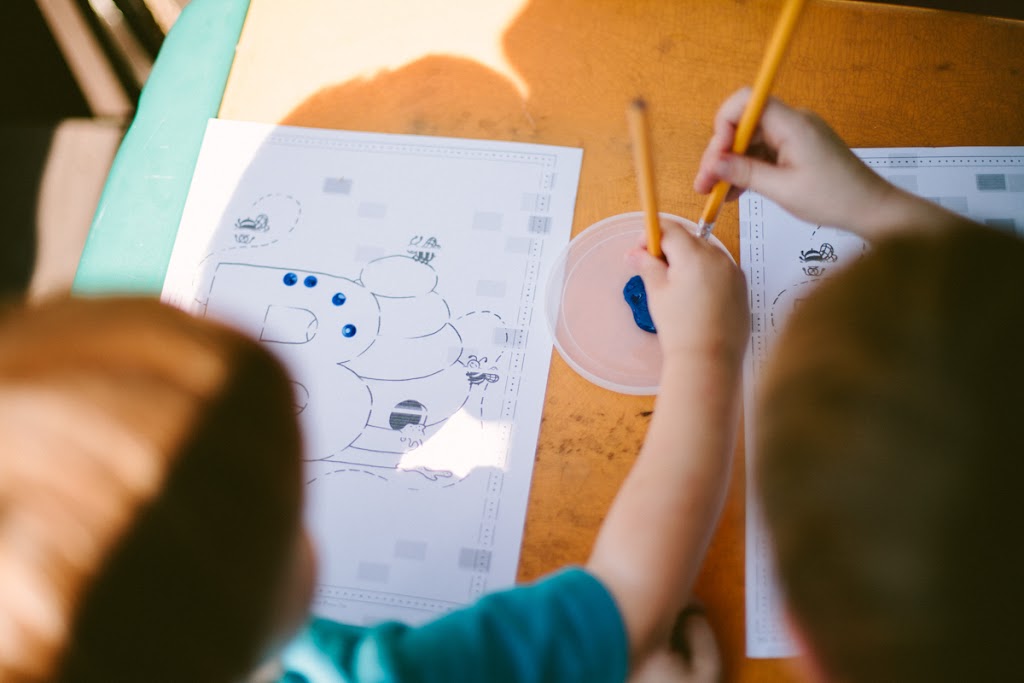 But listen, just one more time.
I stood in my kitchen slicing gluten free pizzas tonight and thought about that life and motherhood and meaning and what an important role we have in this world.  I thought about all the kids I've burped and driven to school and buttoned coats of and buckled into cars and sang lullabies to at night.  I thought about all the things you do too. About all the times where you sat behind a door while kids wouldn't go to bed or al the times where you've picked up the phone and fought for your kids. I thought about the dreams and hopes and books we've read and how at the heart we really want to do out best even though some days we feel like we're drowning or treading water.
And I realized that life is not really anything I ever thought it would be.
It's far more messier. There are many more ups and downs and roller coaster moments. There are laughs and cries and just a whole bunch of wondering what is the point of this? sprinkled about.
But it's also this crazy beautiful thing in the normal battle of the imperfect every day.
If my kitchen wasn't messy we would never have had those berries with waffles and whipped cream and perfectly crispy bacon. Yes, I'll admit that I can get at least one pan of bacon perfect. Only one. Then it cooks too fast and I'm impatient.
I'm proud of that just a bit messy kitchen.
Not because it stayed that way. We cleaned it. The shirt almost has the stains out. but I'm proud because it shows a life lived. Not a life thought about or any of that  – but lived.
So sweet friend reading these words that is what I'm reminding you of tonight.
Maybe your picture of life has that messy stuff tucked in the corners or maybe it just looks plain and simple disheveled.
But look at my boy's face again.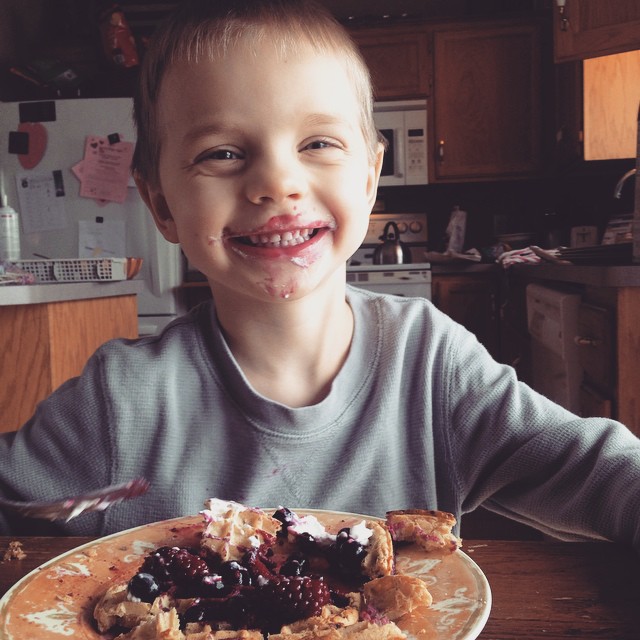 He didn't care.
He didn't care. He knew his momma, his imperfect and falling flat on her face at times momma, loved him dearly.
That's what I want you to see and to remember.
Life happens behind the picture.
Carry on brave mother.
I am proud of you.
~Rachel