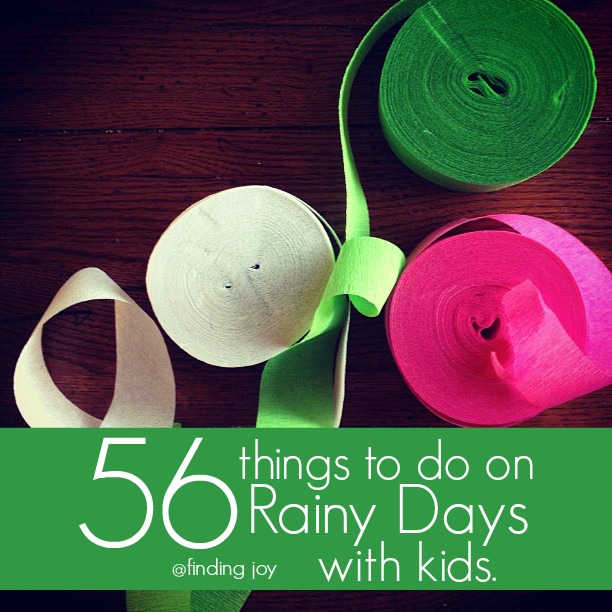 For the last 9 out of 10 days it has been raining or at least cloudy here. That weather can make for some long drawn out days. Here are 56 different {easy} activities to do on those rainy days.1. Play with crepe paper streamers.
2. Make a rain gauge.
3. Teach your kids how to read a radar.
4. Build an indoor fort.
5. Have a movie watching party.
6. Sort through the toys and get rid of the broken ones.
7. Bake cookies.
8. Clean up after baking.
9. Take naps. (This is a good one)
10. Learn about the water cycle.
11. Run outside with umbrellas.
12. Run outside without umbrellas.
13. Stay inside when it thunders and lightnings.
14. Learn about how to calculate distance of lightning.
15. Turn on music and dance.
16. Turn on music and sing.
17. Build an indoor fort.
18. Have a scavenger hunt.
19. Make something new for everyone to eat. (we love edamame)
20. Take turns telling everybody what you love about them.
21. Trace everyone's hands and make a collage.
22. Make paper airplanes.
23. Do origami. (Have patience for this one)
24. Have breakfast for dinner.
25. Play hopscotch indoors (use masking tape to mark it out)
26. Write letters to those you love.
27. Or draw pictures for those you love.
28. Do simple science experiments (try this one -> amazing outstanding unbelievable egg experiment )
29. Or try this one -> expanding balloon experiment
30. Play hide and seek
31. Play board games.
32. Play cards.
33. Wash windows (this one has extra benefits – hahaha)
34. Pack everyone in the car and get yourself a latte at a drive thru Starbucks (love them).
35. Sort the silverware drawer.
36. Even better, sort the plastic container drawer. Good luck finding matching lids.
37. Color a paper full of colors, paint/color it black, and then etch a design in it.
38. Plan a list of things to do when it is sunny again.
39. Get on the floor and play with your kids.
40. Make paper masks.
41. Make sock puppets.
42. Sort and fold your socks first.
43. Pull out the dress up clothes.
44. Make giant brown paper maps (like this -> brown paper, crayons, and pencils )
45. Draw.
46. Have your kids draw self portraits (make sure to date them)
47. Play video games and have your kids impress you with their Mario Kart skills.
48. Build towers with blocks. See who can build the tallest.
49. Tell silly jokes.
50. Make homemade playdough.
51. Dump the legos all over the floor (on a blanket) and simply build.
52. Play Simon Says.
53. Make a shadow puppet story on the wall.
54. Make top ten lists of favorite things.
55. Paint rainbows.
56. And hope that you see one soon.
What are your favorite rainy day activities?
~Rachel
All pics are from my instagram feed. Find me there at -> finding_joy
Need encouragement on those rainy days? Check out my Dear Mom Letters Ebook.
Images and original content are sole property of Rachel Martin and may not be used, copied or transmitted without prior written consent.