I had another post almost written.
It was about gratitude and why it's important and that on some days it's harder to be grateful and yet it's an excellent discipline. Yes, that. Well, I've discovered that I simply must be careful what I write because it's like the phrase be careful what you wish for.
Today was nothing like I expected.
In the scheme of life was it a worse day ever? Nope. There could be worse.
But, I'm telling you it wasn't awesome. My lower level bedroom was flooded with water. Which resulted in that entire corner of the room being demoed. And it was a gross, gross, gross job. Like the absolute worse, get out the bleach, put a mask on, and go outside and get fresh air kind of gross.
Friends, it was also a most beautiful day.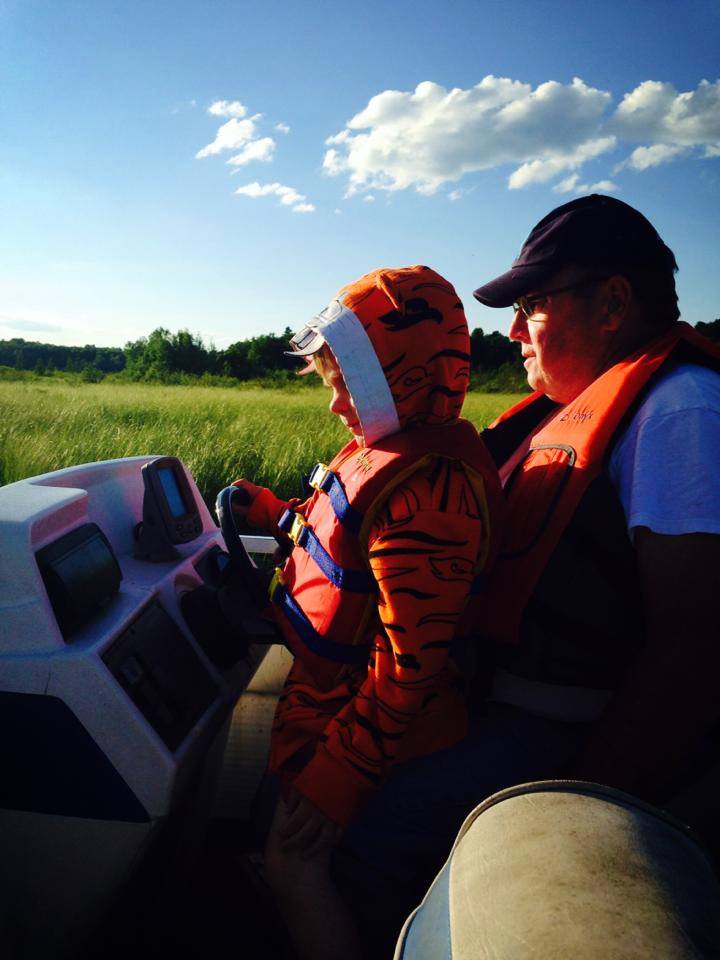 My dad, who is in that picture helping my Samuel "steer" the pontoon at the lake,  dropped everything and drove to my house and ripped out the walls with me. He removed framing, pried up tack boards, cut carpet, cleaned everything, and wiped it down with bleach. And he never, ever, once complained. Anytime I'd say I'm sorry Dad, he'd say back to me for what? Rachel? this is what we do for each other.
Tears.
How can I be more grateful than for that?
My challenge for day three is for you all to list everything you're grateful for in a minute. Or to take a picture of you holding a sign showing what you're grateful. Or sharing what you're grateful for.
[Tweet "Being grateful creates perspective and perspective creates joy."]
Today I'm grateful to have a dad that loves me so much.
I cannot wait to see your gratitude lists.
Keep sending in your "I'm am Enough" pics. I'd love it we could start changing profile pics so that ours have those – that could be super powerful. And make sure to check out the #findingjoy hashtag on instagram. It will leave you teary.
With joy. I'm humbled and honored to walk this journey with you.
~RACHEL
Make sure to follow the FINDING JOY BLOG on Facebook to get the most current updates. Which will be timely except on days with massive water leaks. 🙂