When I was a kid I couldn't sleep the night before my birthday.
I'd go to bed thinking that it was going to be the best day ever – I'd dream about my presents and friends and just feeling special and awesome. I like to think that I was kind of the queen for the day. Where no one could be mean and I wouldn't be forgotten.
Then I grew up.
And became a mom.
And today is my birthday.
And this is what it's like.
A real normal day. A day of me getting up at the sound of my alarm, pushing back the covers, walking into the bathroom, looking in the mirror and thinking about how another year is added on to the life of years that have been tallying up faster and faster. Then my second alarm went off.
And the real mom birthday day began. But this is beyond the birthday.
This is about normal. You will see.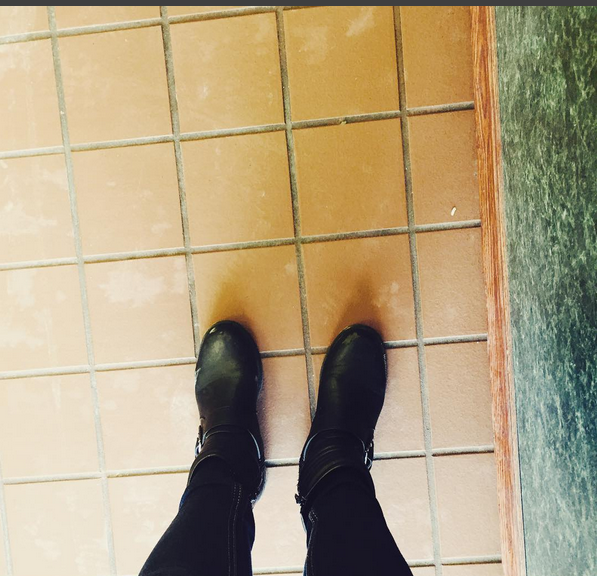 So my day. Pack lunches. Get kids up. Announce to them that today was my birthday and that I am queen for the day. Notice no change in attitude in kids who don't really want to get up. In fact, announcing the birthday and appropriate title of queen seemed to cause the opposite effect and thus my typically crabby on Wednesday morning kids were exceptionally crabby. Drive to school, clean up, work, and so forth.
No decorations. Not too many real life birthday wishes. Just a day.
But you know what?
I decided that I was going to celebrate.
So in the thirty minutes before I stood in the entry way of the primary school waiting to pick up my kindergartener I went and bought pizza, went to the grocery store and bought myself a gluten free cake, flowers and little presents for the boys.
And I was happy.
Do you know why I was happy?
This.
When I stood in that entryway at the primary school my Samuel saw me, ran to me and yelled Happy Birthday Mom! And hugged me. In the middle of all the parents. That gift was beautiful.
I told him I had a present for him. Orange TicTacs.
You would have thought I gave him the world.
On your birthday?  A present for me?
Then I picked up my other boys. The crabby one apologized as soon as he got in the van. And then when I handed him his $1.05 container of TicTacs tears came in his eyes. I don't deserve it mom. That's what he told me. I told him just having him in the car with me was the best birthday present ever.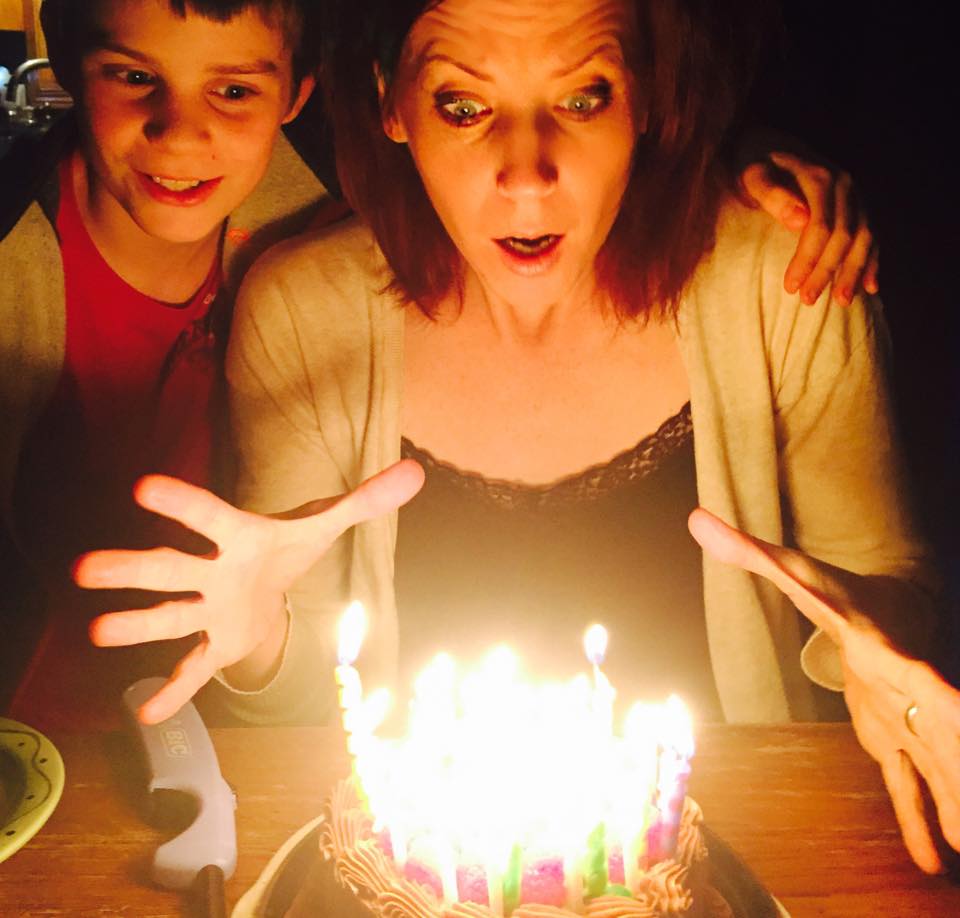 And so here I am now. Tonight. Eating Papa Murphy's pizza with my boys and a Happy Birthday banner that my six year old found sitting on the table and a cake with raspberries on it on the counter. The boys are just being kids – playing and fighting (until I remind them that I'm the queen today) and hopefully doing homework without a fuss.
It's kind of what us moms get.
I can't think of a more perfect birthday really.
It's normal.
And normal, in a world of crazy and stress and angst and stuff to do and problems to solve is sometimes exactly perfect.
You know what keeps me grounded on the days when I just want to wonder what on earth I'm doing? Or when the kids drive me crazy? It's the normal days. You see, eight years ago, on my 33rd birthday my friend Amy's little baby girl Emily died. And I made a promise to her, to myself, that on every day that I celebrate my birth I will remember her daughter. And in remembering it reminds me to be grateful for the simple.
For kids that slam car doors when I drop them off on the days when it's my birthday.
For kindergarteners that flop to the floor in the entryway because they don't want to go today.
For the ability to buy a gluten free cake with raspberries.
For the hundreds of messages from friends.
For another birthday.
Because I've been blessed with another year. Another year of trying and falling and brushing off defeat and finding happiness and joy and standing on the bottom of the world in New Zealand while tears fall and kids that just want to be held and me just trying. Over and over and over.
365 gifts of imperfect trying loving normal.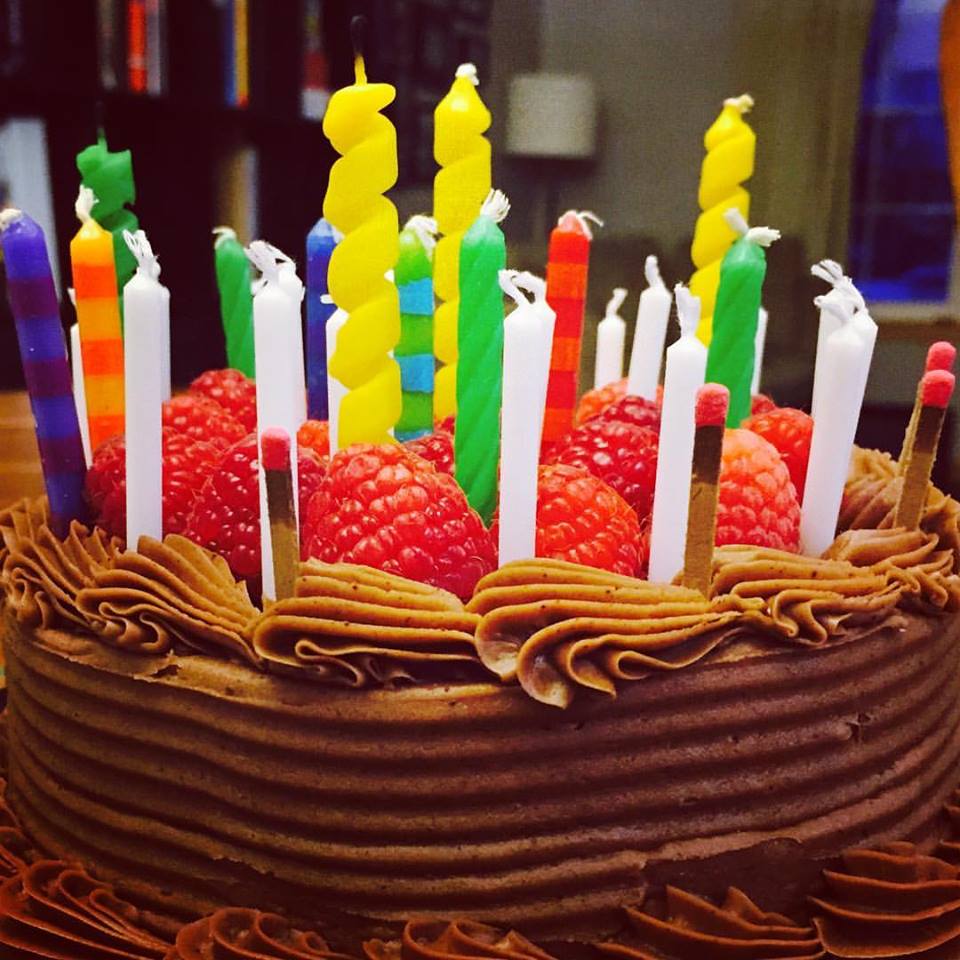 So my friends – especially you all when you celebrate your birthday – remember the beauty in your normal today. In the kids that drive you crazy and the house where you live and the ability to breathe and that there is laundry to do and all of it. I mean it. All of it. Maybe life and birthdays don't have balloons and glitter and presents and coffee breaks and trips – but it does have life.
It does mean that those kids that drive you crazy are there with you.
So celebrate.
The imperfection.
Because the imperfect normal is stunningly beautiful.
~Rachel
who is now 41…and that above cake has 37 candles and 4 matches in it. Because my boys wanted that.