If you and I could sit in my backyard, up on the deck of mine with the peeling stain, and the brown grass waiting for spring rain to change it a vibrant green, and our kids running in my backyard with the much too old swingset leaning in the grass while the new one is being built, I would seriously tell you that I sometimes feel that way too. Actually, I would probably tell you that I feel it more than sometimes. I'd probably whisper to you that so often I feel like I am messing up and not doing this motherhood thing correctly.
I would very quickly start listing all the things that I do that I don't like. I can see them, they're all so visible, all these mistakes that I've made. They stick out in the defining of my motherhood self so much that I start to lose sight of all the good things that I've done. I'll share about all the times when I didn't play tag or I complained about helping with the next project or I was short tempered with my kids or when we didn't do this class or that class or when I felt like I just messed up.
I see those things, those times when I responded in exactly the opposite way that I would have loved to have responded way so easily. Those times, those moments stick out like blotches of dark paint dripped on a a colorful canvas of life
So if you're sitting there nodding and mulling through the list of all the things in a day that you wish you had done different – I first would tell you that kids are resilient. Tenacious. And even if you were the hypothetical perfect mother it doesn't guarantee that your child will be perfect and have the perfect life. They are creatures with independent wills, outlooks, and goals. You and I – we are guides, helpers, trainers, but when they leave, well, sigh, that's the hard part – they're them. Motherhood success isn't based on the things that they accomplish, do, finish, and complete. It's this tension between leading and directing and letting them fall sometimes.
And then I'd tell you that right now, right now we live in a world where it's much too easy to be terribly hard on ourselves. We live in a world that celebrates the end of the story – and very often we're all just living in the midst of a somewhat messy life that doesn't look like the fairy tale story that we dreamed about when we were young. And that's okay. Life wasn't meant to be perfect. And when things aren't perfect, things are real, and then we make mistakes. But we learn from the mistakes, you learn from the mistakes, and they make you grow, become better, and gradually the very hard things, those splotches in our lives, become a beautiful part of our story. Not for the ugliness of the splotch, but for the beauty and determination that resulted from them.
And then, I would tell you that you are not alone in worrying about this. I would let you know about the emails that I receive one after another after another after another from mothers who just need to be able to breathe and to know that what they are doing isn't messing up but is rather just normal. Sometimes motherhood is a lonely place. It's a place of facades and I've got it all together grins and underneath there is this deep festering worry that we're messing up and we're not good enough as a mother. Sometimes I want to throw the towel of perfection and scream that I really don't care about being perfect and instead just want to live a life of grace and trying.
You want to know something? The truth is that there are many nights where I lay my weary head on my pillow and I think about every single thing that I didn't do right in one day. I will mull over the times where I was too short or when I didn't read the books or when I snapped at them over wanting what felt like the 32nd snack of the day and when I didn't do this or that or that my laundry was sitting in the dryer waiting to be folded. And then I'll see everything I didn't get done – crafts, cool projects, that great meal, the time sitting and just playing.
It's that messing up I'm not a good mom and I'm tired feeling very real days of motherhood.
I tell you that because really we need real in this world. I'm not about telling you what you're not doing right – I'm about you starting to see everything that you do. You and I and the mom pushing the cart next to us at Target, well, we're all flooded with information every single day. From pinterest pins celebrating the next project that we should be doing to cute facebook status updates to motivational quotes to the list of classes our kids could be taken we're almost always being told what we should be doing.
I am here today to remind you of all you're already doing. That messing up feeling so often comes when you start to see everything that wasn't done right. Do you know that every single day I mess up? That every single day I don't do things perfectly? I'm sure you're nodding your heading and thinking of course, that's normal. I've learned to give myself grace. How about you? Do you remember to give yourself the same grace?
Now, I'm not saying sit in the mess up feelings moments of life. That's not empowering, that's not enjoyable. Instead I want you to start focusing on changing one thing. Maybe it's talking sweeter to your kids. Maybe it's not yelling so often. Maybe it's reading more to your kids. Maybe it's starting to learn to like motherhood. Because, truthfully, having days when you put your head in your hands and cry and feel overwhelmed are simply normal days of motherhood. They are the days that make you stronger, more tenacious, and more able to relate with others.
The thing about motherhood is that none of us were ever mothers before we became mothers. Obvious, right? But, the truth is that often we don't give ourselves the grace to learn. I didn't know how to parent a toddler until I had a toddler. A teenager until then. And thus, I mess up. Maybe it's not so much messing up but rather is learning. I learned what to do with a teething 18 month old or a defiant four year old or an eight year old who refuses to clean their room. And I'm still learning – no two kids are the same and thus it feels like I'm in a constant state of learning.
So today, today challenge yourself to see all the amazing things that you do right. Those I love you mom moments, those simple things that you dismiss as just normal, and the little things that in the grand scheme of life will be the big things.
It's that brave motherhood journey. One step forward, learning all the time, catching the momentum, and not being a afraid.
It's not messing up. It's real life. Motherhood is messy.

Motherhood is also incredibly brave.
Onward, brave mother.
*******
Love the letter? A collection of 21 of my Dear Mom Letters are now available in ebook format.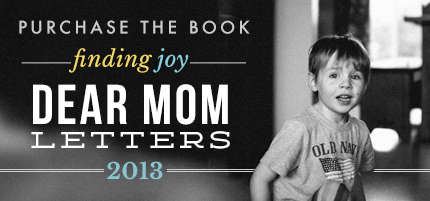 to receive finding joy via email simply click subscribe.
Images and original content are sole property of Rachel Martin and may not be used, copied or transmitted without prior written consent.