So I'll just tell you all that this is a morning where the tears are behind the eyes.
It's just life.
Sometimes when it rains the flood gates open and it doesn't even pour normally but appears to dump buckets on your head. Or, in the case of my last week, we'll call it a steady drip right in the face that doesn't let up but keeps you constantly going and not resting and moving.
This last week I kind of wanted to wave the white flag of temporary surrender and shout enough.
I wanted some glitter and sunshine and rainbow motherhood days.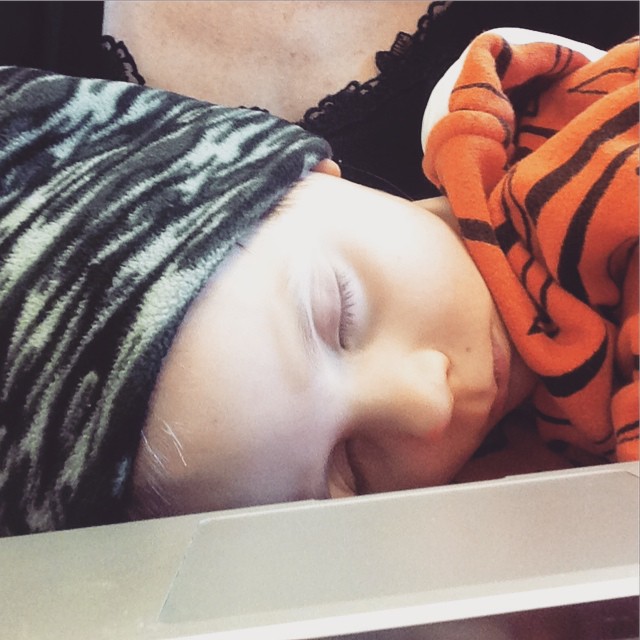 Instead, on Sunday night, I found myself sitting in the emergency room with my littlest guy Samuel getting IV fluids and glucose because he had been sick so long he was now dehydrated and starving.  And when the doc and nurse – who were unbelievably great – told me that this prolonged sickness was probably due in a bit to Samuel having Celiac Disease – I just kind of had that moment where I forgot that autoimmune diseases add those extra wrinkles and so on.
But as I sat there with him and tried to squeeze myself onto the emergency room cot because he wanted me to rest by him and watch Frozen I couldn't think of a thing on my to-do list that was urgent or a place other than that cot where I should be.
As we drove home I just wanted that moment of saying enough.
Even though throughout the night I still dealt with sickness and getting up and cleaning up and taking care of things and packing lunches and driving kids to school and my plate felt so full that it was almost too heavy to lift.
I know you get it.
I know that there are some of you right now with way heavier plates of life that you're dealing with and that the words enough sometimes come out as a whisper. I know that there are some of you who are just simply tired and would do anything for that elusive sleep. I know,  I know,  I know.
As I sat in my kitchen this morning after making phone calls for followup visits and trying to get a handle on my week I thought about what to write to you all. I thought about words about you being enough or that you matter or that even on those days when you want to quit that you have strength and power. I thought about reiterating that you are not alone and that your can totally make it through today. I thought about talking about the moments that layer together to create your story or that sometimes our most beautiful tenacity is found in the moments when we are at our limits. And then, well then, then I realized I wanted you to remember this.
Sometimes courage and bravery comes in the most simple of moments.
Yes, that.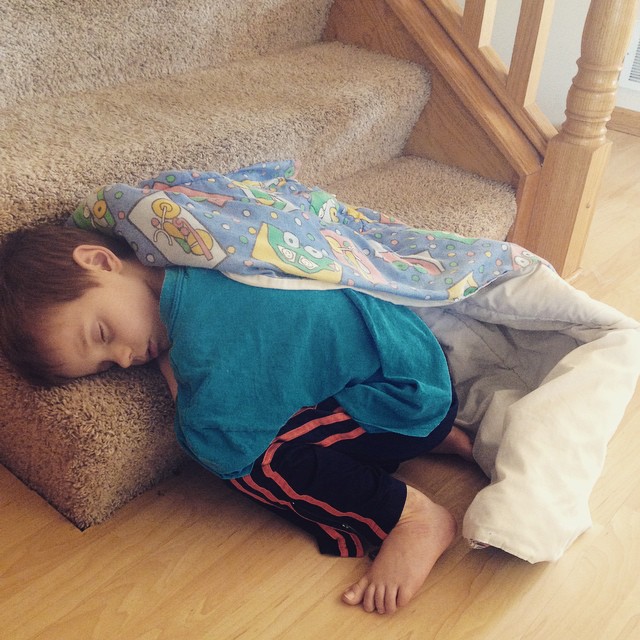 It's so easy to chalk stuff up to just what you and I do as moms. It's so easy to feel guilty when we want to wave the flag of surrender. It's so easy to wonder why the mom across the street seems to have it together and we're just trying to make it from 9am to 3pm without tearing up.
It's easy to compare.
It's easy to compare and to miss the courage and bravery that you have tucked inside.
Sometimes we just get weary. It's okay to admit that we have days when the tears fall. It's okay.
You know. I am so thankful that I was able to be there for Samuel. I am so thankful for all the days of packing lunches and fruit cups that are impossible to open and kids that wake in the middle of the night and yell mom even though it means I will be tired.
I'm so thankful for toys in my backyard and chip bags that sometimes don't make it to the trash but that remind me that my kids are healthy enough to eat. I'm so thankful for friends who listen and call and text and love. I'm so thankful for coffee, as silly as that sounds, but I just am thankful. I'm thankful for washing machines that clean gross throw up towels and clothes and a dryer that works and baskets to carry clothes upstairs to in drawers that are bursting with clothes. I'm so thankful for all the wonderful that sometimes is hard to see during those days that seem so incredibly heavy.
I'm just determined to be thankful even in the midst of crazy.
And to celebrate motherhood. And you. And all that you are doing.
And to tell you that it will be okay and that you are not alone.
And to remind you of the courage that you display even when you forget.
And to say that it's not defining of your tomorrow even if you feel as if you've had enough today.
And to help you remember the beauty and joy and happy and that it will come back.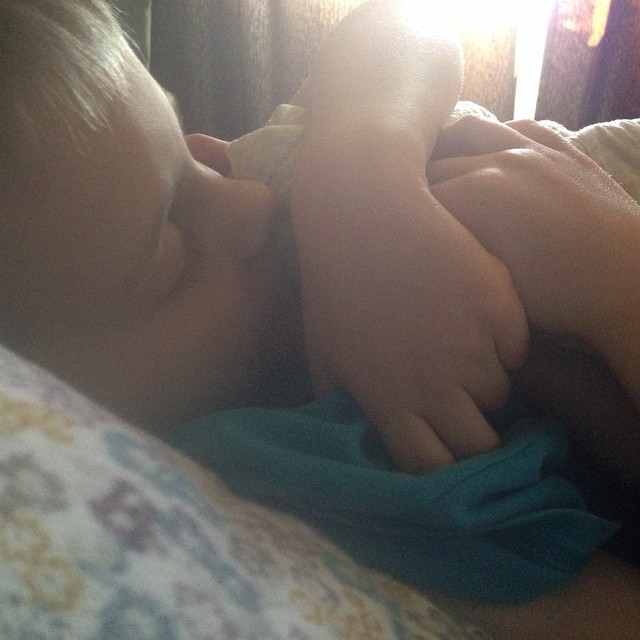 This isn't about a cliche 23 steps to motherhood happiness stuff. Just a real, in the gut acknowledging that there are days and weeks and months that are so ridiculously hard and painful. And also wanting us to remember that there are days that have the glitter and rainbows and joy of motherhood sprinkled in together.
I think sometimes if it wasn't for the hard moments in life that I wouldn't really appreciate the simple moments. Like a five year old of mine sitting on the couch right now playing the Kindle and laughing. So simple. But yesterday he was so sleepy and sick that I would have loved this moment.  But if I didn't deal with iv's and doctors and labs and all of that the simplicity of and joy of watching him drink a juice box wouldn't be there.
So sweet mom friend of mine – today – today I want to encourage you in the middle of your journey. I want to be the voice that is running alongside you in the race telling you that you can do it and to put one foot in front of the other. Because so often we simply cannot sit and rest and take a break – especially in those seasons where it pours – and we just need a friend believing in us.
I believe in you.
Right now.
Whether you are home alone with a newborn or crazy toddlers or you are working or commuting or whatever you are doing. The details of that don't define your strength.
You are strong because you are you.
You can do this today.
I know you can.
And if the tears fall, that's okay.
That's just you (and me) being real.
But we keep going.
~Rachel
#findingjoy