Tonight I cried.
Big fat heavy ugly tears.
I felt like I was failing my kids – those kids I love with all of me.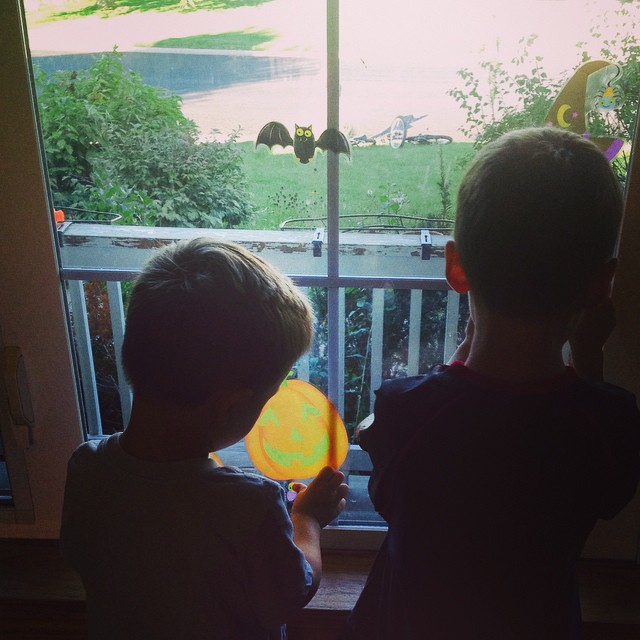 I always wanted to be the mom that did all sorts of stuff with them. I wanted to take them to DisneyWorld. I wanted to take them to get new clothes before school. I wanted to go places on Saturday. I never wanted to ration food to them. I never wanted to have to work so hard to provide. I never wanted to have to choose between working and time but knowing that if I didn't work we wouldn't do what we needed.
So I sat on the rocking chair, with the marker stained cushion, in my living room and cried.
An ugly ugly cry.
I was stuck in this world of comparing.
I was looking at my life and seeing everything I really didn't like. I was looking at everything I thought I was missing out doing. I was looking at my kids lives and thinking that because I couldn't do all the things that I thought would make a great childhood that they would end up feeling ripped off. I looked at me and got simply super super super mad at myself for not doing more, being more, and so on.
Why can't you be better? Why don't you play with them? Why did you have to take that nap?
Thought after thought after thought.
I'm stubborn, my friends. Super stubborn.
And a terrible perfectionist.
I wanted to stay in my own world of pity and not look at the good. I wanted to sit in my own woe is me. Well, truth? Life is hard at times.  It just is. Yes, yes, yes, I know there is much good and that I forgot perspective. There is much awesome and many many opportunities. But there are also somedays of me just giving, giving, giving, giving, giving, and giving and feeling like instead of treading water I'm racing backwards and tumbling head over heels forgotten.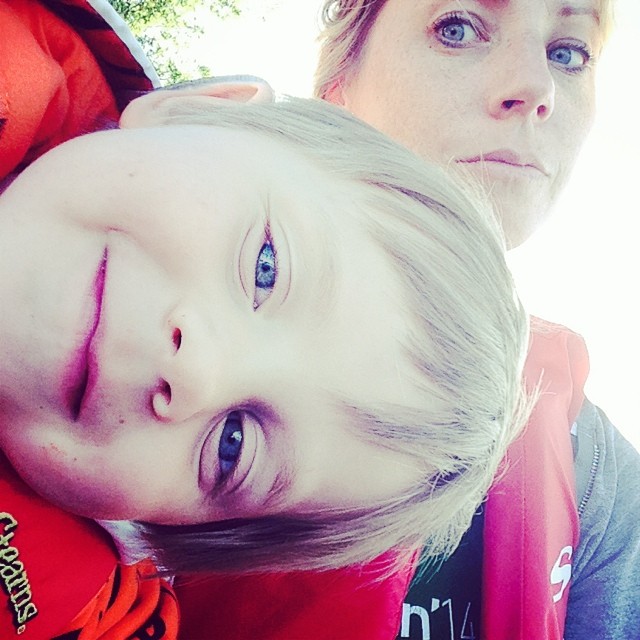 Truth?
Deep down I have a fear of letting people down. Letting my kids down. Letting my friends down. Letting my family down. Just not measuring up. And the funny thing is that I have had so many people let me down in my life – over and over and over again. And yet, yet my deep fear is of letting others down and being forgotten. So I overcompensate. I think I just need to do more, be more, and not ever really express how I feel.
I think deep down I fear being alone too.
So I write about it.
Often.  (Why Being a Mom is Enough, Dear Mom Who Feels Like She is Failing, and so on…)
Yet, somewhere, somewhere in the midst of it all I feel like I've picked up this false chart of motherhood awesomeness. And in it are these parameters of success – do this, look like this, teach this, own this, drive this, bake this, create this, wear this, believe this, love this, this and this and this. And then, I will look at life and see how many places where I just don't fit this false mold of motherhood.
But, friends, do we need to fit?
What happened to being awesome even when life sucks? What happened to celebrating each others' successes and being there when we trip and fall? What happened to the barn raising days of motherhood where we just linked arms and loved each other for who they are? What happened to celebrating the trying? What happened to loving those even when we don't understand even why they're upset? What happened?
Motherhood can NEVER be defined by all of the external things that one could hypothetically be doing, giving, being, creating,  or going.
It just cannot. It cannot be defined by Pinterest, Instagram, or Facebook status updates. It cannot be defined by books on Amazon or Barnes and Noble. It cannot be defined by what the other moms in our sphere of influence are doing.
Motherhood is a story unique to each family.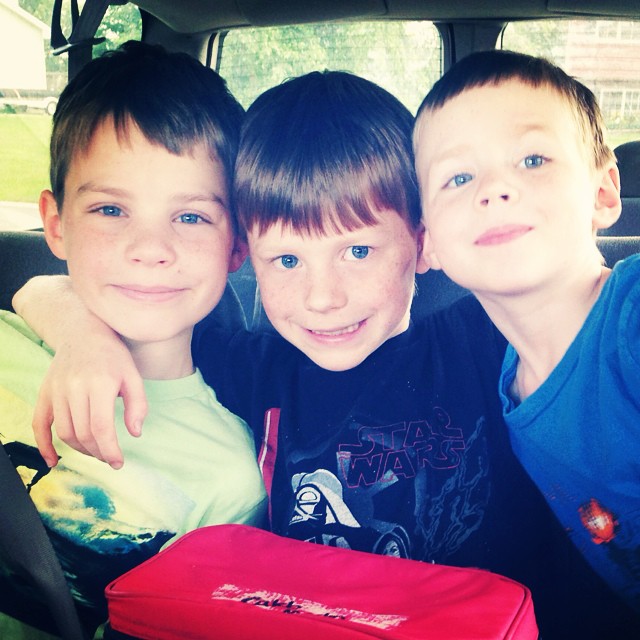 And it's defined by only one person.
You.
Not what anyone else says you should, could, should have, could have, or must be doing. Not by what your mother or grandmother or friends are doing. It's defined by you doing your absolutely very best in the moment and giving yourself grace for those inevitable stumble and trip but always get up moments. Because, trust me, you'll need a whole bunch of grace for yourself to get through motherhood. It's defined by you loving your kids. It's defined by not the stuff, but the heart.
You see, I forgot that tonight when I sat in the living room and sobbed worrying that I was failing my kids.
I plain and simple forgot.
I forgot the times where I sat at the table and worked on spelling words with my first grader who barely can write but yet was working so hard. I forgot about the $1.29 window clings that I fight into my $40 grocery budget. I forgot about the mornings making sandwiches, cutting apples, and writing little I am proud of you notes for my kids' lunch boxes. I forgot about the messages I send my teenage daughters. I forgot about the times sitting on my Samuel's bed reading books. I forgot about setting up the tents in the backyard and making our own get-away because I couldn't drive the breaking truck of mine. I forgot about how hard I work and how little sleep I get because I want to provide. I forgot how deeply I love my kids and would do whatever I needed for them.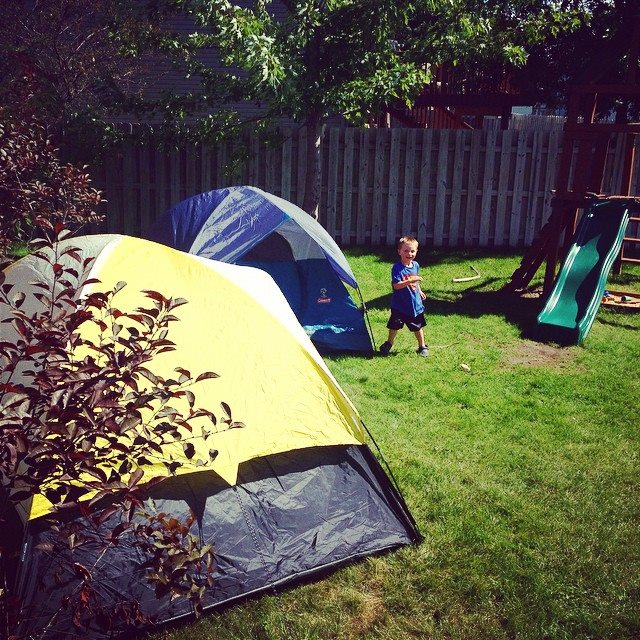 I only saw the holes.
I missed the entire fabric.
And the hidden beauty of my imperfect life.
Maybe life has those holes in it. We all have them. We all have places where we wish that hole wouldn't be there. We all have places where we wish we could do it different. But even with all of that we all have love. But maybe, just maybe those holes in the fabric of life make the rest of life so much more beautiful. We see the connections, the threads, and the bonds that make the rest of the space extraordinary.
A mother's love.
And that can never ever be qualified, quantified, measured, ranked, or compared.
Do you realize that?
You, right now? Do you realize that even in those moments that you feel like you're failing your kids that chances are that you are not? Do you realize that in the scheme of life that the thing they need most is you loving them? Looking them in the eyes and telling them I'll be there for you? That is what matters.
Not stuff. Places to go. Things to do. And all the times where you trip. Because we all do.
So I love my kids.
And they love me. Their imperfect forgetting perspective worrying that she was failing them mom.
Love your kids, sweet mom.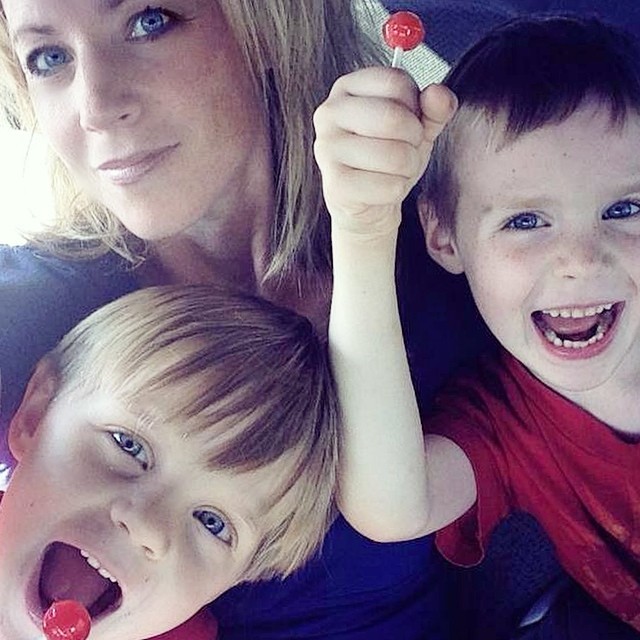 That's what matters most.
From me, journeying through this crazy world of motherhood to all of you.
Carry on.
~Rachel
[Tweet "Maybe the holes in the fabric of life make the rest of life filled with more beauty. #motherhood"]