a small sampling of my groceries in the back of the truck
Yes, you read that right. My title is Crying in the Chip Aisle. Who was crying? That would be me.
Today.
I was simply overwhelmed. I went to get groceries. In my house, when I leave to go to the store, my entire, lovely, and always cheerful (grin) clan wants to come with. At that point I have two options.
A) take all of them with me and add at least 90 minutes to my shopping time and come home with numerous items that I didn't need and go over my budget and deal with many people asking me, "are they all yours?"

or

B) go by myself (or with the one helper as I typically try to take one with me and of course I have cute Samuel) and stay within dollars of the budget goal while sipping a caramel latte and having extra minutes to leisurely browse the numerous clearance racks while menu planning in my head.
Now, with the aid of the post title, can you guess which option I chose today? Yes — that would be — Option A.
Not with everyone, mind you — and I honestly wanted them to come. I love my kids. I just reached overwhelm. In the chip aisle. My awesome four year old guy, Caleb, has more energy then he knows how to handle. I'd spent an hour carefully dodging his darting figure at Target, and then another hour re-directing him at CUB Foods. By the time I'd apologized six or seven times for his quick cut in front of another cart, and answered "no, not today," to Grace for the 45th item she'd like to purchase I simply had enough.
So I began to cry — quietly — in the chip aisle. In front of the Salt and Vinegar and Dill Pickle Chips. Small tears of self-pity formed in my weary eyes. I just wanted to sit down and stop. Then as soon as I began I remembered an interaction I had about 35 minutes prior.
Move to the deli.
As I was ordering my half-price honey ham, and already exhausted, my sweet Gracie was interacting with Samuel. It was kind of bugging me — she was loud and jumping up and down — but Samuel was laughing. Then this kind old man who works at the grocery store comes up to me with a wide grin. He stops. And watches. And says,
What a blessing. It's so beautiful to see siblings who love each other. You're blessed.
That's what I needed to remember. Blessings. So, I quickly grabbed a bag of the sale chips (two for one tortilla chips — in case you were curious), placed them in a precarious place in my bulging cart, and walked over and gave the wiggly Caleb of mine a hug.
Looks like God gave me a live example of switching things around. I lost sight of the beauty — only to hear it in the deli and find it again in the chip aisle.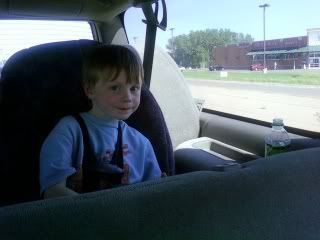 and that would be sweet Caleb — on the way home today. I love him.
________________________________________
Interested in winning your own Teething Bling Necklace?
Remember to enter my