Okay, so feel free to substitute in here any of your favorite coffee chains. And yes yes yes, there is always a controversy with regards to Starbucks. So this isn't about that. This is about fun crazy reasons why Starbucks brings me – and many others – just a bit of joy. And yes, dads can love Starbucks too. 🙂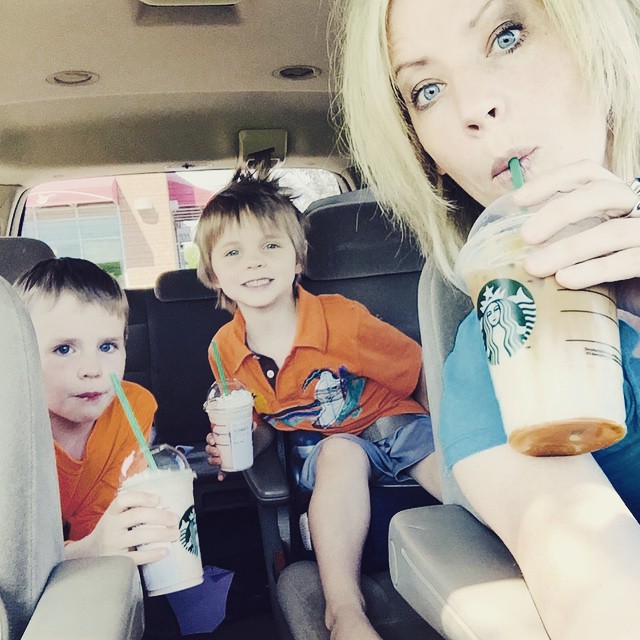 1. You make the mini size. Which my kids love and I love but I really really wish the mini wasn't only 30cents cheaper than the Tall because I always feel just a tad bit ripped off. And speaking of the tall we'll chat about that in a bit. But, come on, look at those cute kids of mine content with their strawberry frappuccino (that they earned, btw, for doing some extra chores) and me with my iced (hello summer) caramel macchiato.  So embrace the mini. It can be worth it.
2. Good Labeling. You've chosen to abandon the small, medium, large labeling lingo of today's society and instead make us practice our Italian with words like Venti, Grande and so forth. Not sure why you forgot TALL, but we'll forgive you.  You are a breath of fresh air for all of us in a world of labels, labels and labels.
3. Your baristas. They've become my friends – and probably yours too. Please just ignore that this means that I've frequented my Starbucks more times than might be sane, but truthfully I knew we reached a new level of friendship when my baristas became my Facebook friends. And then we run into each other at Target and we're even more bonded. And, again, I mean look at my birthday message from all of them. Love. Love your baristas, moms of the world. Love them.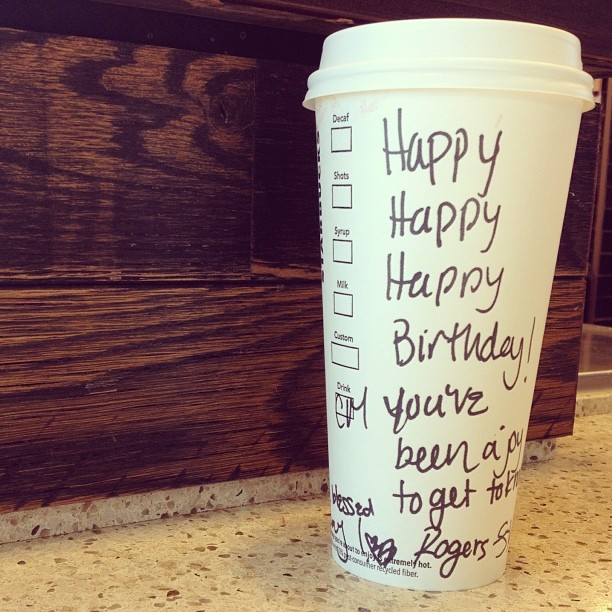 4. We know what we're getting. Most of the time. You don't short change or add too much foam or steam the milk different or add too much flavoring and so on. I know that my macchiato will have the caramel drizzled just so and that the grande that I buy in the Los Angeles Airport will be very similar to the one that I can get in Minneapolis. Sometimes knowing what one gets is awesome. And if you're a mom the last thing you want to do is go back in and have them fix the beverage because instead of steaming more milk they just added extra foam and it is way way too light and way way too strong of coffee.
5. Target. The fact that you've bonded with my favorite retailer on the planet (see Dear Target, we all love you for further proof) makes me swoon with joy. Coffee+70%off clearance = true love. This might be one of the best partnerships ever. Now, if you could just make a Starbucks Coffee Truck that would drive through our neighborhoods that would be the pinnacle of awesome. Can you imagine? I would be awake instantly and meeting my barista next to the bus stop.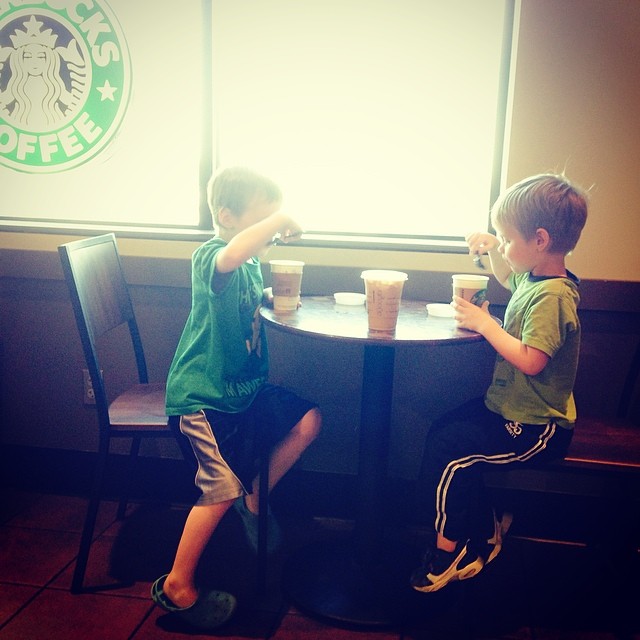 6. Drive Thru's. I have children. I live in Minnesota where it can get -30 and then six months later 99 so the drive thru is simply a gift.  The drive thru allows me to have just a moment of silence as I drive along those back roads with the dvd player playing and kids strapped in their seats and me with the anticipation of the latte that I can order, the small talk with my barista friend and then me taking the long way home. Never lose gratitude for the drive-thru. Never.
7. The Stuff. What is it about your stuff that makes me so happy? I'll travel and have to get a mug (which makes the perfect, and I mean perfect,  ice cream dishes. Or hot chocolates container. ) This was a rather unexpected and very appreciated find. Plus I love the "grounds for the garden" that I find right next to the door outside. I've put many bags in my garden and every time my little kids are like mom mom mom it smells like coffee outside! Us moms love our stuff.  Just don't get too much stuff or we'll have to declutter.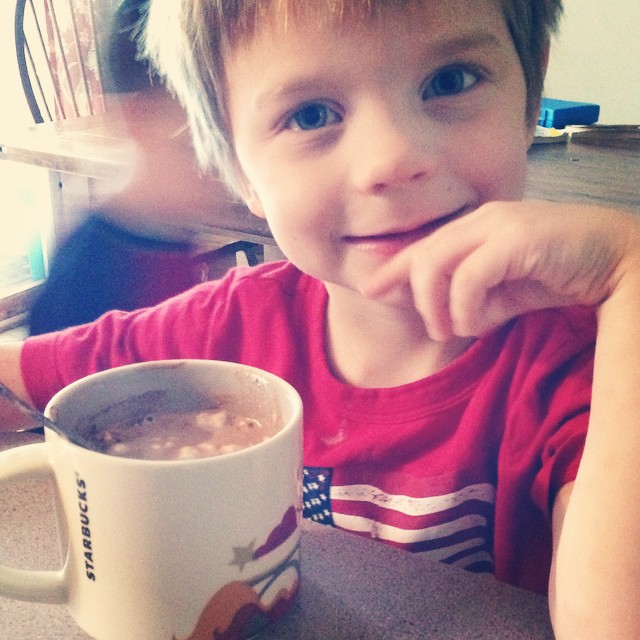 8. All the conversations that I've had on the two chairs next to the fireplace. Or that I wrote a book in your store or all of that. Starbucks, you're like the meeting place – the forum – in our culture. Have a meeting? Meet at Starbucks.  Want to work on a project? Starbucks. Homework? Starbucks. You see? You fill a need.  Finding Joy Mom Meetups? Ahem. I'm thinking at Starbucks.
9. Sanity. Any place that can make me feel like I can make it through the rest of my day goes on the awesome list in life. Now, I'm not for mom judging in Starbucks. No thinking that they're better because their kid is quiet or all of that. Let's just make it a place of community, camaraderie and sanity. Because let me tell you – that place has saved my day many many many times. So no judging at Starbucks, moms. This is our haven.
10. Instagram Pictures. In case we're ever missing instagram opportunities Starbucks provides many. Instagram the red cups? Check. Instagram the Pumpkin Spice Latte (or PSL that we all know)? Check. Instagram our cups? Check. Instagram us with our friends? Yes. Instagram the sign? Check.   Cute kids waiting at the counter? Check. Check. Or wait… maybe this is just me. If you look at my entire Instagram feed you'll probably find every 15th picture is from Starbucks -> finding_joy instagram
That's my list.
And yes, again, dads and grandpas and grandmas and singles and everyone can love Starbucks. I just happen to be a mom.
From me, the mom grateful for the place with the white cups and the green logos to all of you.
~Rachel
#findingjoyinlattes