(This was written December 2013 on the first year of me as a single mom over Christmas…)
Sometimes it's hard to go on Facebook.
I will read the status updates, look at cute family pics, will watch adorable and very perfect videos, and I'll look at my life and think that I simply do not measure up. I'll look at how I just got a tree or that we put our ornaments up yesterday or that I never put lights outside this year or that not one cookie has yet been made or that I have not yet bought one gift.  I'll see all the things that are the farthest thing from perfect in my life and I'll feel the tears well in my eyes and I'll feel like muttering the words I kind of wish it was January 1.
I know I'm not the only one.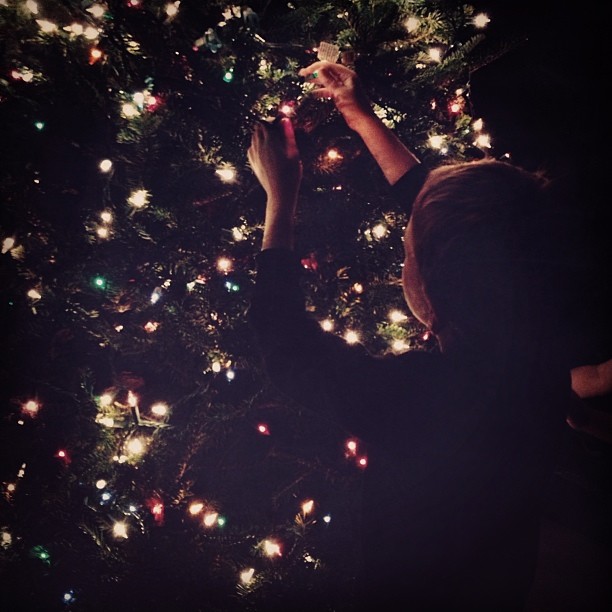 I know there are moms and dads out there with lives much more messier and painful and challenging than mine. I know there are those of you dealing with death, loss, divorce, angst, anxiety, run-away children, sick children, and an entire collection of hard things that makes Christmas and the holidays just one of those times in life when you're waiting to for the permission to breathe again. I know how easy it is to try to compare your life to the highlights shown constantly this time of year. I know how songs about White Christmas's and Winter Wonderland and Joy sometimes sting more than they bring happiness.
I just want you to know that you are not alone.
You are not the only mom sitting in her home with her head in her hands wondering how she's going to afford gifts for her children. You are not the only one walking through Target with tears stinging the corner of your eyes. You are not the only one wishing for the calendar days to speed up just a bit. You're not the only one who has to work hard and late and cannot even imagine time making cookies and are just grateful that there is a cookie platter at the grocery store. You are not the only one with a messy life and no Christmas cards sent out. You are not alone.
There is no shame in not having the perfect life.
There is only real.
I know it can be easy to wonder about your story and life and hope that you're doing everything your kids need for Christmas. But, you see, Christmas, in some ways, while amazingly nostalgic and perfect and such a celebration of family, has morphed into a season of unstated expectations. There's the list of all the things that we think will make the perfect Christmas or we think are required as part of the holiday season. The truth? As beautiful as the cookie making, card writing, snowflake cutting, tree trimming, hall decking, crazy shopping, bow topped wrapping, carol singing, and all of that is  — that stuff does not define Christmas. That's not the joy part, honestly.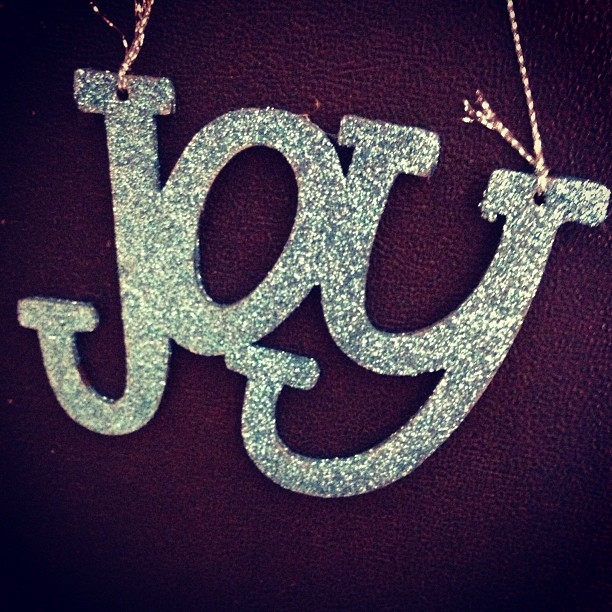 It's family. It's remembering the real important. It's being grateful for the little things. And in my home celebrating the birth of Jesus.
It's not about perfect.
It's about being real. And being okay with letting the tears fall in Target. Or admitting you don't have it all together. And really giving yourself grace. It's grace, my friends. Grace for some of you to just get through this time. Grace for others of you to try again. Grace, grace, and grace.
I guess I really don't have brilliant words of wisdom for those of you during this season. I wish I had this ten step program to surviving the holidays and finding the joy that the whole world seems to be celebrating. But here's the deal. Most everybody's life isn't perfect. Most of us have had our fair share of hardships and moments where we step back and wonder how in the world did this become my story? Well, whether it is your story or not, it still is your story. And I believe that each of our stories matter and that tucked within can be moments of joy and beauty. These stories are what create a life – they are the things that define us, mold, strengthen us, demonstrate bravery, and oftentimes press into being women of deep beauty in our hearts because we realize just how important relationships and family are in one's life.
It's just harder to see those things when the world is doused in perpetual tidings of good.
Right?
A dear friend told me yesterday don't dwell on all the big things just choose one thing to do and find joy in that. So, yesterday I took my boys out for a bit – just because – and that was a moment that mattered. We talked about presents, family, and how much I loved them in all things. We didn't do anything crazy. In fact, I spent $9 at Starbucks, wandered the toy aisles, and their highlight was the whole clementine orange sample at Target.  It was time given. Not stuff, not presents, not perfect trees, not twinkling lights, not gluten free cookies with royal icing, not any of that – it was me and them doing life together.  You know what? While we drove home through the snow they told me they had a great day. And my Elijah throughout the day kept saying best mom ever even though earlier in the day I was feeling like the worst. He didn't see the undone stuff, the imperfect stuff, the stuff I wish was different. He saw his mom.
Little things matter.
So to you, the one with an imperfect Christmas that doesn't seem to match what you thought Christmas would be,  I wish the deepest of joy to be found in the midst of these days. To you I wish for just a bit of hope and peace. And to you I wish the sweetest of moments tucked within these days and that your heart remembers how valued you are.
Merry Christmas, friends.
Oh yes, one last thing, I've learned to love and to celebrate those facebook updates and videos and cards and all of that. Do you know why? It's a celebration of good. Of joy. Of happiness. I want my friends to celebrate those awesome moments in life with me. So now, now I look at all of that and I don't compare my life to that – instead – I just live with a heart grateful for my friends and the blessings in their lives.
Perspective. That's what it is.
Life isn't about perfection.
Sweet Christmas JOY to all of you from me.
~Rachel
If you're looking for a gift for a friend or one for yourself I'd be honored if you'd consider my book The Brave Art of Motherhood. No worries, it's not a guide to perfect, but rather is about fighting fear, finding yourself and living a purpose-filled life. All while in the midst of motherhood. Get yours here -> Autographed (link) or Amazon (link)