Here are five cell phone boundaries that I expect of my children. And, I use the word expect, because I also expect them from myself – they are acts of responsibility, courtesy, and limit making. It's being intentional with a tool and remembering to put people first. Always. ~rachel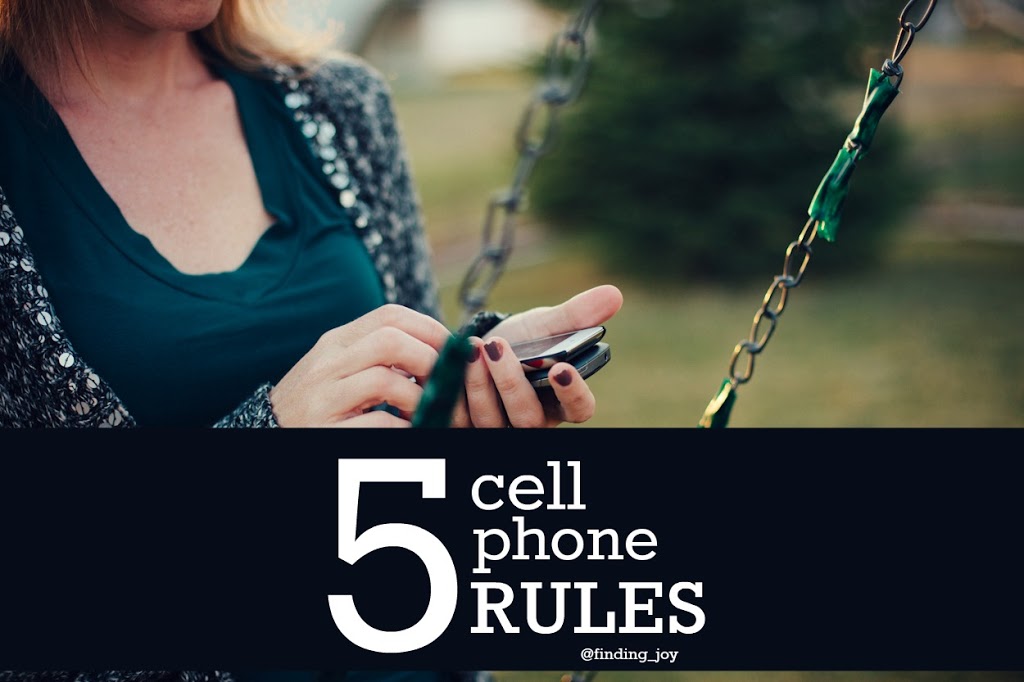 We live in a digital, fast paced world, where it is extremely easy to allow the constant frenzy of media to distract us from the real important – the relationships that are right in front of us. It's a minute here, a second there, just a moment, and before we know it, those times are gone.
Here are Five of my Simple Cell Phone Rules.
1. Do not be on your phone while you are paying. I've been behind the counter when this has happened. Years ago, I used to be a visual merchandising manager for Pier 1 Imports and often would find myself helping out in a pinch behind the register. Let me assure you there is nothing ruder or more insensitive then someone talking on their phone, not acknowledging you, waving their hand at you, while you help them. From that, I learned, put the phone away. So if you are ever chatting with me and I say to you give me five minutes and I'll call you back chances are I'm getting ready to pay. Put the phone down. Look the employee in the eye. Greet them. Thank them. Those things matter more.
2. Don't text and drive. And besides it being dangerous, it's not legal in most states. And yet, still yet, I see it happening all the time. The other day, as I was waiting on the off ramp from the interstate I noticed that the car in front of me seemed distracted – yes, I said car. Distracted in the way that the speed was all over the place, swerving around, and more. I told my daughter I bet she's on the phone. Sure enough. As soon as we got over the bridge, and I followed more erratic behavior then I noticed this gal was looking down, texting, and not paying any attention to the road. We are talking a matter of life and death here. No text is worth it. Read my personal story -> Read. Save Lives. Do Not Drive Distracted.
3. Don't keep checking your phone while at dinner. Tell me if this scenario isn't the truth – you go out to dinner, there are couples all around and instead of holding a conversation they are looking down at a 3 inch glowing screen and smiling. Put the phone down, look up, and smile at the person across from the table from you. Now, grin, the exception I have to this rule, for myself, is at blogging/social media conferences, and yet, even then, I do try to intentionally put the phone away. The tweet can wait. The conversation and opportunity to learn about someone else cannot.
4. Instagram some moments. Save others just for memory. I've done it. It's a great family moment and instead of simply being in the moment I become intent on getting that one perfect instagram shot. I'll try, they'll move. It's blurry. We'll try again. Just one more shot. I'll move them so the background gets better. One more, I'll ask. And then the moment, the time with just family, well it's lost. It became this moment of me trying to celebrate family but not for ourselves but for everyone on my twitter/instagram/fb feed to enjoy. But, at what cost? At losing out on the time? Sometimes the phone, the camera, the picture taking just needs to stop. Let people breathe. Enjoy the now. Keep some memories as just memories.
5. People first, phone second. Bottom line rule that encompasses all the above rules. People in front of you demand, deserve, and need respect. I love my phone – well sort of, I really need an iphone but I'm one of those stubborn people that is waiting for the contract to expire so I can get the phone cheaper and my phone right now I joke needs to be put in the museum of history because it is so ridiculously old – but I love my friends, family, and people around me more. Be willing to put the phone down, to look up, to smile at the amazing people that surround you. The messages, emails, instagrams, tweets, fb updates, pins, and all of that can wait. Life cannot.
The phone is an amazing tool – interaction, connection, relationship building – but it simply needs to be managed or it will manage you.
What are some of your phone rules?
to subscribe by email – click HERE.
Images and original content are sole property of Rachel Martin and may not be used, copied or transmitted without prior written consent.