These are those little things we all should know so that motherhood doesn't make us go completely insane. Or at least not at the point where we completely lose all of our marbles. (Which, if you read point five, are hidden between cushions two and three of the couch.)
Here are just a couple things to remember.
1. Don't expect perfection. Perfection will make you go crazy. Trust me. For a long time I had to keep every single toy sorted in it's own box. Then I'd come in the room and all the toys would be dumped in a big pile. Now? We just try. (Until the day when I've had it and sort them all and breathe for the thirteen minutes that my world is organized. Those thirteen minutes are absolutely glorious. )
2. Allow Mismatched Socks and Keep Old Furniture. And mismatched clothes. Any of that. Pick your clothing battles wisely. In fact, simply follow these basic clothing rules: Picture Day? You win. Weddings? You win. All the rest? Let them be creative. You'll smile more. And the furniture?  Try, try, try to not stress over marker colored furniture. And white furniture? You need to read point one again.
3. Silence is not always golden nor always bad. Always investigate. Silence leads to the above marker colored furniture.  However, silence often is coupled with intense creativity. Or sneaking of snacks. Or playing the wii. Or sometimes, sometimes it's taking a nap in the oddest of places. Kids can, and will, decide on the oddest places for that quick nap. I mean, seriously, I wonder what goes through their minds. I might just lay here on the bottom step since it looks so comfortable and close my eyes for just a moment.  And, hahaha, yes, I just had to share this picture again. #cute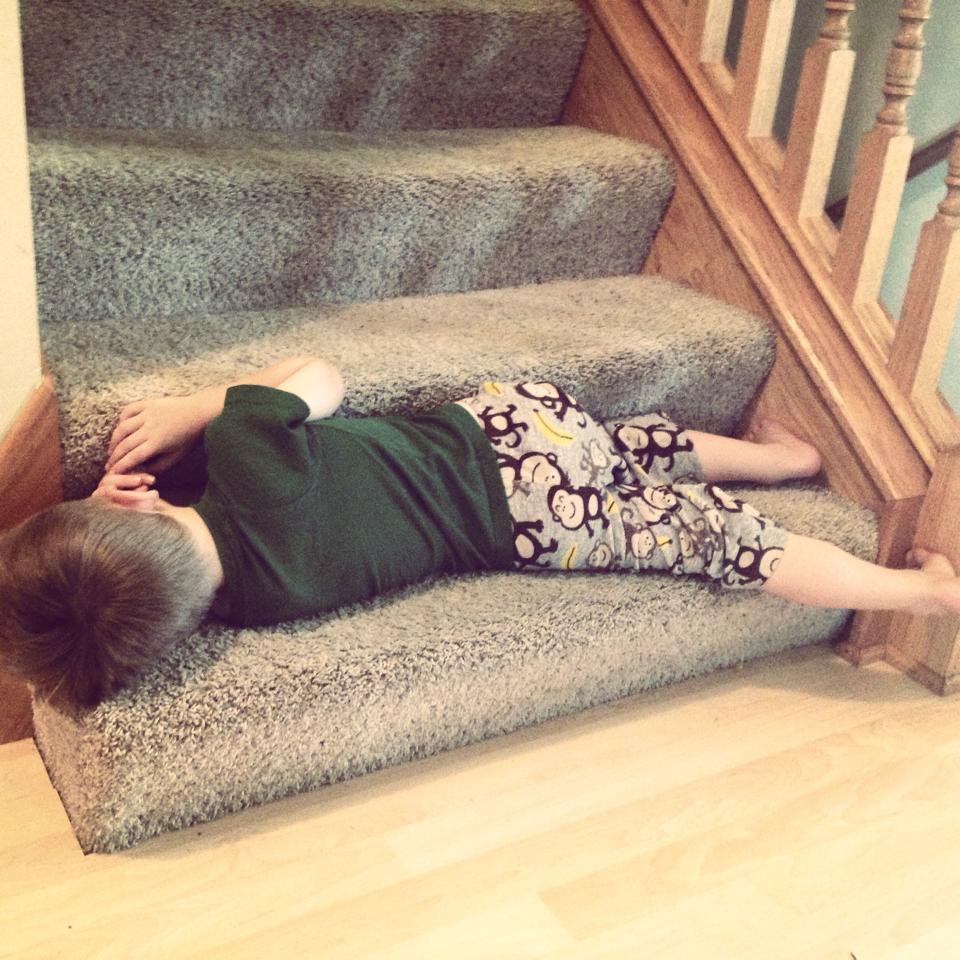 4. Laundry, dishes, cleaning, telling them no, and so on on will never ever be done.  Laundry and dishes are akin to breathing. We just do them. Daily. Hourly at times. Telling them no to the things that they ask over and over for? Normal too. Like today. I think I've said no you can't have a sip of my coffee or no snacks yet – you know the rule that I remind you about daily or no media at least five times. And it's 9:57am.
5. When you need money, lift pillow cushions, and hunt. Or if you need crayons, markers, remnants of food,  hair bindies and at least 87 Lego pieces then remove two couch cushions. And this really is about point one – even if you clean out, vacuum, and state no eating on the couch there will be a day within the week where it will look like you use your couch for extra storage.
6. The Slow Cooker is your best friend. But only if you google the words EASY in front of it. Don't fall prey to slow cooker recipes that are 18 or more steps. Might as well just order take out then. #noguiltintakeout
7. The words, "watch your aim!" will be simply normal words when you have boys. And always always always check the toilet seat before sitting when you have boys in your home. And simply expect the smell of urine in the bathroom which no amount of cleaner, essential oil, scrubbing, or yelling of watch your aim can effectively eliminate.
8. The sniff check works for determining if clothes are dirty. However, don't use the sniff test for underwear. When in doubt, wash. Always.  In fact, when cleaning a ten year old boys room simply enter with the laundry basket and proceed to wash. And, sometimes it's okay to simply put the clothes in their drawers because they will dig through, rummage, hold up, and unfold every single item in their drawer while looking for their one favorite shirt.
9. There is never a limit to the amount of chocolate, coffee, tea, coke, or wine that one can have in their home. As we've discussed numerous times on Finding Joy always make sure you have a reserve stash of one (or all of the above) items.  And, if you hide chocolate, make sure you remember where it's hidden.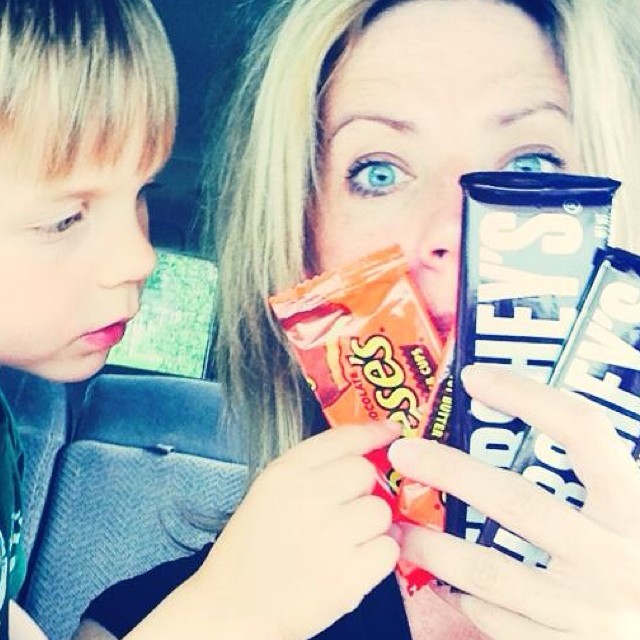 10. Your child will know if you skip any lines in the bedtime story. Therefore finding new books is advisable for the nights when you just need to rush through the reading. And no guilt for the occasional skip – let's be real – how many times can we read those books about cartoon characters that really shouldn't have been made into books?
11. New math will make you go insane. Even if you watch four YouTube videos saying it's easy. Once we accept this fact it will be easy to deal with it. For those nights, find that chocolate, coffee, or wine that you should always have well stocked in your home. See point nine.
12. Homework will make you be thankful you're an adult.
13. Serving rice for dinner will become a nemesis. Nothing sticks more than rice. Do not, under any circumstance, ever ever ever unless you want to slightly scream and utter words not appropriate for this website attempt to wipe rice up from the table, chairs, or floor until it is completely dry. Simply step away, ignore the mess, expect someone to drop by at that exact moment, and wait. This is crucial for motherhood sanity.
14. You are not defined by the vehicle you drive, the clothes you wear, or the state of your living room when unexpected company arrives.  Embrace the mini-van days. Or that there are crumbs smooshed into the seats of your vehicle. Yoga pants are a simple, and yet wonderful, gift for moms. And know that when someone comes over your living room will look like you've decided to never clean. Even though you had it clean this morning. It's called life. Real life. So don't apologize – welcome them in – and smile.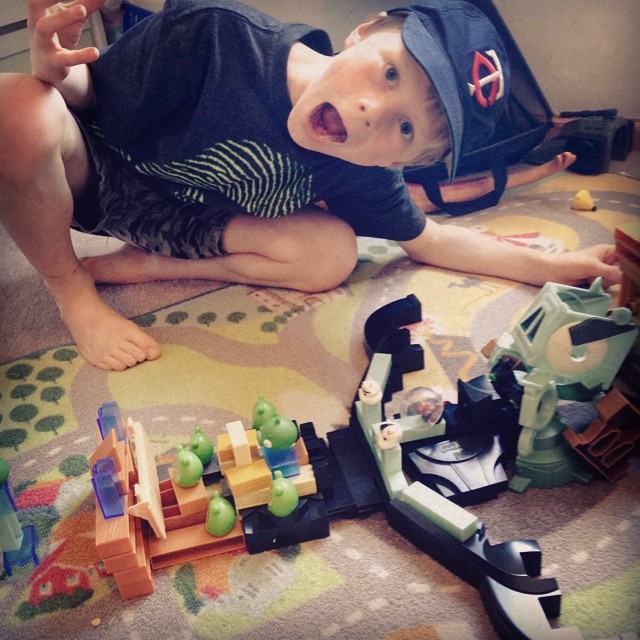 15. Set at least three alarms for the morning. You'll learn to sleep through constant snooze rings, etc…. And trust me, you'll know that after alarm two goes off the third time that you've reached critical and that you now need to get up, slam coffee, pack lunches, get kids dressed, and out the door in 13.4 minutes. Which, you can do. Trust me. I did this morning.
16. Know the if – then statements of motherhood. Like these: If you mop the floor, then they'll spill on the floor. If you wash the walls then they'll touch the walls with hands covered in mud from digging in the dirt pile that you had reminded them to not dig in just five minutes ago. If you clean the carpet then they'll spill on the carpet or track in mud from the previous mentioned dirt pile that they were told to not play in for a bit. If you need them to go to bed then they'll stay awake for way way way too long making the morning where you waited to the last snooze seem like an impossible morning.  If you like dinner then they'll hate dinner.  If you wear a black shirt with an infant then you'll have spit up stains on it. And so on. The quicker these simple phrases become part of your mindset the better.
17. Write down the funny things they say. Seriously. Write them down. Or else you'll be like yesterday he said this and oh I can't remember it but trust me it was so so so funny. And we'll all nod and smile and totally get it at the same time because at that very moment we'll be trying to remember the ridiculously funny thing our three year old or six year old or teenager said just yesterday. Or an hour ago. (chalk that up to no sleep)
18. Learn to decipher between the 18 variations of the word Mom. Know what to respond to immediately, what requires two moms, when it's about not finding the favorite shirt,  and when to simply ignore. Also, know that they will try to use more urgent variations of Mom when you're in the shower. Be careful. Most times it's simply because they want a fruit snack.  And finally know that Mom is really the most awesome cool empowering life changing name there can be.
Motherhood.
A crazy journey for sure.
~Rachel