I've been living a bit overwhelmed.
Wait. In the words of Willy Wonka  – Strike that. Reverse it. Thank you.
I've been living a whole bunch overwhelmed since 2015 began, which is slightly ironic since my word for the year is strength and now it's seeming to take a Hulk equivalent of strength to muster through those first weeks. Well, honestly, in that overwhelm part of me simply forgot how to have fun and laugh and just be with my kids. You know, that just being part that we don't really talk about too much? Just content to be still or laughing or doing or having fun? I'd look at all the other moms and wonder why in the world it was so hard for me to just be fun sometimes.
I shed many tears, and I mean many and I tried to blame it on being January, but I was just overwhelmed.
Have a mini-marshmallow snowball fight!
Those were the words from my dear friend to me. Humbly, I'll admit, I almost immediately I thought of a zillion reasons why I was not going to do this. Time, creating chaos, and the mess. Sigh, yes, the mess, really was a main one. But beyond that, I just didn't know how to slow down and laugh. I listened to what he said, but filed it in my brain for another day.
Yet, I still found myself making a return trip to the baking aisle (don't you hate that when you're about done and then you have to turn around and walk half way back) and grabbing two bags of marshmallows at Target. My seven year old son Elijah thought we were going to have extra Rice Crispy treats. I told him that maybe we would and never once inkled that the real reason they were in the cart was the remote possibility that I'd actually follow through and do this snowball marshmallow war.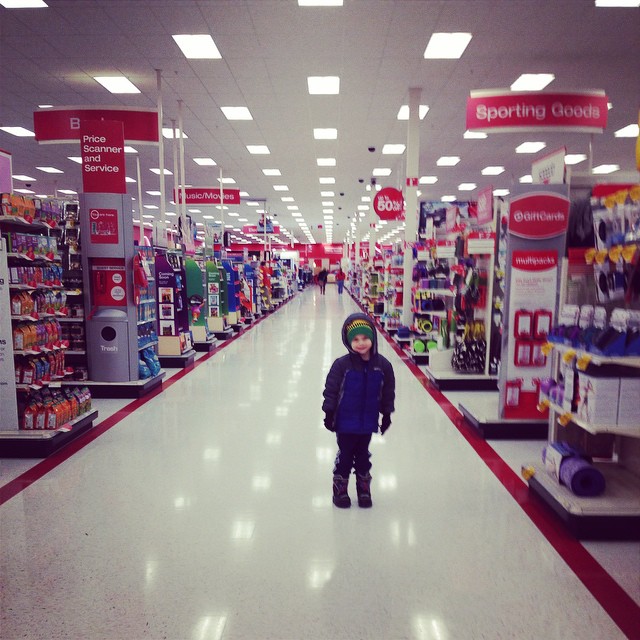 They sat in my cupboard for four days.
Four days.
I'd look at them and think not today and move on.
Life kept spinning and I kept racing and the kids kept moving and now the anxiety in my house was reaching the peak. In fact, if you look at what I wrote during those days it was pretty indicative that chaos, overwhelm, and the loss of perspective were beginning to rule (read the Mom Days When the Tears Fall and When all the Spinning Plates Crash) The kids were tired of being inside and I was tired of cleaning and of the fighting and just was feeling downright crabby. They wanted attention I was tired and thus they acted up more because I kept pushing them off and there was just one more thing to do and the catch 22 cycle of chaos kept spinning faster and faster.  I kept telling them in a minute we'll get to this and the minute passed and whatever it was we were going to get to passed as well.
Then, on the night every single spinning plate decided to crash, I surrendered to me.
It was at that point when I simply  decided to have that mini-marshmallow snowball fight.
I knew I was leaving the next day on a business trip and for some reason I could already feel the regret of the plane taking off and me realizing that all the in a minutes had built up and made this big stack of waits and I didn't get to them. That regret, that idea that I couldn't pause even for a moment made me tear up as I stood in the kitchen next to the open cabinet with the two marshmallow bags stacked on the bottom shelf.  So I turned and grabbed one of those two bags of marshmallows tucked in the corner of the cabinet and tore it open.
I threw one at my son Caleb.
A teeny little marshmallow pulled out of the back that bounced right of the top of his head.
He was shocked.
In fact, he looked up ready to blame his brothers and started to say mo-oo-ooooom look what… and then saw that it was me. Well, actually as soon as he started to say something another white morsel of soft puffy sugar met his right shoulder and then his eyes grew big. Wonder, I think, because after all, I was the in a minute mom and the mom who was losing her patience and the mom with the never ending to-do list.
So I threw another and another and another and another and it was met with the biggest grin of delight that you all could ever imagine and the most excited yell for his brothers to come downstairs because mom was having a marshmallow war.
You'll never believe it!! he yelled, mom's throwing marshmallows!!
I am not sure I've ever witnessed all those boys of mine run down to my main level faster than they did that evening. They all had that moment of wonder as they realized what was going on and then even more wonder and delight when I told them to grab a handful while they experienced their mother laughing and pelting them with marshmallows.
For fifteen minutes my main level became a crazy battleground of mini marshmallows whizzing by and piles being attempted to be shoved down backs of shirts.
And a huge huge huge huge mess.
Friends, I didn't see the mess.
I saw four little boys laughing with delight. I saw four little boys loving each other. I saw four little boys totally in the moment. I saw me laughing. Yes, laughing in the moment in life.
I saw joy that had been missing for weeks.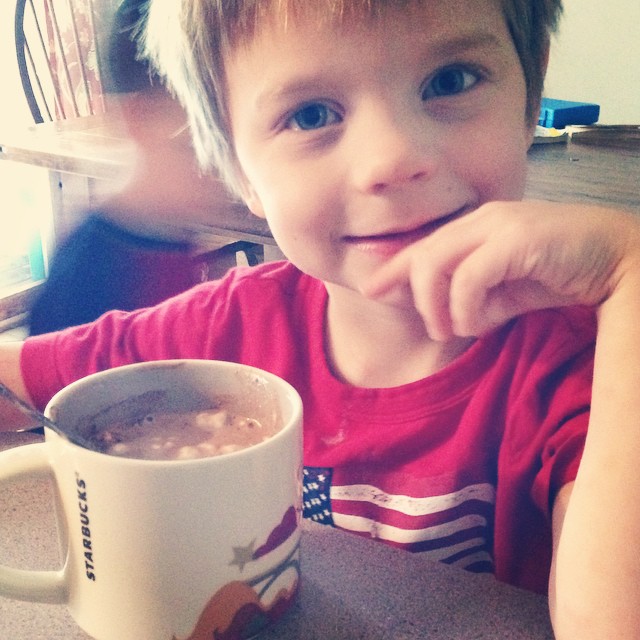 Joy in a simple act of simply being together and silly and me letting my guard down and the to-do list and my own expectations of motherhood and all of it down for just one simple moment.
Fifteen minutes of my life given to the moment versus the expectations.
When it was done we all worked together – without one complaint and I really mean it – not one grumble – to find every marshmallow. They were in boots, under the piano, down the stairs, on books, and so on. It was a house covered in a sea of marshmallow white.
I could have missed it in my busy and gone to bed or kept on working and all of that and gotten on the plane the next day and had that pang of sadness. But for some reason that night I relented – I'm not sure if I was tired or remembered my words or simply saw those marshmallows in the corner of the cupboard – and said no to the busy and decided that the mess can happen because those little hearts mattered more.
I don't think I can express how much joy this brought to my heart.
So today my challenge to you is to look in your life at all of your in a minutes or maybe tomorrows and to do them today. Yes, today. Not tomorrow, not the next day, not whenever. And it can be a simple thing. Reading the extra chapter, taking the long way home, calling that friend, tucking your kids and giving extra kisses, having a marshmallow battle — but please simply do it.
You won't regret it.
And the worst that can happen is that you get marshmallow on your socks or find marshmallows in your boots or months later find one on the top of the bookshelf.
You will be blessed.
Life matters.
Throw the marshmallows sometimes.
~Rachel
ps – who can you challenge today to join you? #happymomsproject