I can't find my math sheet.
That's how my morning started.
It was supposed to be an easy morning. You know, come on, we all were blessed with the awesomeness of our time change that secretly deposits an hour back in our lives. Well, blessed except for all of you with little babies who now wake up before the sun crosses the horizon and you're not allowed to rest for that extra hour because guess what? they're awake at 5:07 am. But anyway, it was supposed to be a lovely, carefree, not stressed Monday morning because we all got sleep.
Mom. Mom. Mom.
(insert and visualize a panicked nine year old)
Where is my math sheet?
And with that simple question my morning of peace and sipping coffee and packing lunches and writing notes went out the window to the 39 degree Minnesota temps and crumbled in seconds.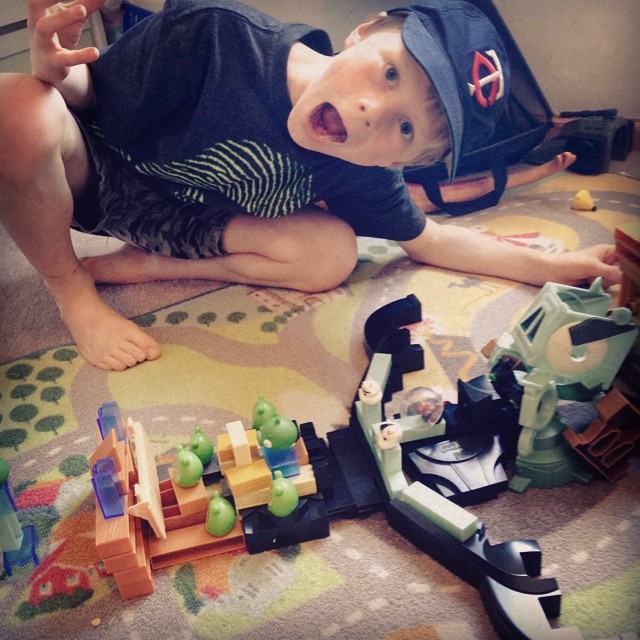 It was just a little thing. A math sheet that we worked on together on our lazy Sunday afternoon – a sheet with some grid thing on the back that I had no clue how to complete and thus I was going to write a note asking for explanation. And let me tell you I took several years of Calculus and Physics in college – so I get math. But this grid? I have no clue. None.
But now…now I was stuck tearing apart a room looking for a yellow math packet with Halloween candy math on the back. Not there, not under the bed (but a whole bunch of other stuff), not in the trash in my room, not in the bathroom (he wanders with things), not in the laundry room, and on and on.
Where did you put it? Why isn't it in your folder? Where are your socks? Oh my word…you didn't empty your lunch box. What is going on? Hurry up!! We're going to be late. 
And the anxiety crept up and the fairly clean house quickly turned into a dump it all out look for it everywhere where is the math sheet mess. All over one lost, and still very much lost, math sheet.
I emailed the teacher. Explained.
And the whole time cut myself down.
If only you had made sure it was in his folder.
Why didn't you pack the lunches last night?
When are you going to find the matching gloves?
Why did you let under the bed get so messy?
You are such a bad mom you really should be more organized.
And on and on and on.
Over a third grade math sheet.
I judged my mothering skill on the fact that my nine year old, who is a free spirit and lacks the organizational skills that FranklinCovey would endorse but has the heart of a saint and helps his momma out in so many ways (that's him holding down my piano music at my sister's wedding so it wouldn't blow over), lost his math sheet. Again.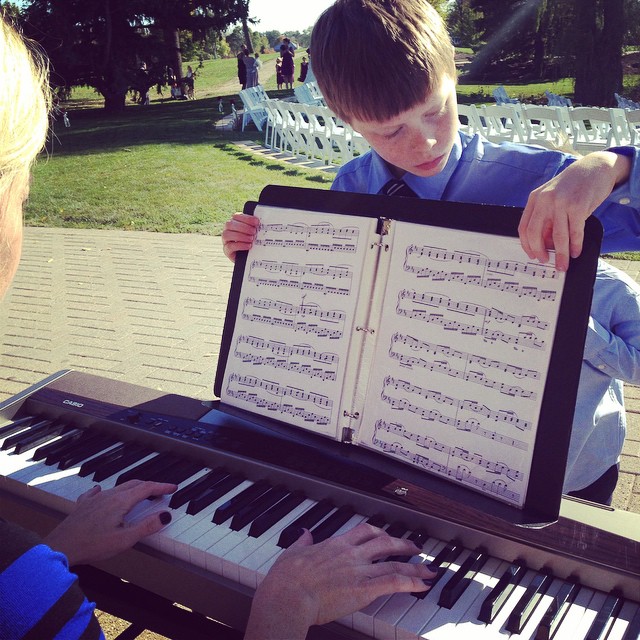 I see the mistakes. The times where I yell too quickly. The times where the homework isn't done right. The ripped holes in the knees. That their lunches aren't the most creative or always nutritious. I see the messes, the holes in the wall, and the marker that even the best Magic Eraser won't remove.
I don't see the mom that spent twenty minutes digging everywhere and searching for that math paper for her nine year old.
She did that because she loves him.
We do that stuff as moms and miss out on the power of that. Instead we judge judge judge ourselves so hard. We lose the grace. We let the weight of motherhood crush our spirits and define our worth.
I know you try hard. And I know you fall. And I know you lose math sheets too. Or maybe things are so terribly messy in your life and you blame yourself. I get that. I do that too. I know that there are days when the smallest thing can make you want to cry. I know that there are days when even though you love your kids you're just tired of being a mom. I know that there are moments when you look at the other moms in the line to pick up the kids and you think how do they have it all together? Or, if you're me, you think I bet they didn't let their nine year old lose their math sheet. 
I just want to tell you it will be okay.
It will be okay if the math sheet is lost. It will be okay if your living room is messy. It will be okay if you served that boxed macaroni and cheese. It will be okay if you didn't read as much as you hoped too. It will be okay if today you just wanted to scream and hide in the bathroom because you just had enough. It will be okay if their socks don't match. It will be okay if they watched extra television. It will be okay even if you feel crushed by all you need to do.
It will be okay.
There's no operating manual for motherhood awesomeness. There is a great deal of advice – blogs, books, television shows, our own mothers, and on and on. But in it all there is you and me and we're just trying to figure out this mothering thing day after day after day.
We'll fall. Stumble. Lose math sheets. Have kids who think we're the worst.
But that doesn't define us.
It doesn't make a good mom or a bad mom or any of that.
Think about this: I tore Caleb's room apart looking for a math sheet this morning. Moved his bed. Went through all the books. Sorted papers. Folded his clothes. And wrote a note to his teacher explaining the fact that we actually performed our own vanishing act here in Minnesota that would rival David Copperfield's disappearing plane act.
Because I love him.
And he loves me. Look at what he made.  I mean, come on. That. Matters. More. than that math sheet and me being perfect. He didn't see all of that.
He sees me.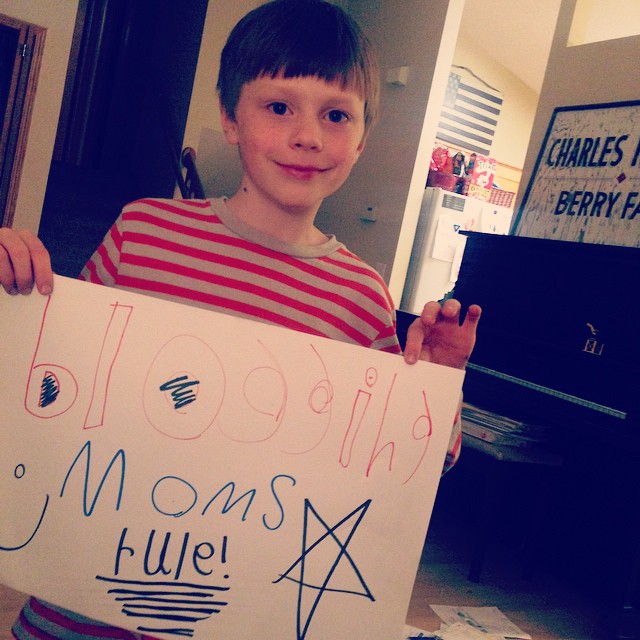 That's what motherhood is about, sweet mom.
It's about you loving your child and doing the hard thing. It's about recognizing that Monday morning went down the toilet but that it doesn't define Monday afternoon. It's about giving, caring, and trying.
Never once in any manual is there a guarantee for it being easy.
It's work.
Hard, life giving, bed moving and digging through things, work.
It's beautiful.
We just need to see that too. We need to remember that on the days where we feel crushed. We're just human. We're people. We're women. We're moms.
And we're also most incredible powerful. Brave. Courageous. Loving.
So carry on. Tell a friend. Bless her too with the words it will be okay.
And don't let the small things taint your awesomeness.
It will be okay. 
~Rachel
(looks like we'll be doing a make up math sheet tonight…)
[Tweet "There is no manual for motherhood. What matters is not stuff, but love. "]