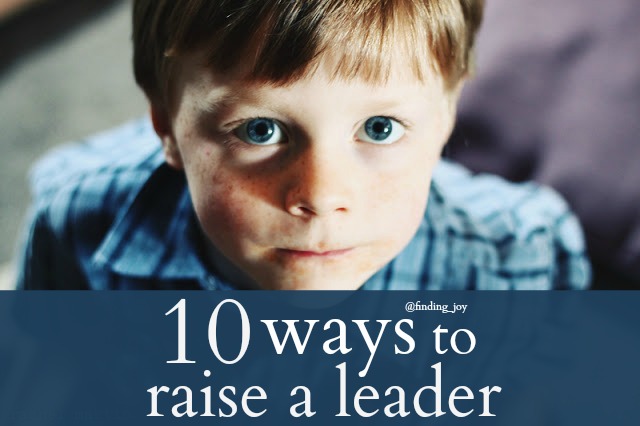 Simple ways to teach leadership skills to our children – skills that are about personal leadership and sticking to it in life. Personal leadership needs to come first as one must know how to lead themselves before leading others. Here are just ten ways to raise a leader.
1. Model the Positive. We live in a glass is half empty type of world. It's easy to notice what isn't right and to lost focus on what is working. Even if you tend to lean towards the pessimistic side of viewing the world make an effort to model the positive with your children. This is a choice – a finding joy type choice – in life.  It doesn't mean being faux happy, but rather means choosing to be positive or see the good first in a situation. I like to call it giving the situation the benefit of the doubt.
2. Set Goals. Work with your children in all ages to set goals. When they're little the goals can be as simple as I'm going to make my bed in the morning or put all my books on the shelf at night. As they get older the goals can be more complex, more focused driven, but just as critical. As you set the goals make it a point to work with them to achieve their goals. Everyone needs someone behind them motivating them.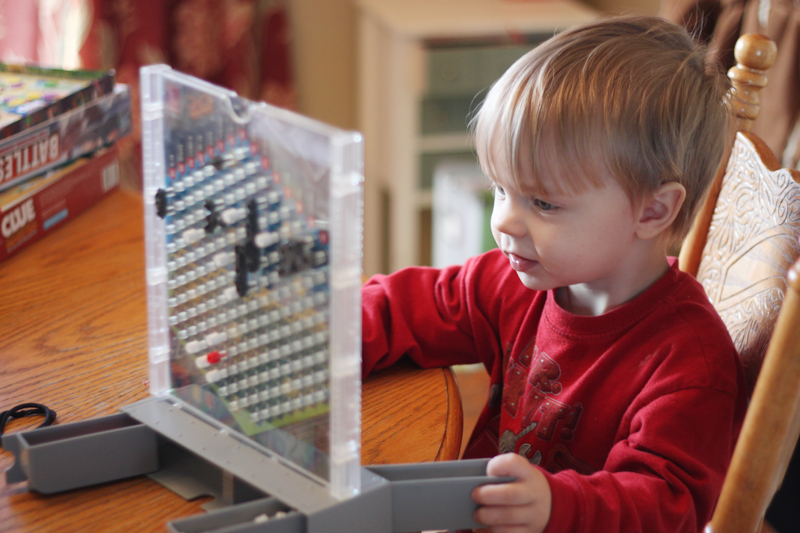 3. Motivate. Again. Motivate. This goes along with seeing the positive and setting goals. Sometimes kids move away from the consequence – you don't clean your room you don't go outside – but they also move towards rewards – you keep your room clean for one week and on Friday we'll get icecream. Figure out what motivates your child. But, in that motivation make goals that your child can work towards. And stick with the plan. Don't fudge on awarding when they job isn't done. That doesn't teach leadership.
4. Let them Fail. Funny coming from me the mom who wrote the Dear Mom Who Feels Like She is Failing letter. The truth is that our children need to not win at everything because it is essential that they learn the skill of pulling up their bootstraps and trying again. I've learned the greatest lessons in life in the moments where I feel like I've failed. This teaches lessons – trying again, what didn't work – and it cultivates strength and character. Be there for them, motivate them to try again, and encourage them to see those moments of not winning as learning times.  Then put out your hand, dust them off, and help them try again. And remember just as I write to you about not defining yourself with the words "I'm failing" do the same for your children. Words are power.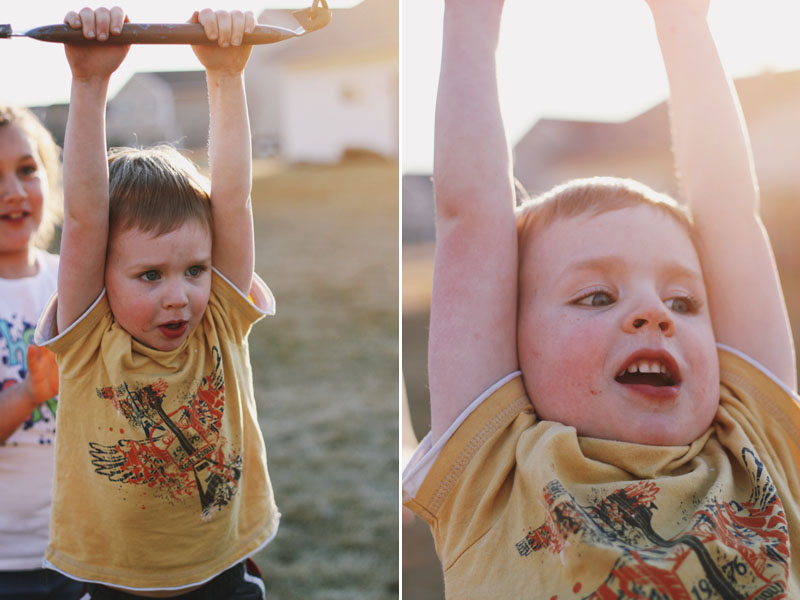 5. Expect Results. Do not establish rules, goals, and boundaries and simply let them achieve the result without expecting work. I know that it is one of those hard moments when we observe our children sad because something didn't work or their team didn't win or they didn't get the reward. They absolutely need to be taught the art of hard work and setting goals while sticking to goals. Are there instances to offer grace? Absolutely. But, as parents we have the gift to teach our children follow through. Expect results. Wherever you set the bar is where the aim will be – put the bar high – believe in them – and help them work to achieve results.
6. Establish Rules. And keep them. One of the worst things that I've learned to do as a parent – besides offering grace and listening – is being a bit wishy-washy with regards to rules. That? That teaches not doing 100%, or less respect for adults, and again that lack of follow through. Here's the deal – don't bombard your kids with 25 new rules. Pick one. Maybe you want to work on everyone using quieter voices in your home. Write the rule: in our home we use kind voices. Don't say: don't yell – it just reinforces yelling. Instead reinforce the action that you want to see developed. But, establish the rule and keep it.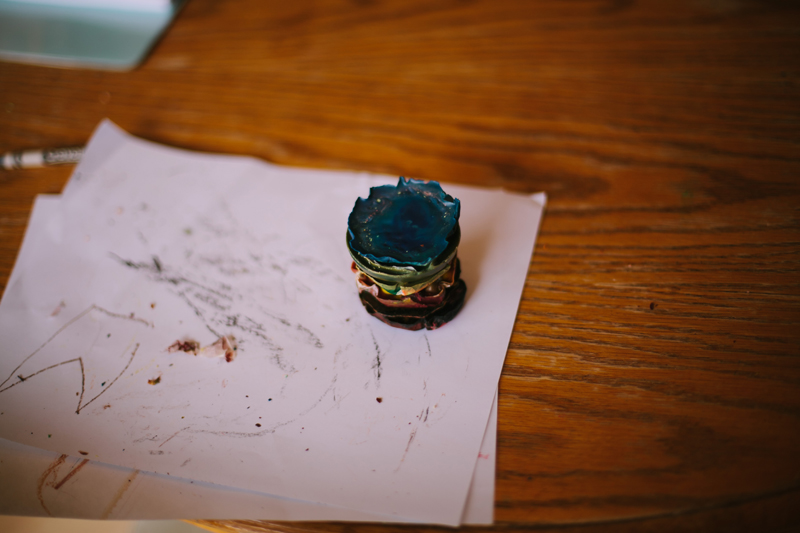 7. Inspire. Inspire your kids by your own choices. Let them see you excel. Let them see you cultivate your own interests, desires, and dreams. They can be anything – from hosting a book club at your home, to knitting that scarf that you've been working on, to painting, to writing, to decorating their room, to working in your yard – the options are limitless. Simply pursue your goals and let them see you working towards and completing something concrete.
8. Listen. Slow down your agenda to listen to their hearts, dreams, and goals. Do not dismiss the dreams at first. Let them dream. The worst thing for a dreamer is to hear why it won't work. Then after they've dreamed help them figure out how to make it work. That lemonade stand. The gifts for the kids at the hospital. How to keep their room clean. How to get those good grades. Begin listening to them when they are young and it will set a pattern of open communication in your home.
9. Don't Give Up on Them. Fight for your kids. In the thick, thin, good and bad days. You are their strongest cheerleader. Don't keep a record of all of their wrongs – let them grow from the mistakes. You must fight for their hearts. Just like you as a mother need to hear how much you matter your children need this as well. Do not ever give up on them.
10. Be Involved. Plain and simple. Be involved in their lives.  Watch your posture. Are you the distracted mom? The one with just one more thing to do until you play with them?  Because all too often that's me. Stop. Be involved. And this challenge is for me as well – the busier I get the easier it is to push off the real importants. The real important is that you and I are there for our children and investing in their lives.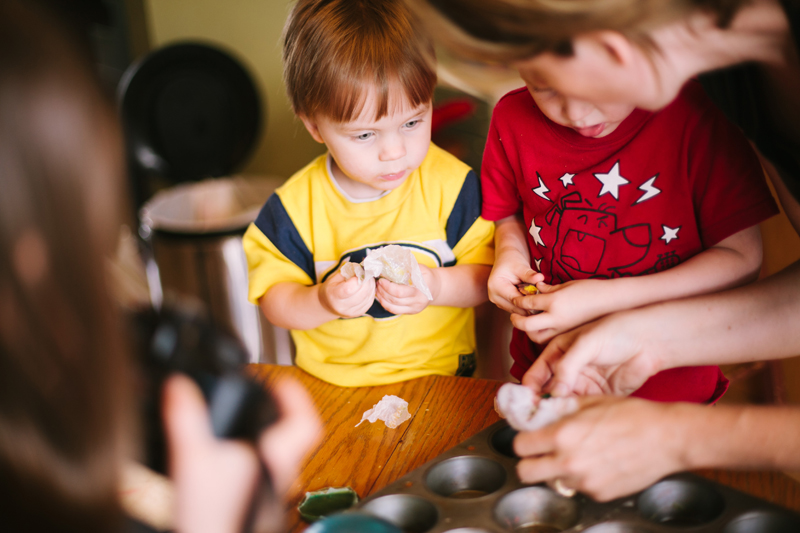 Ten ways that you can teach leadership skills to your children. Keep their heart first, fight for their heart, and be the one to inspire and motivate. Invest in them – you can do it – this world needs those with convictions, the ability to lead, and to take personal responsibility. And while your teaching this – teach finding joy as well. Seeing the good and the gifts is a life long and valuable skill.
What are some ways you teach leadership?
Images and original content are sole property of Rachel Martin and may not be used, copied or transmitted without prior written consent.