I'm exhausted.
Most days. It's become a fact that in my house if I sit down for more than seven minutes that the chances that I will fall asleep wherever I may be are exponentially high. If I was a betting person, other than playing the quarter slots and always losing, I'd make sure to bet that I'd fall asleep just like my son Samuel does in the hallway while I work. Yep, that's him. Sleeping while I write. Just so you know, he was supposed to be in his room.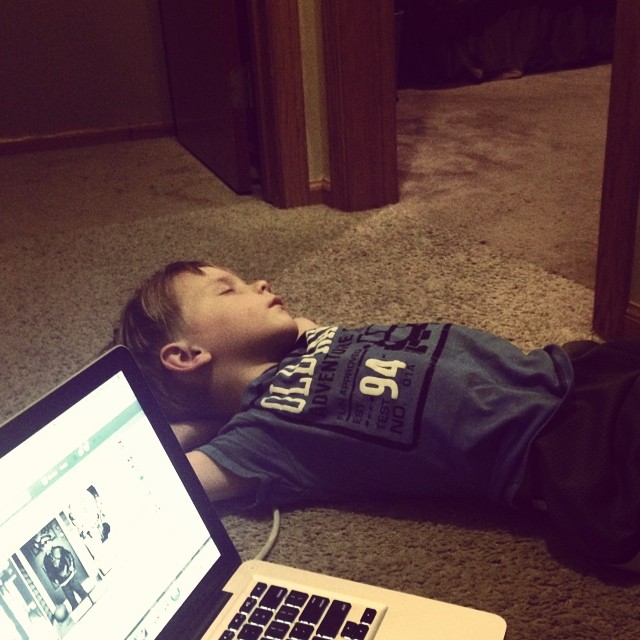 I give. I work. I love.
That's kind of the mantra of motherhood.
Give. Work. Love.
It's the mantra I try to tell myself as I stumble down the stairs in the morning waiting for my coffee to brew. Somedays it seems to brew so slowly that instead of waiting I challenge myself to try to get all the dishes unloaded before it's done. It's this race between me and the machine.
So silly, really. But so true an illustration about life.
It's this race from the moment one wakes until one slumbers. Race to here to there on hyper speed. And sometimes the race doesn't feel like one is racing. Sometimes it can feel slow and tedious and seem to draw out forever (any parent who has gone throw potty-training can raise their hands at this one. By far my least favorite weeks of parenting.) And yet, at the end of the day when slumber hits you're exhausted.
And sleep? I've forgotten what it's like to really sleep. Lately sleep is just this sort blip in time that I get if I'm really lucky. Most often it's work, then sleep for a bit, then waking. And if you're like me sleep is punctuated with these moments of wake ups – from little ones, thunder, and the anxiety that you're forgetting something.
Which even if you were doesn't help at three am. Especially if you're awake with that cute 4.5 year old.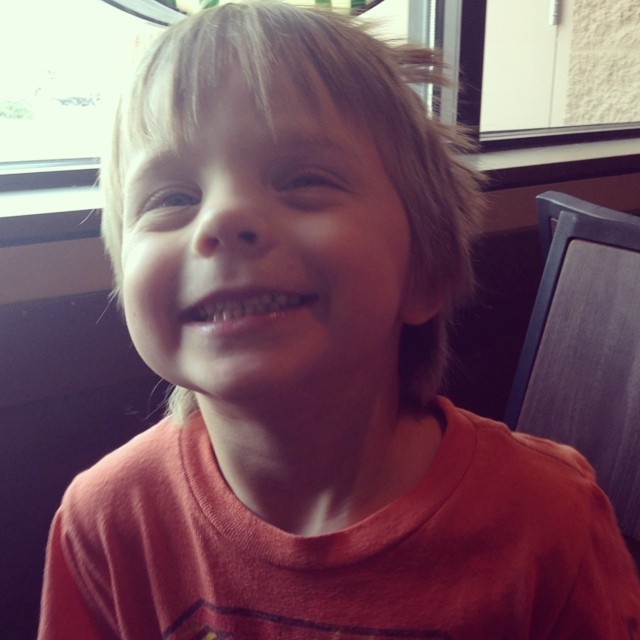 Sometimes I find myself short with the kids because I'm tired. I so want to be the good, patient, and the always loving mom, but alas the work wears me out. So I get tired and snappy and throw my hands in the air and exclaim I don't care. have a popsicle and then just go to bed. And most times they're unhappy because they wanted the grape. Or the kiwi – which, in case you are wondering, is what Samuel calls lime.
I so love them.
I know you love your kids too.
I know you love them on those short days when you're temper flares a bit. I know you love them when you just want them to go to bed. I know you love them even when they exasperate you like crazy. I know you love them when they can't find their shoes and you've told them 83 times to put them in the box by the door. I know you love them when they don't really want to talk with you.  I know you love them when you work and give and love.
Don't let you beat yourself up for those exhausted tired days. Don't be hard on yourself because it seems like you're not getting anything done (read 10 Tips for the To-do list). Don't go to bed worrying that you're enough when it seems like you're doing the same thing. Don't overlook you.
I really want you to know that you're not alone. Like really know this. Like know that you're not the only mom that looks at those little people and loves them but is also so tired.
Not one bit.
I know that sometimes motherhood is a lonely place. I know that it may seem like everyone else has it all together. Listen. We're all in this together. Even if we don't let on that we are in the same spot. We all deal with sick kids, relationship stuff, and that no no sleep. Here's the truth: I don't think anyone can get through motherhood without giving, working, and loving. And with that comes a great big dose of being tired and exhausted.  Tired and exhausted is such a normal part of motherhood. You can't prep for it, you can't stock up on extra sleep, you just kind of learn to deal with it.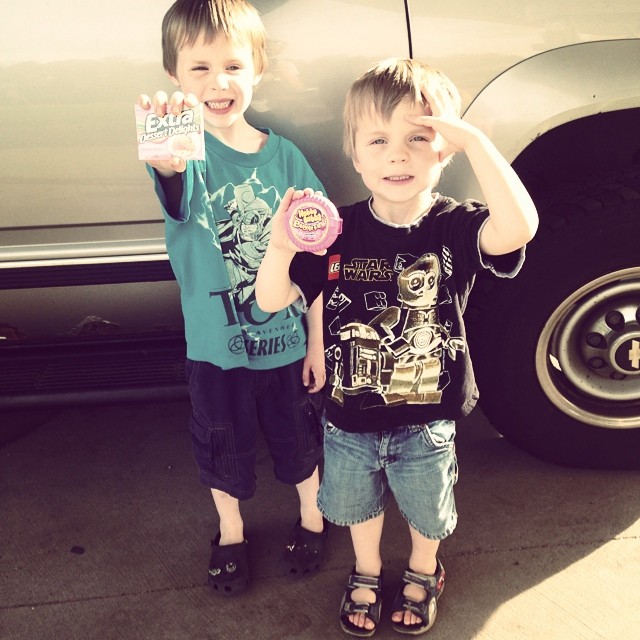 And in it you become brave and awesome and the mother you were meant to be. You learn when to pick your battles and when to spend $3 on gum at the gas station just because. You learn that bedtime doesn't always need to be on time and that shoes should most of the time be on the right feet. You learn that cooking macaroni and cheese from a box is normal and that sometimes the answer is to go through the drive thru at Starbucks – for you. You learn to not care so much what everyone else is doing but rather start to focus on you and what your kids need.
You're probably not the mother that you thought you'd be back when you started the mom journey.  You're not your own mother. You're not like the mother next door. Or the mom at Target. Or on television. Or at church. Or at work. But you're you. Listen, there is something really truly and profoundly beautiful about you. Even with the mistakes, tired, not feeling confident, or feeling like the best you.
There's only one of you for your kids.
Don't dismiss that beauty of that statement. Embrace it. Embrace how they love you even when you mess up. Embrace that even if they seem to hate you that deep down you know that you're their mom and they love you. Embrace you. Embrace the funny things you do, the things that just you and your kids get, and how hard you try every single day.
The messy imperfect trying you.
Motherhood is an extra shot of espresso crazy giving of you.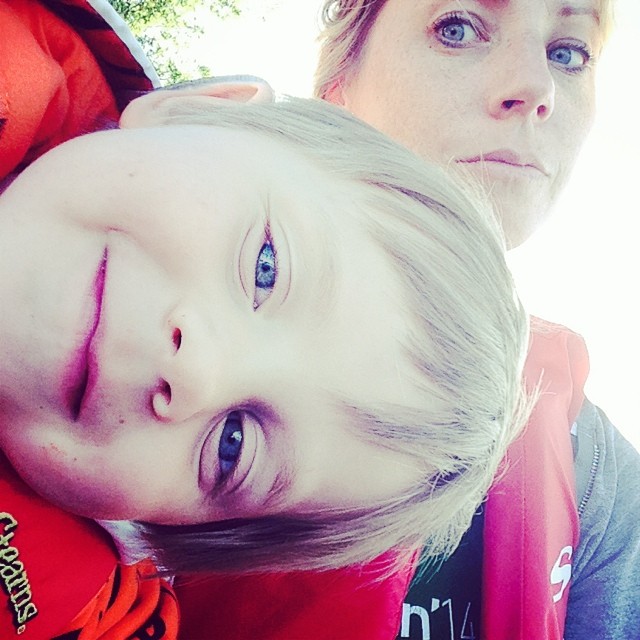 The mantra of motherhood isn't about do more, be more, and all of that. The mantra is really simple.
Be you. You give. You work. You love. 
That's not small.
That's a life changing helping babes turn into adults thing.
From one exhausted racing from the moment she wakes up mom to you.
~Rachel