I'm absolutely completely one hundred and ten percent serious.
Times infinity.
Squared.
(I've decided to do my own math today to emphasize the point.)
Normal moms are amazing.

Moms that push the big red shopping cart with two kids strapped in the front and one holding her hand at Target who can navigate the corners without taking down the display or the sample lady set up at the end with her juice and coupons and granola bar pieces.
Moms that help with piles and pile of homework and have to google history facts because she forgot what year the Spanish Inquisition took place and doesn't have an issue with admitting that to her fourth grade while helping the second grader learn subtraction facts.
Moms who make macaroni and cheese for dinner and frozen chicken nuggets (you can find these gluten free) and are simply okay with the boxed meal every once in a while and think that that meal deserves to be pinned on Pinterest. I think it needs its own board. The normal meals board.
Normal every day yoga pants at time wearing moms.
You are so crazy cool amazing.
I mean, listen to me, you are phenomenal.
It's an art to balance everything that you do. You balance toddlers on your hips and doctor phone calls and milk spilling in the fridge and lost homework and screaming seven year olds who don't want to pick up those legos and you mow lawns and wash down tables and smile at the check out lady at the grocery store when she tells you your hands are full.  Yeah, hands full is amazing.
Did you forget it? It's easy to forget how normal is amazing.
So often it's forgotten in a world that celebrates the highlight moments of life. I love like crazy those moments – they're the learning to ride the bike down the street without you chasing after them out of breath moments where your child screams I did it and you think yeah, we did. When you get them you must celebrate them because they're awesome. They're important life moments too.
But you know, you know what? The normal moments are just as valuable.
In fact, shhhh, I am going to say they're more valuable.
The normal moments are where you discover your strength in the ordinary. Or how to say no to a cute six year old who decided to scale the counters and find the marshmallows that you hid in the back for those emergency snack moments. Trust me, that happens. I have proof.
It's where you deal with the tediousness of the same routine and learn to find joy in little things. It's when you learn about patience, bravery, and tenacity. It's where you learn to say no to things that aren't good for you and yes for all the things that you've pushed aside. It's where you learn that comparing your normal life with the normal lives of other women doesn't make you content. It's where you learn the power in getting up again and again trying.
Sometimes we run ourselves exhausted trying to measure up to a hypothetical ideal of what we think motherhood should be. Hallmark cards and television and magazines and blogs and facebook and all of that has created a beautiful image of motherhood – a motherhood that is so often crazy perfect that our normal every day lives can often seem small in comparison.
You know what?
There is nothing small about staying up all night with a toddler with an earache and calling the doctor in the morning and drinking coffee and still trying to smile. There is nothing small about packing lunches and writing notes and checking homework and making sure they make it on the bus. There is nothing small about fighting for yourself and your children and making sacrifices that aren't easy but are the right thing to do. There is nothing small about tucking kids into beds, putting pictures on the fridge, hugging them good night and saying I love you.
There is nothing small about motherhood.
There is nothing small about normal motherhood.
And normal moms are amazing.
You, you the normal Starbucks latte drinking shopping at Target mom, you are amazing.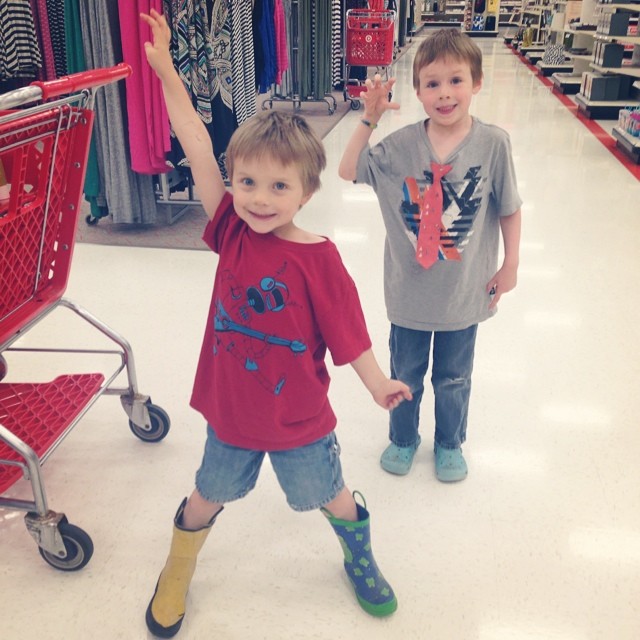 Normal moms have spit up on their shirt and kleenexes in their pockets and marker stains on their jeans. They have kids who love them even if they're not perfect.  They have the strength of a warrior tucked within them that in the right moment can be unearthed. They have the love that gives and gives and gives even when they're exhausted. They have the creativity of the greatest artist – I mean, I've seen some of your last minute inventions, costumes, birthday party put togethers and all that you've done. Amazing.
That's you.
You in your every day normal life. And I say lets celebrate that today. Lets celebrate the bravery found in living life boldly and fighting.
Lets celebrate motherhood.
Motherhood for what it is at it core. A giving of self, time, money, love, and heart.
All for little people that grow and grow and grow and call you mother.
Mother.
Don't let the power of that word slip by you today.
They're not calling you mother because of all the crazy spectacular things you'll do – because you'll do them – but they're calling you mother simply because you are their mother. And that is enough. Love isn't based on the externals that we think we need to accomplish – it's simply based on you giving of your heart one normal day after another after another.
You are amazing.
In your normal every day mothering way.
~Rachel
*****
Today's photos? All real life live from the instagram feed. A celebration of normal. Find me there at finding_joy for more pictures of normal things. And selfies at Target or Starbucks.
Images and original content are sole property of Rachel Martin and may not be used, copied or transmitted without prior written consent.