I'm sorry.
I probably say, think, type, whisper, message, or text those words dozens of times a day.
I'm sorry I didn't get that done.
I'm sorry that I felt that way.
I'm sorry that my house isn't perfectly clean.
I'm sorry that my kids misbehaved.
I'm sorry that I'm late.
I'm sorry that I forgot about that.
I'm sorry that I let her make me feel badly.
I'm sorry.
What is it with saying I'm sorry?
It's like sometimes I get stuck thinking I need to say I'm sorry for almost everything. Instead of saying this is just how I feel right now I'm stuck in this world of apologizing. And oftentimes it's apologizing for being me.
I'm sorry that those words hurt me.
I'm sorry that I felt left out.
I'm sorry that I get emotional sometimes.
I'm sorry that I cried.
I think sometimes as women we get sucked into this black hole vortex of saying I'm sorry when we're just living and trying to get through life with deadlines and homework and cars that won't start and rainy weathers and missing shoes that were just in the shoe pile yesterday.
There is no need to say I'm sorry so many many times. We apologize for the messy handprints on the walls and not realize that messy handprinted walls are often part of motherhood. We apologize when our kids are just kids forgetting that sometimes kids do really dumb things (isn't that part of raising children?). We apologize for things that don't even need apologizing for.
I'm tired of saying I'm sorry all the time.
I'm just telling you.
I want to open the door to my house and not feel the need to apologize for the science experiment remnants on the table and the legos on the floor and that it's not decorated the way homes look on Pinterest. I don't have chalkboard paint walls or cool baskets that are always labeled and I have boxed macaroni and cheese in my cabinet and a couch that has a rip on it (although, man, I really do want to say I'm sorry for that one because I can't stand it).  And I'm okay with it. Sometimes I hurt. Sometimes people say stuff or are mean and you know what? I don't have to be sorry for feeling that way. And I don't have to let it define my worth or sense of awesome.
Motherhood isn't a place that needs to be filled with apologies.
Apologies are to be reserved for those times when we make mistakes.
You know, the times where we are too short with our kids and we just need to look them in the eye and apologize? Or the times when we totally drop the ball?
Those times.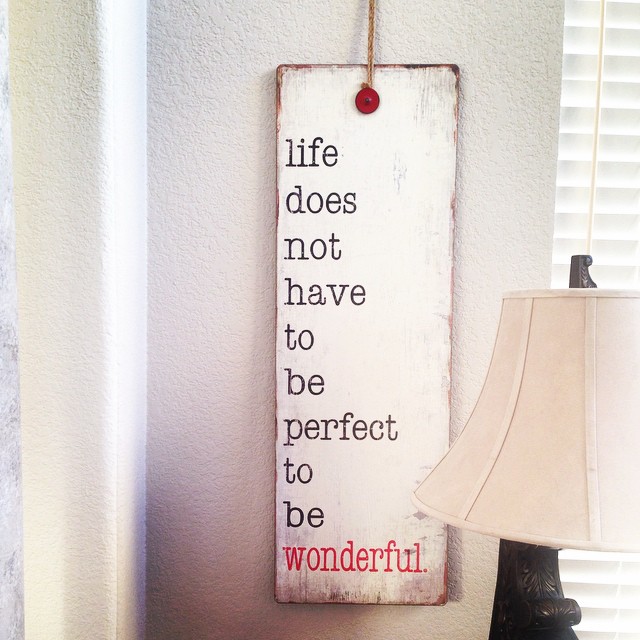 But not for being real.
Not for being tired because we were up with the baby last night. Not because we cannot say yes to another commitment because our plate is so ridiculously full. I never once heard the moms in Haiti apologize for not having things perfect. They didn't apologize because the kitchen was outside. They didn't apologize for only having one knife for me to cut with. They didn't apologize that their kids had to go get the water. They didn't apologize.
They just loved.
Listen. Please.
We are strong women. You are a strong woman. You do not have to ever ever ever apologize for not having a perfect life. You don't have to apologize if you are feeling overwhelmed. You don't ever have to apologize for being real.
Being real means that sometimes you call a friend in the middle of the night and tell her that you just need to talk and to hear a friendly voice. That is what friends are for. Being real means that you learn to love you in the middle of your journey. Our lives as moms can be so messy and so anti-Hallmark (Even though I'd love to write a line of greeting cards for them – for the "real" mom, I think) and still be beautiful.
There is no need to ever say I'm sorry for your beautiful messy dishes on the counter and laundry to fold and kids that make mistakes and you're feeling behind life.
Love yourself.
Actually, learn to give yourself grace. Even in the crazy.
Let yourself feel.
Let yourself have the grace to feel overwhelmed and not be sorry that you didn't get everything done that day. Because truth? You probably completed WAY MORE than you thought. You made it through. You didn't stop. Maybe the house looks crazy, but you know what? It won't stay that way. Because I know you – because I know me. We don't stop.
We keep going.
We show up for our lives and are awesome in the little big everyday ordinary things
We fight. We give. We clean (Again and again).
And we aren't perfect.
So you know what? I'm sorry for saying I'm sorry so much for my imperfect life.
It is what it is.
Beautiful. A gift.
And so is yours.
So hold your head high. Even if the toddler screams through Target and your caramel macchiato falls over (horrors) and you're super tired and you're behind a bit (or a lot) on laundry and you just wanted to watch television and give yourself a break (awesome).  I'm not joking. Hold it high.
Because the bottom line?
You are a hero.
And I have never ever once heard them say I'm sorry for being awesome.
So neither should you.
~Rachel