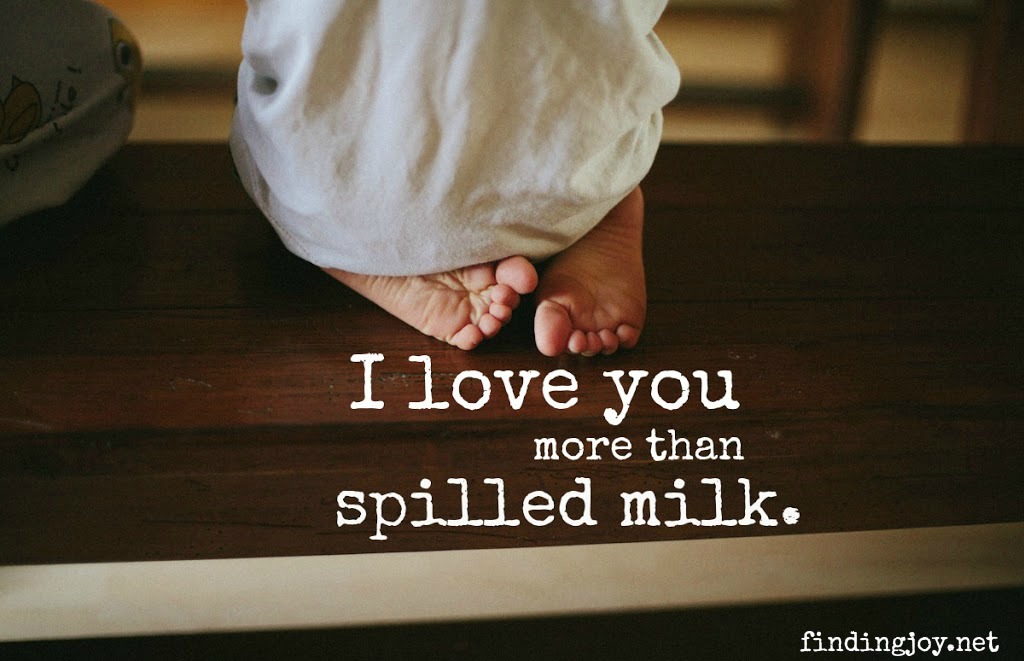 It was morning. I had gotten up early, was intent on getting everything done – quiet time, the dishwasher was unloaded, the garbage outside, coffee in hand and now the two little boys were finishing breakfast – Cocoa Crackles, which are gluten free, from Coscto, in case you were curious. Samuel sat next to me, with his orange bowl full of cereal, and a blue plastic cup filled with about half way with his milk.
Play slapjack with me mommy?
It was the slapjack King, Elijah, asking again to play slapjack. Again.
Not now, Elijah. Let me finish breakfast and then we can play.
It was kind of one of those mumbling mom answers that really isn't an answer but is rather this answer to just answer. I kept on working on getting all my ducks in a row and forgot about slapjack. That wasn't enough for Elijah. He came over to the table, climbed up on the bench, and then proceeded to make a spot at the table. And clearing his spot meant pushing a pile of white printing paper that was stacked up over a bit. In the process of pushing paper they hit the turquoise blue cup and yep, there went the milk all over the table, and bench, and dripping over my freshly cleaned floor.
Elijah! What are you doing? You can't just push papers!
I jumped up and started to mop up milk. Milk that had seeped into the cracks of the bench, and was spreading all over the table soaking papers.  While I muttered about 18 cents of spilled milk my Elijah had quietly left.
I love him more than I care about spilled milk.
Why, oh why, did I get so exasperated about an accident? It took me probably 48 seconds to clean it all up. And in that time, my sweet five year old was up in his room crying. Grace. Words about grace filled my head, and instead of sitting in irritation at the situation or myself I moved humbly up the stairs. I walked up to his room and saw that wonderful little boy who just wanted to play slapjack with his momma and came over and picked him up. Tears filled his eyes, and my heart hurt.
Elijah. I am so sorry. I love you more than silly spilled milk.
And then I sat there, with him, in a room with early morning sun streaming in, and I thought about how in my own agenda I hadn't made room for real life happenings. Milk spills. Cereal falls. Toys get dumped. Crayons get colored. Messes happen. I have a choice in response. And then I have another choice to apologize, to speak the truth, and to start again.
Motherhood is messy.
Yes, plain and simple, it's messy.
I should have looked at Elijah and given him a slap jack answer – a real answer that let go a little bit of my agenda – and told him a time I was going to play with him at this time and then set the timer. He was just getting ready to sit there and wait for me. And there I was, the mom he wanted to spend time with, distracted with her own agenda and then frustrated when it got bumped.
And one day, he will be grown, and he won't want to play slapjack in the morning, and he'll pour his own Cocoa Crackles, and he'll have his own agenda.
So that morning, I was so thankful for the reminder to open my eyes to the real important.
It's about their hearts.
Grace, my friends, grace.
Motherhood is hard, with bumps and refocusing and growing up and saying I'm sorry and dusting yourself off and trying again. And again. And again.  Learn from those moments, don't label, and don't let them define the day.
It's about grace.
I love you mom.
Those were Elijah's words back to me.
Wow. I love him way more than that spilled milk.
~Rachel
#slapjackqueenwholearnsgrace
For more encouragement please check out the wonderful Finding joy Facebook page with unbelievably awesome and real moms.