Dear sweet mom with her head in her hands wondering if she's a good mom or if she's making a difference or who is simply overwhelmed with life and mothering or who is worn from the crazy perceived motherhood ladder of competition or who maybe wishes for just a let me drink my coffee in peace moment of quiet or just simply needs encouragement.
This letter is for you.
For you, the tired or worried or overwhelmed or sweet mother who just needs a break. For you, the mother, who at this moment in time needs a reminder, a breath, in the midst of this very busy motherhood journey. For you, today, to read, and to remember that all of those days of pressing on and moving forward and making sandwiches and wiping down the sink and buckling seatbelts and doing those simple, yet sometimes forgotten, little things makes a life difference.
But, even though deep down we know we make a difference, it's easy to forget the power in the mother moving onward especially if at this time, or sometime in the day or within the week, you've had that moment where you simply sank to the floor and put your head in your hands. I know that feeling. Yesterday, as the May sun set, I slid to the floor in my older boys room and sat there with my head in my hands and tears in my eyes. I wish I could tell you that I had a reason to be sitting there like that – but really – honestly I was just overwhelmed with I'm not sure what. Maybe it was the rooms that were just cleaned that were messy. Or the parenting battle and the constant corrections. Or the bickering between kids that haven't been able to go outside that much this spring. But no matter what, it was one of those days where the tears glistened in my eyes and I was feeling done.
Like I was failing a bit at motherhood.
And you? Do you have those days? Those days where the picture of your motherhood journey looks nothing like you imagined? Those are the days where the living room is a mess and there are slammed doors and spills and defiant kids and you've run out of diapers or wipes and you don't have anything besides macaroni and cheese for dinner and you're late for a class and you have work to do and now, just now at that moment, the cry of mom grates on your nerves and doesn't sound anything like the sweet sound that you imagined it to be.
Do you feel that way? Are your hands sometimes holding up your weary mothering head?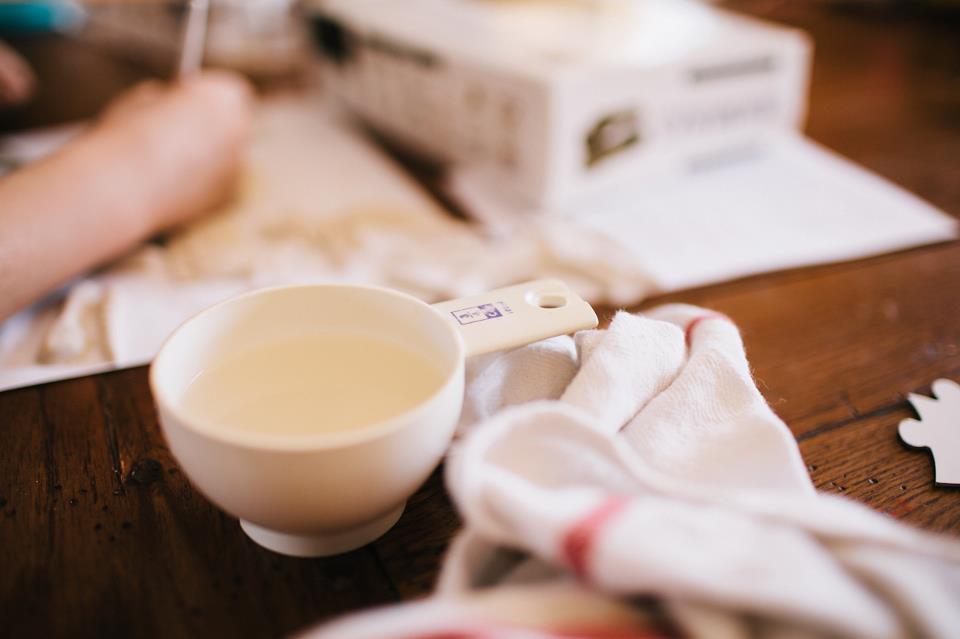 If so – today – today I salute you for pressing on in the midst of those days. I honor you. I honor the giving of self in a world that sometimes feels like no one sees you. I honor the moments where you took that big breath in, rediscovered your resolve, and sat down to a child who has been testing you all day and looked them in the eyes and told them that you loved them. I honor you.
Now, if you start to shake your head and tell me that you don't deserve that and tell me all the times you messed up I will simply tell you that I mess up too. And so does the other mother reading this article right now. And so do mothers on the other side of the world. You and I and everyone messes up. There is no perfect, no has it all together, no never makes a mistake, no sitting in the room with your head in your hands in defeat kind of mom.
Let the has it all together at all times even at three am after getting not an ounce of sleep and the kids are puking but she's still cheerful mom illusion go. And if you're having trouble with that read this dear mom letter from mid April – dear not so perfect but very real mom.
[Tweet "Remember how powerful a story the real mom can tell."]
Instead, today, today as you sit there wondering what to do next, I want you to remember how powerful a story the real mom really can be. You are a real mom. The mom with spit up on the shoulder or dirt on the knees from playing in the sandbox on a chilly spring afternoon instead of cleaning the dishes. You are the mom who stayed up late working on a science project about gravity and running to Walmart late at night for supplies. You are the mom who was content to try to sleep in the rocking chair with a colicky baby who wouldn't let you put her down even for a moment. You are the mom who hears your name called a million times infinity times a day and even though sometimes you reply back no one call my name for 28seconds please you still answer and still give of your self.
The head in the hands moments are normal. They're the time that you and I get to regroup. And sometimes, sometimes it is needed. Sometimes we need that grace to sit there and pray and think and try to remember that we matter. We lose that in the midst of the everyday – in the middle of playing cars and cleaning books and running to the store and tying shoes and wiping counters and pushing on swings and folding socks and remembering what a direct object is and buckling in car seats and all of that. You do matter. Your mothering that you do every single day matters.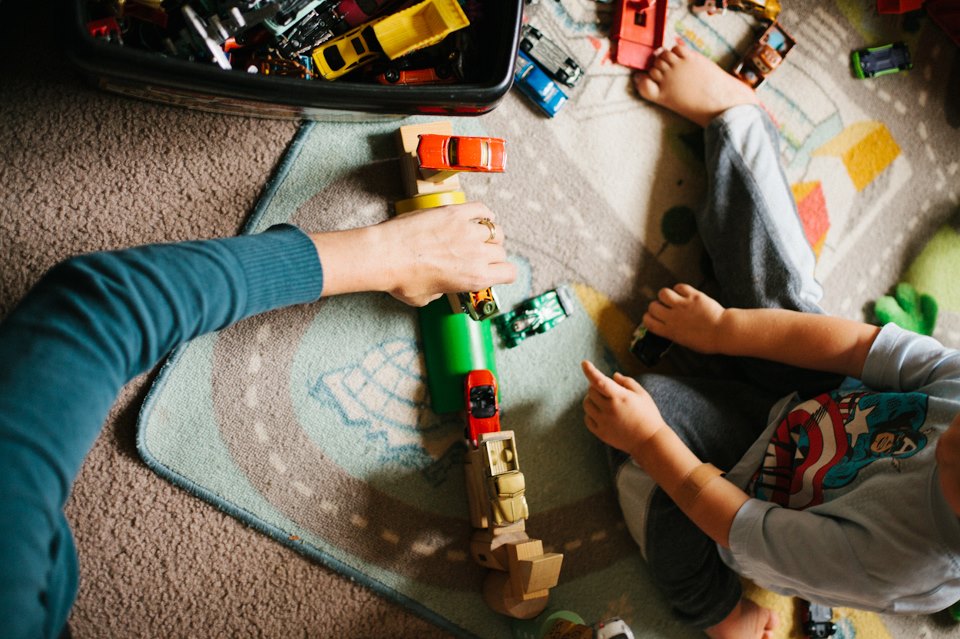 I love you mom.
Those were the words of my seven year old across the room to me on that day when I sat on the floor against a wall that needed repainting with my head in my hands.
You are loved dear mom. Maybe you don't feel it now. Maybe you don't remember it. But, when one gives of self it is to be honored. Loved. I love that you are brave and keep on going even on the days when you have to put your head in your hands. And remember this – no one gets through life without those moments. They don't define you. They strengthen you.
[Tweet "It is powerful to stand up from overwhelm and to keep pressing forward."]
It is powerful to stand up from overwhelm and to keep pressing forward. It is powerful to keep on loving even when you are met with resistance. It is powerful to admit that one doesn't have it all together and that mistakes are made, but instead of letting them define self letting them be something that you learn from. It is powerful to be a mom. That is an amazing thing – a life giving honoring beautiful thing – and that is what you, right now, are in the midst of living.
So today, or tonight, or when ever you are reading these words of mine I want you to remember that you are not alone. You are in a group of women called mothers and we all stand up and cheer you on as you love on that family that is blessed to call you mom.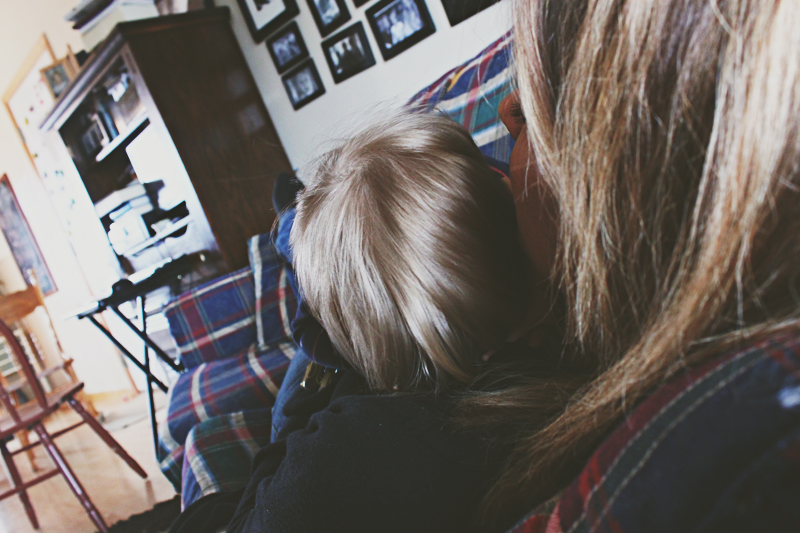 Onward, brave mother. You can do it. Brush the tears away, do one thing, and press onward with all of the braveness that you can muster. You are making a difference in this world. Let me tell you that again – you are making a difference in this world. You, right now, who had the moment of doubt, now needs to brush that away and to start to see and remember all of the awesome things that you accomplish every day.
You are brave. Amazing. Giving.
A real mom.
~Rachel
#findingjoy