If you and I were together right now and I asked you to describe you as a mother, what would you say?
What if you and I sat on my much too worn back deck with the stain that is peeling off in big chunks and what if I asked you to describe to me you as a mom?
What if I asked you to tell me about your days with your kids?
What would you tell me about how you are doing?
Chances are, that if you're like me, you'll start by telling me all the things that you don't like, didn't do right, and where you're feeling like you're failing. I'd list you so many things – the time I snapped because the cereal was spilled all over the just swept kitchen floor and I'd tell you that I wish I didn't get frustrated because it was just them trying to be helpful but I saw work. I'd tell you about the times when I got irritated over the laundry piles, the sassing back, and the constant work. I'd tell you that my family room floor needed to be vacuumed so please don't come down there. I'd tell you that the little boys room was a mess again. I'd tell you that I didn't read those books. Again.
It's so easy to see where we feel like we're failing.
You and I and all of those mothers out there can easily pinpoint our flaws.
But, chances are again, if I was sitting there with you and I observed you mothering your children I would see all the things and areas where you are awesome. I would see how patiently you helped that five year old tie their shoes. I'd see the cute projects sitting on your refrigerator. I'd see all the stuff that you probably dismiss as just those normal things of motherhood.
I'd see the you that sometimes is easy to miss or credit as just being a mom.
We're so hard on ourselves.
We see ourselves with such a critical lens and often we see everyone else with these lenses of grace.
Do you know that on my post Dear Sweet Mom Who Feels Like She is Failing that hundreds of women have emailed in and thanked me for putting a picture of my messy sink up? That's because that messy sink is real. And it's not a sign of failing. Yet, if you and I were sitting on my deck on those plastic chairs that I wish I could replace, I'd probably tell you about that messy sink and how I felt like it was an area where I fell short because we don't really share the messy sink moments in life.
The messy sink is normal.
If you and I are real with each other we'd realize that we need to stop seeing the messy sink as a sign of not measuring up, but rather a sign of normal. It's actually just part of motherhood. The sink gets cleaned, the dishes away, and we do it again. Just like laundry, spills on the floor, and the day to day stuff of motherhood.
What if we saw that instead? What if you and I started to look at our own lives with the same filter with which we look at other's lives? What if we celebrated that the messy sink doesn't stay? And that we have a family that provides those messy dishes that need to be put away?
What if we celebrated the things that sometimes we're so hard on ourselves to see as not measuring up?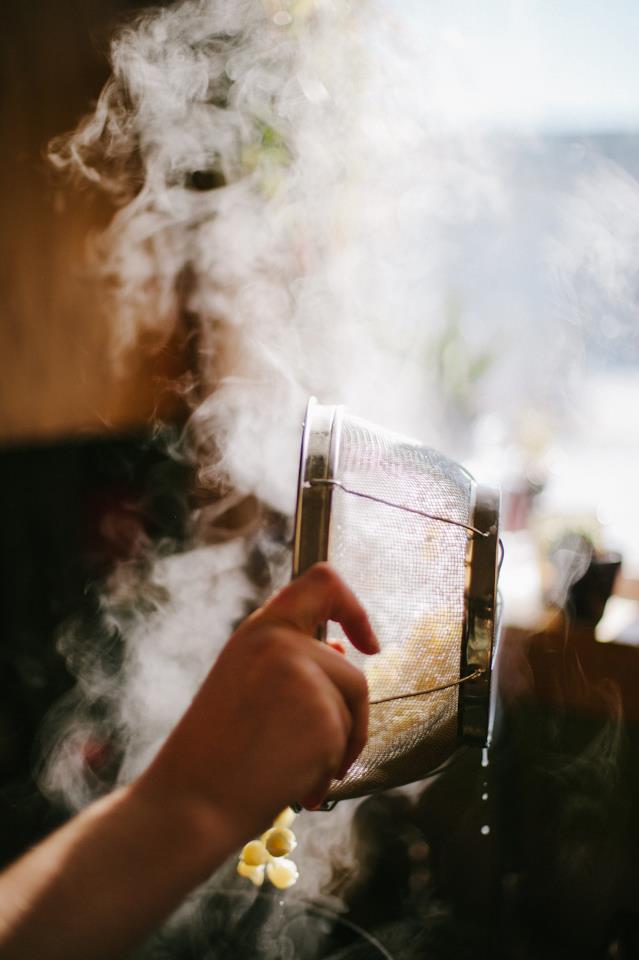 Today, today I want you to start seeing yourself with a lens celebrating those easy to dismiss yet super powerful things that you do.
I want you to start celebrating you and your motherhood journey this way. I know, I know, it is is easy to compare and to instead of celebrating the craft projects on our neighbor's fridge we start to feel like we're not measuring up. It's the same with pinterest pins, facebook status updates, and clever tweets.
Motherhood isn't about measuring up, sweet mother.
It's about wiping sticky fingers, letting them play in the mud, washing clothes, listening to stories about kings and dragons and knights. It's about helping them grow and drying dishes and going to bed exhausted wondering if what you're doing really makes a difference. It's about running behind a kite helping it to get in the air and combing snarls out of hair and blowing bubbles on the deck. It's about pulling up the boot straps and hoping you have enough energy to get through the day. It's about sneaking a nap in when they're sleeping and telling yourself that it's is the right thing to do – because it is. It's about feeling your heart burst with pride as the preschooler stands in front of a room singing and it's about that same heart aching as you hear about those days your child struggles.
Do you see those things?
Do you see the beautiful everyday moments in your life?
I want you to see you the real you amazing mom as well.
I want you to see the good that you do. The times where you raced around and played. The times where you had just had enough but you still mustered the sweetest smile. The times when you gave the last sip of your coffee to the eight year old and made his day. The times where you fought for your child and called the other parent of the kid who was pestering yours. The hours in the car, the nights praying, the minutes in front of the stove cooking, the seconds spent wondering.
All of those adds up to this beautiful image of motherhood.
Don't let yours be distorted by seeing all the things you think are flaws. Start to celebrate the beauty. Yours looks different from mine from the mother in New Zealand reading to the mother reading on her iphone to the mother across my street. We're all different. Beautiful in our own motherhood ways.
Celebrate you. Your motherhood journey. Your accomplishments.
Those kids that are in your home don't care what I'm doing really.
They care about you and love you. They love you. To them, you are beautiful.
You are perfect.
You are their mom.
~Rachel
Images and original content are sole property of Rachel Martin and may not be used, copied or transmitted without prior written consent.