A short list of normal mom things.
1. Drive the extra loop in the neighborhood just so you can have a moment more of quiet. No guilt for this one. This is a sanity, give me the extra moment to get ready to enter the battlefield and clean up the kitchen strategy of motherhood. Employ this when needed.
2. Go to bed thankful for Netflix. If the extra loop in the neighborhood trick doesn't work, then the next option to getting that clean kitchen is Netflix. There's no shame in being thankful for that wonder that pulls up on your television with options to entertain. If using Netflix helps with the sanity now and then go to bed thankful.
3. Know exactly what aisles to avoid at the grocery store so that you don't deal with kids who want cheap toys. We don't need anymore army men that don't stand up, plastic coins with paper dollar bills, dolls that look like Barbie dolls but are made from the cheapest materials, and the leftover clearance toys that didn't make it in the big stores. And to put them directly across from the neon colored sugar doused cereal of joy that kids want? A recipe for disaster. Avoid. This. Aisle.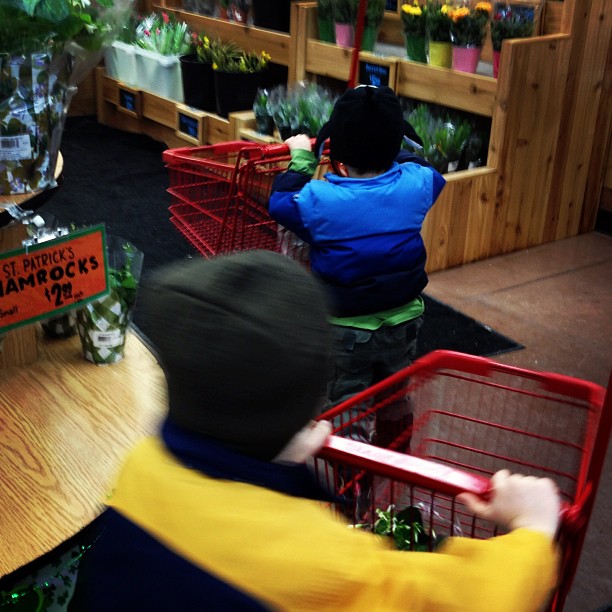 4. Tell your kids the jumbo carts are broken today. Shhh… I've done this. Especially during cold, flu, and anytime I hear about some other kid throwing up season. That season is the worst. If someone updates Facebook with words about stomach flu I think two things 1) NO. NO. NO. and 2) This is not a good Facebook update.
5. Have walls or windows  that are covered in handprints. Even though you washed them last week. Wait. We wash walls? And windows? And I know, I know, I know, someday we will miss those walls. But, I tell you, I can clean those windows so that you don't know they existed and thirty-two seconds later it looks like I don't know what Windex is. Or vinegar (because sometimes I use that too).
6. Can make a meal with noodles, beans, carrots, and any other random item. And then we'll be told this is the best meal ever make it again. And we'll have no clue how it even happened but we're just grateful.
7. Are known at your Target. Or Walmart. Or Starbucks.  Or maybe that's just me. Let's just keep the fact that I'm a regular at Starbucks our little secret. It's like fuel for a mom's body. Oh and yes, I know my Target so well I know when things are going to move to clearance. And I'll wait for the 70% off (what happened to 75% – does it make that big a difference in the bottom line? Seriously.)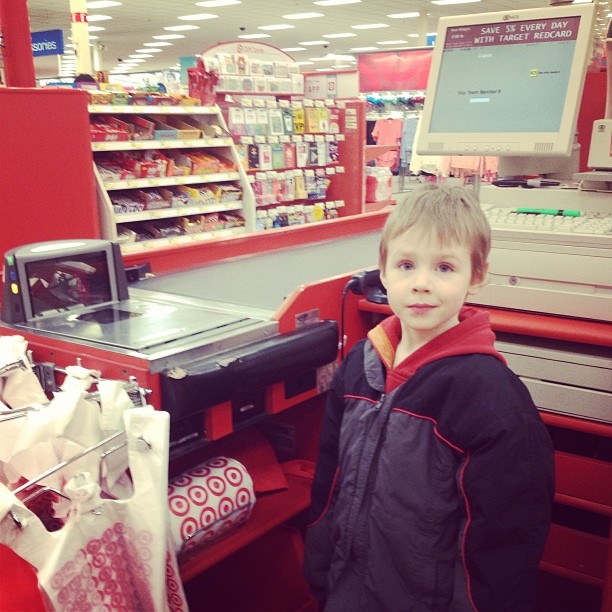 8. Can scrape every last bit of peanut butter out of a jar with an opening at the top that is ridiculously small. Listen. This is my plea to peanut butter manufacturers world wide – we don't need a taller jar that is so deep that the knife cannot hit the bottom and our hand is covered in peanut butter. We need a jar that is wider than it is tall. End rant. #momsforpbjarsunite
9. Hide chocolate.
10. Have a phone that has numerous kids apps on it. And my iTunes store is locked. Holy moly. Could you imagine? How many versions of Monkey Preschool, Lego apps, Angry Birds, and Cut the Rope could I have on my phone? Way too many. And those upgrades? I might just make them clean their room so that I upgrade.
11. Turn the music up loud, dance in the kitchen, and make the kids laugh. If you don't do it – do it. Life is too short to be the serious mom all the time.  We need those silly moments with our kids. And even if you can't dance well – that makes them laugh even more.
12. Get tired of the begging for things and sometimes just says Fine. Have it. just so that the begging will stop. Yeah, probably not the best strategy, but sometimes us moms need to do what we need to do. Popsicles at 9:30am might be an option on somedays.  Or Fruit Roll-Ups. Or gum at the gas station. Or watching a show on Netflix (see? that one always comes up.)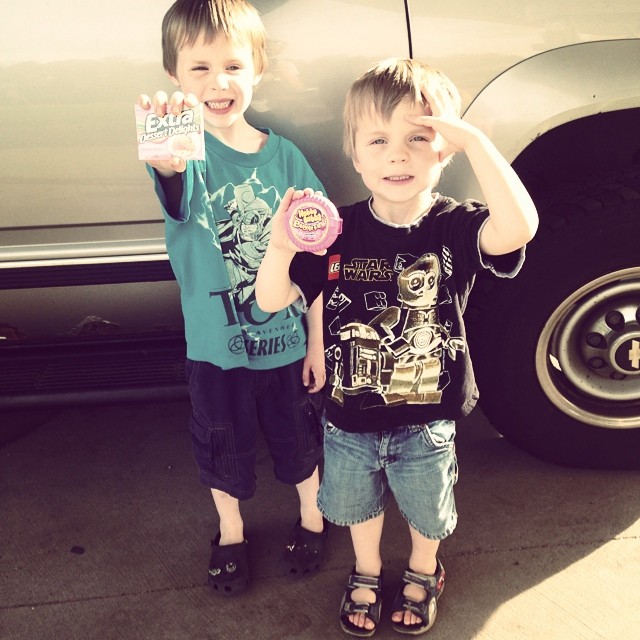 13. Sleep very very little. And we can sleep half awake listening for that child to wake. And we can sleep with feet in our face. Or on the floor.  Remember point six about Starbucks? This is why we're known there. Sometimes I think I need to buy stock in my Keurig K-Cups.
14. Order pizza some nights when the noodles, beans, and carrot option just won't work. I'm just telling you the Domino's Tracker is a gift for moms. Budget in the pizza ordering night. That was like my last night – walking into Dominos, being handed three boxes of pizza, and having them smile at me and say thank you was absolutely wonderful. I was like no — thank YOU.
15. Can be caught singing and humming various kid songs. Like Everything is Awesome. Or Let it Go. Or Do You Want to Build a Snowman? Or What Does the Fox Say? Well, maybe not that one as much anymore. But, let's face it, those are the unspoken anthems of motherhood.
16. Work on not judging. Super hard.  This one is so hard. Sometimes I think we judge to make ourselves feel like better. And we're really not judging, we're just being hard on us. Let's not do this one. Let's try to just love.
17. Take selfies in the car with the kids. It's almost a badge of like look we all got in the car. Somedays we need that. You know what is cool about these selfies? It gets us moms in the picture with our kids. Sure they're all buckled up in the back and you're looking over your shoulder, but they're awesome. So are pics at Starbucks with them. Take these pics. You'll be grateful. Especially when they give you stickers and say that the sticker looks like you. Ha! #frazzledmom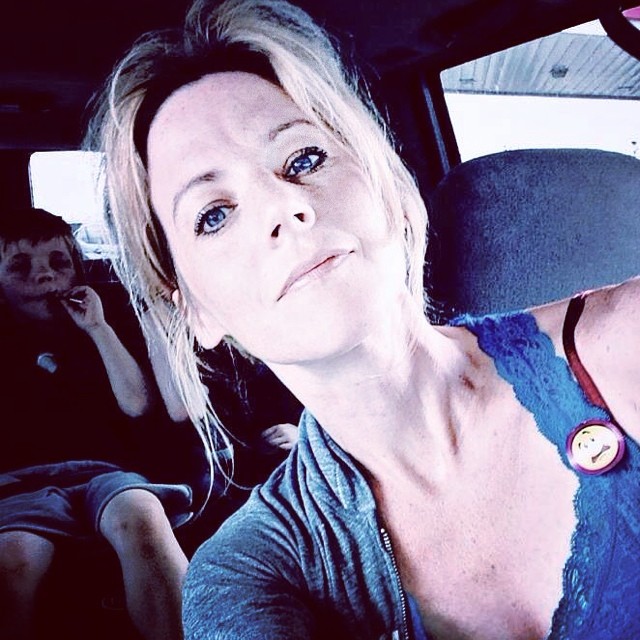 18. Throw away the container, even though it was expensive, that housed leftovers from another week and avoid attempting to clean out the science project growing inside. I am the worst at leftovers. I don't even know why I bother putting them in my Rubbermaid containers with the red lids because I know that come next grocery shopping trip I will see them in the back of the fridge staring me down shouting leftover failure you could have used us! So yeah. And if it looks too dicey it's gone.
19. Cry.  Yes. The cry. The cry over the times when we yell when we thought we would never do it. Or when we're just tired. Or for no reason at all. Crying is normal. Mothering is hard work, my friends.
20. Wonder if she's doing this mothering thing right. Oh my word. This. We all wonder it. How could we get through motherhood not wondering if we're doing it right? But the truth is that we'll all discover that our right will look different from your right which will look different than the right of the other mom in line at Starbucks which will look different than the moms on Facebook and so on. There's really only real. And grace.
21. Make a difference. Yep. No matter what your story you're making a difference. One peanut butter sandwich cut into triangles, one messy face wiped, one soccer drop off, one let's check your homework, one finding the missing sock, one tuck the covers up to the chin, day at a time. It may feel like normal, but let me assure you, it's extraordinary.
There really isn't a normal.
There is just real.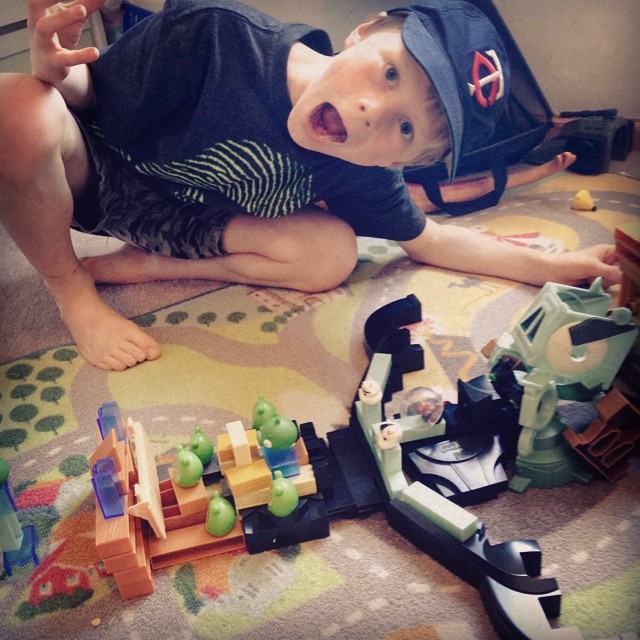 Real Awesome Normal Moms… 
…who have kids who think they're awesome too.
*********
Join the community of AWESOME REAL MOMS here.