I'm writing this in Starbucks.
I'm writing this in Starbucks with my usual latte and the usual noise and the usual feel.
But it's not usual.
I'm writing this in Starbucks 915 miles from my home, on a work trip, right before Christmas and at this moment I very much miss my normal.
Or at least what I thought was normal.
I didn't grow up thinking that life would be so bumpy, you know? I kind of grew up thinking that my life would look like my folks which kind of looked like their folks which kind of looked like their folks.
And yet, my life really doesn't. My life is really kind of messy according to the Hallmark Pinterest world standards.
There's divorce and single momness and traveling tons for work and much stress. So many decisions to make on my own and so much courage sometimes. Wait. Make that much courage most days.
Sometimes I sit in Starbucks and tears fill my eyes and I just want to whisper what happened?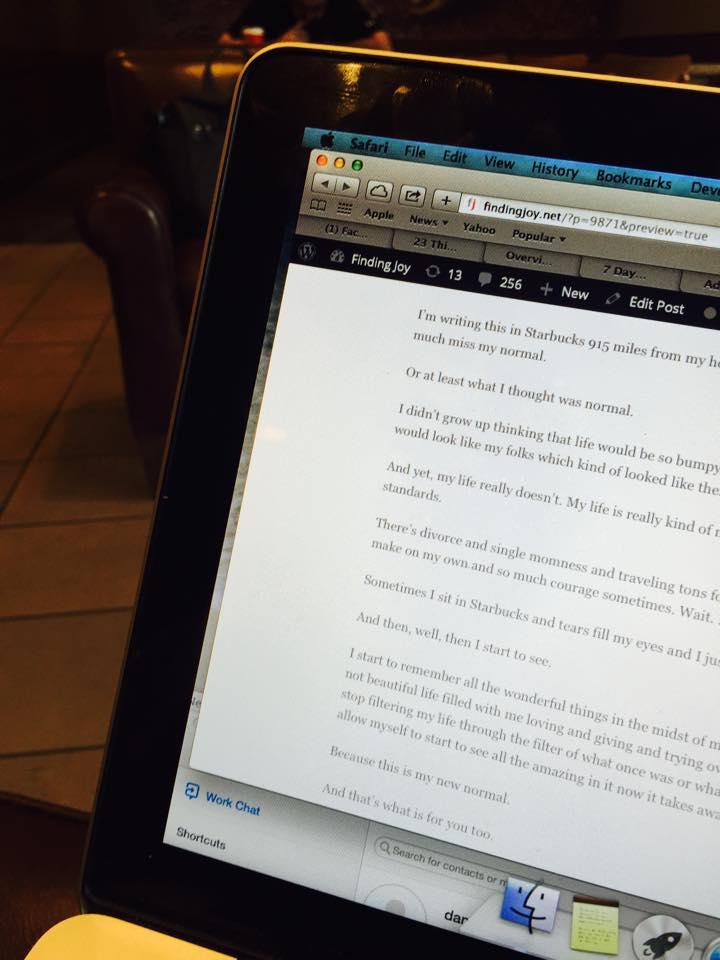 And then, well, then I start to see.
To start to recall everything that I had forgotten.
I start to remember all the wonderful things in the midst of my life. Yes, my life. My imperfect crazy so not seemingly beautiful and yet wonderful life filled with me loving and giving and trying over and over. And when I allow myself to stop filtering my life through the filter of what once was or what I once dreamed about and instead allow myself to start to see all the amazing in it now it takes away the missing of normal.
Because this is my new normal.
And that's what is for you too.
I'm sure there are many of you reading this right now with the same thoughts wanting to know what happened to life. I'm sure there are many of you right now who are overwhelmed with expectations and lost dreams and hurts and trials and a whole bunch of tired. I see you. I hear you share your stories. The empathy I have for use walking this journey in a world that looks so different than we dreamed is through the roof.
But I want you to know something.
Yes, you. The mom wondering about this whole crazy thing and where she fits and when normal will return that your normal will return. It may not look like the normal that you remember or wanted or dreamed about, but sweet friend, I want you to not look at your life with the filter of regret or what if or this isn't what I wanted and today I want you to see that you are blessed to be living today.
You are blessed to have this moment.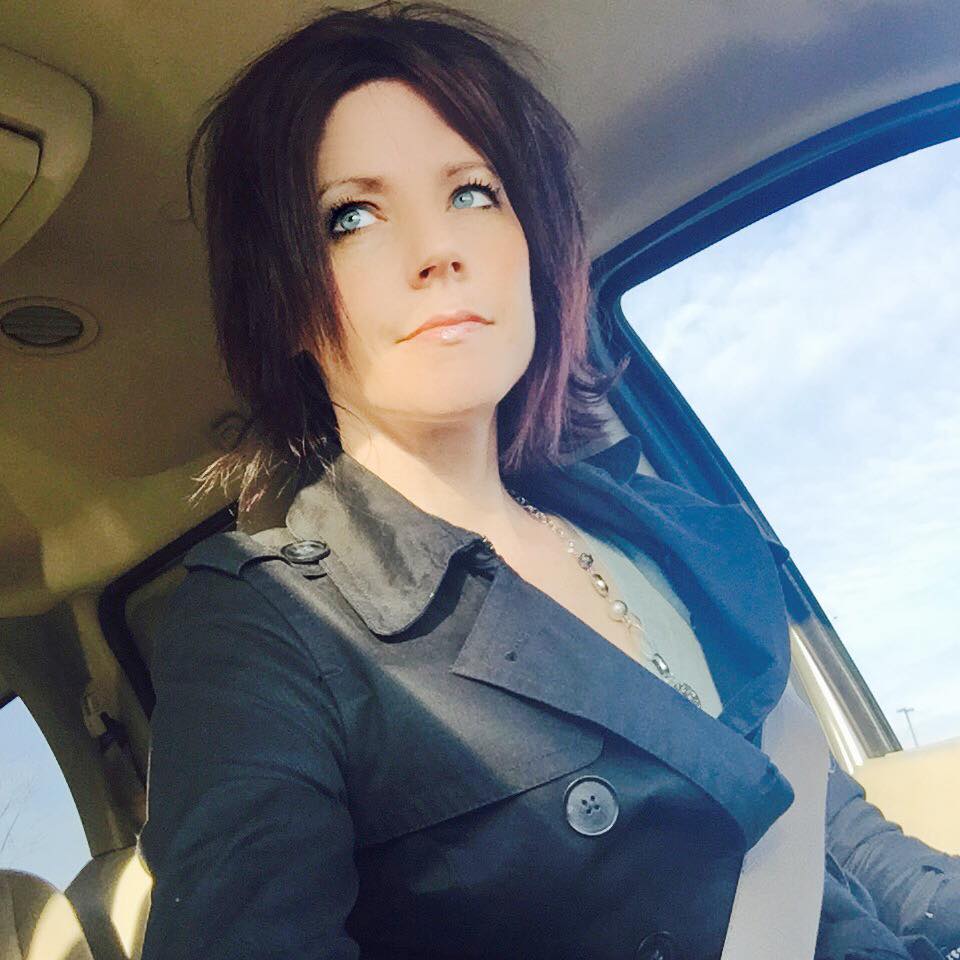 This breath. This time with your family. This opportunity.
I'm not going to sugarcoat and send you off with 20 hyper polished pinterest worthy steps to getting the perfect life. I'm not going to tell you that you don't have to struggle or work hard. I'm not going to tell you that being a mom can be figured out in journaling every morning over the next week. I'm not going to tell you that there won't be anymore moments without tears in your eyes or frustration in your heart. I'm not going to tell you that your path will be without bumps.
I will tell you that you will get through.
I will tell you that you will find normal.
I will tell you that you have beautiful in your life.
I will tell you that you giving of yourself all of these days is really the stuff that makes life, well, life. It's the heart of motherhood.
I will tell you that your dreams matter.
And so with that, as I sit here, in this Starbucks in Nashville, Tennessee, my heart began to change. Instead of missing what once was I am now finding myself looking forward to what is to come and incredibly grateful for today.
Yes, incredibly grateful for the opportunity that life has put in front of me.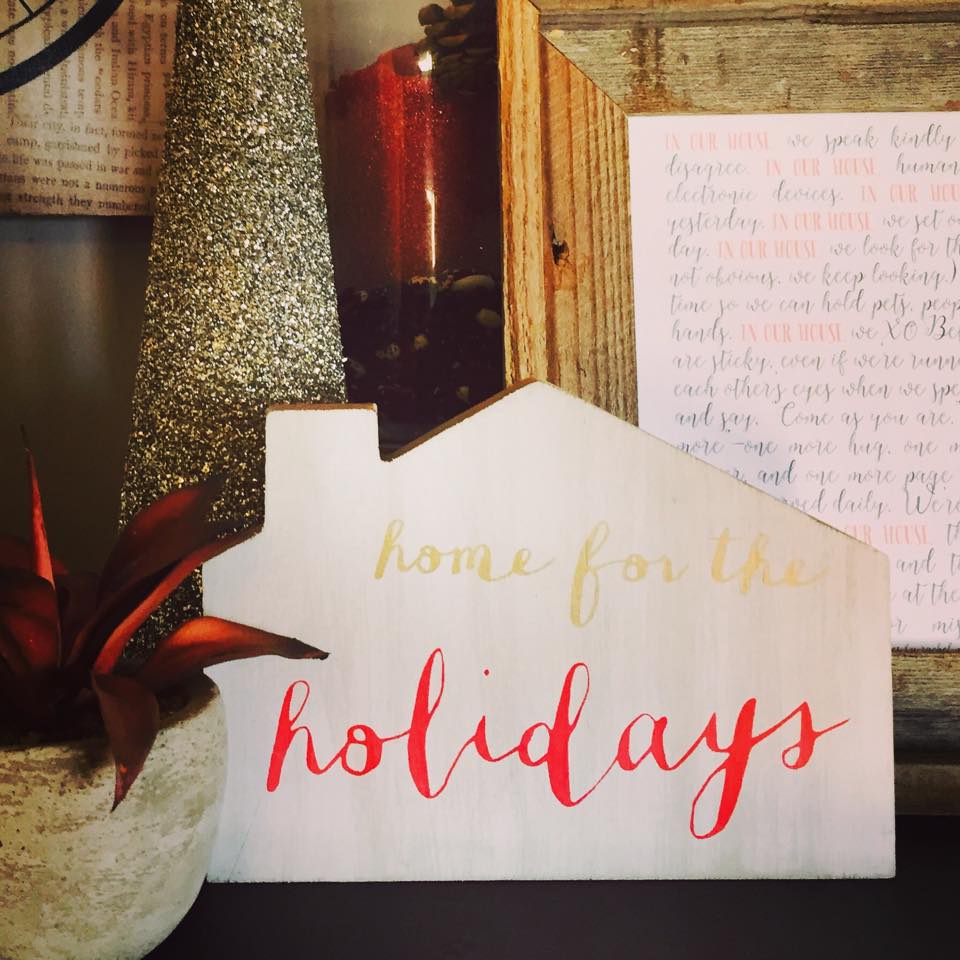 Maybe that's what you needed to hear. Maybe not. But, as a writer I've learned that perhaps instead of writing things that I think would d well and awesome that I focus on writing things that are deep from within my heart with the hopes that just one person, one woman, one mom would be blessed.
And if that's you, then it is worth the hour I spent sitting here with Christmas music playing through the speakers above while I type words celebrating the beauty of the new normal.
So to you – have hope, sweet friend.
Have hope.
Look up, smile at those around you and carry on.
Not in perfection, but just in being. Living grateful for this year, for the kids who love you – for it all.
Today, I choose joy. To find it in my life. This normal.
And that is what I want for you too.
Gratitude changes lives.
~Rachel
#findingjoy