I knew it was coming.
Samuel, little Samuel, was wandering around the living room in those favorite monkey pajamas with the orange super soft shirt. Every once in a while he'd put his head down on the couch and take a quick rest. I was watching him. That little one, up a bit too late, trying so hard to stay awake.
Samuel?
Samuel do you want to rock with mama?
He looked up, in those sweet little jammies, and shook his head no.
Wake. Wake time.
I just let him play while glimpses of the sun faded into the west. He kept playing, sneaking little peeks at me sitting in the rocking chair watching him, hoping for just a couple more minutes of time before bed.
Samuel.
Little eyes look at me. Worried, just a bit.
Samuel.
Samuel come rock in the chair with mama.
And he came. Running through the room, over to me, and let me scoop him up. I gathered up that little one, nestled him in my arms, and started to rock him. He rested his head on my shoulder, and I patted his back. We rocked. Back and forth.
I knew it would be short.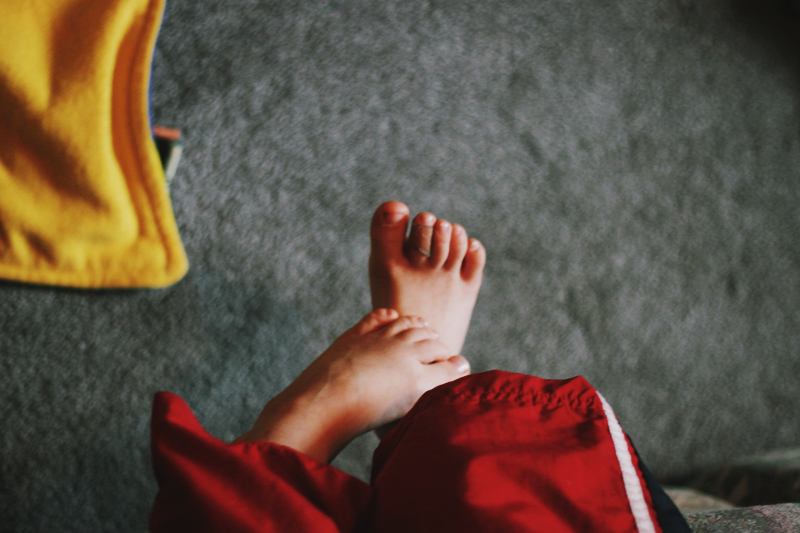 He's growing up. He's busy and sees what he wants to do. I knew, I knew right then I was to savor these early evening minutes of him being absolutely content to rock with me.
Remember.
Remember him. Remember him now. Little, in my arms, rocking away.
Wanting to be with me.
And then it was done.
No bed. Not tired. Wake time, mama.
I let him down, and watched those little monkey printed pants wander back to the pile of John Deere tractors in the corner, and I sighed just a bit.
Soon these rocking days will be done.
Gone.
So tonight, tonight, tonight I rested in those minutes where I was blessed to rock my Samuel.
Grab those moments, I tell myself over and over. Grab them. Slow down.
Slow down.
After a couple more minutes, I gathered him up, carried him up the stairs and brought him to his room. Now, there was no more fighting that inevitable it's time for bed surrender. We stood at the edge of his bed, and I sang him a little song, and then tucked him up.
Love you, Samuel. 
Love you, mama.
Forever.
~Rachel
edited to add: this was originally written three years ago – those rocking chair moments have certainly almost vanished and are now replaced with covers tucked to the ears and just one more book and asks for water. Sweet moments matter, they really do.