Today I took my youngest son to Burger King. This is the boy who this morning took a nap on the bottom stair. And the picture doesn't even relate to the post, but it's just so darn cute and funny that I thought I would simply share.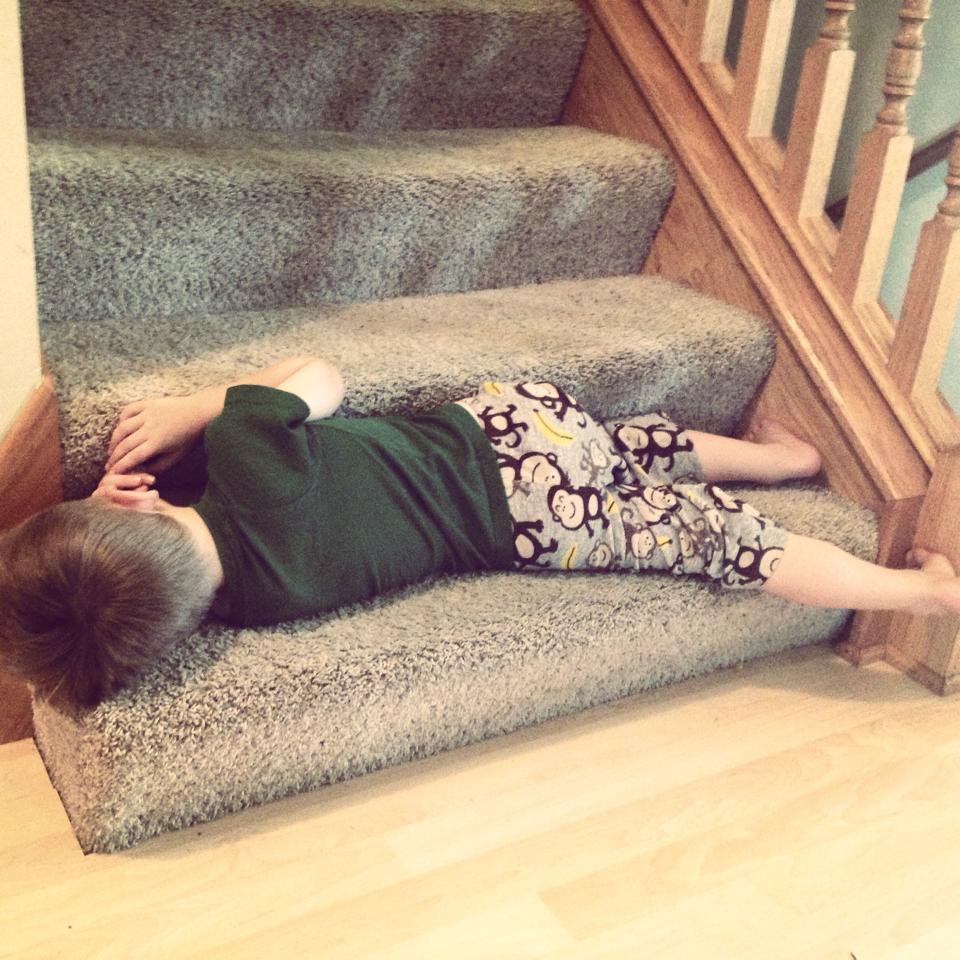 (And before I continue, yes, I took him to Burger King. Yes, I know it's pretty much not real food. Yes, I try to eat and serve healthy meals 80% of the time in my home. Yes, he has Celiac Disease but I know this Burger King and they prep his food – no bun, apples, chocolate milk,  just for him. And, yes, we rarely go there, but sometimes sometimes it's the answer and I love for him to have those moments that he rarely gets. Okay, moving on. That part is done.)
Now, here is what the story is about.
I ordered him the kid's meal – with the toy – which I rarely do (see above for reasons why). I mean ever. Normally I'm a dollar/value meal orderer, because we don't need anymore crappy toys and extra food or fries. But, not today. Today I was feeling like I'm just going to order him his third kid's meal in his life with the toy and the bag and it all.
Yes, life. Because when you live with a food allergy or Celiac Disease you just don't get that stuff very often. Then when the bag came I peeked inside and saw pink. A pink Carebear thing on a cloud with rainbow stickers coming out of the cloud.
Um, do you have a boy's toy?
Those were my immediate words out of my mouth to the gal at the window.
Nope. That's all we have.
I, of course, was irritated-disappointed-frustrated and more just a bit. Here I decided to bend my own rules, get him the burger with no bun and lettuce and tomato and chocolate milk and the toy was the pink girl thing that I remember from my own childhood.
Samuel. They only have this toy. It's kind of like a cool wish toy.
Those were my words to him. Then, in the next breath, I said to him these little words.
Do you want to give it to Emma? (that's his friend who lives behind us. She's a girl.)
Without missing a beat Samuel, in his much more wise and brilliant almost five year old state told me words (that I wish I could remember verbatim because they were profound in their simplicity) that had me thinking for the entire six minutes home.
Why would I do that? This is the best toy ever. And the best day ever.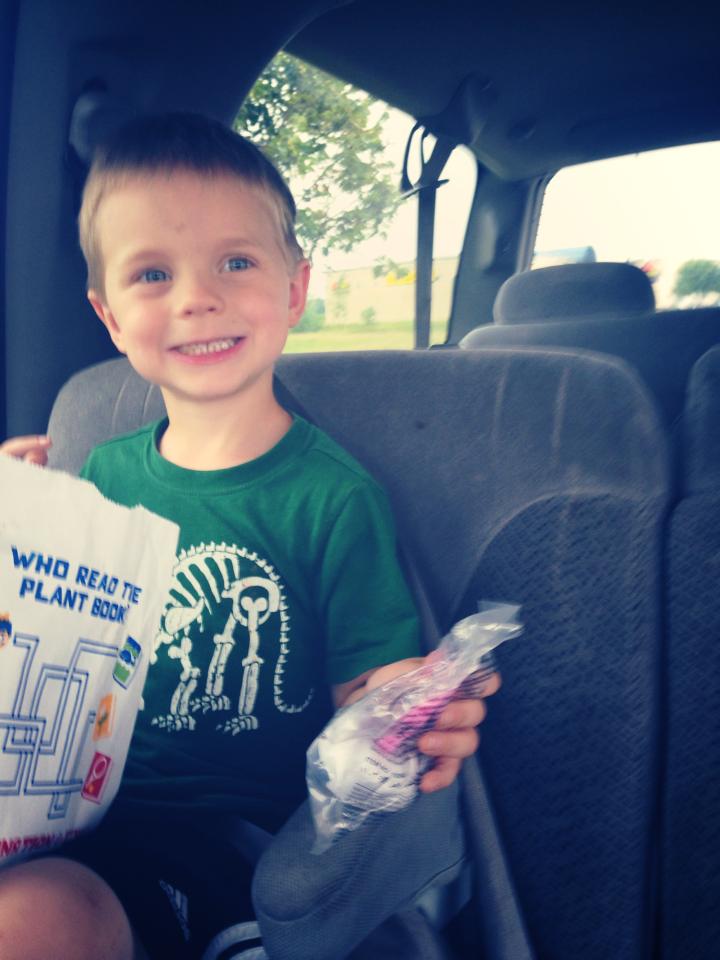 Holy moly.
That was a wake up moment about limits for me.
He didn't see the boy/girl toy difference. Not at all. He only saw it when I pointed out to him that his toy was pink. In fact he uttered words about it being pink, after I said mine,  but that it was still cool. It got me thinking about all the other things that I teach my kids without even realizing that I'm teaching it to them.
Of course there are truths that I want them to know. Yes, yes, yes…that's a responsibility of parenting. But this simple thing like deciding that he couldn't be happy with the toy because it was a pink bear with a rainbow on it's belly? That was just silly of me. I want them to fight and make tough line in the sand calls over things in life that really matter.
Not over a toy that had pink on it.
So he taught me.
He taught me to not be so quick in judging. He taught me to be content with what he is given. He taught me to look at the awesome in a situation and to not think that one is being ripped off. He taught me gratitude. He taught me that somedays can simply be the best days ever. He taught me to not let boxes and norms define. He taught me the power of a smile. He taught me, well, he taught me how quickly sometimes I make assumptions about what is right.
In fact, right now, he's wandering around carrying that silly bear with the stickers and talking about how he can't wait to give stickers to his brothers when they get home from school.
He wasn't looking at what he thought was right.
He was simply grateful.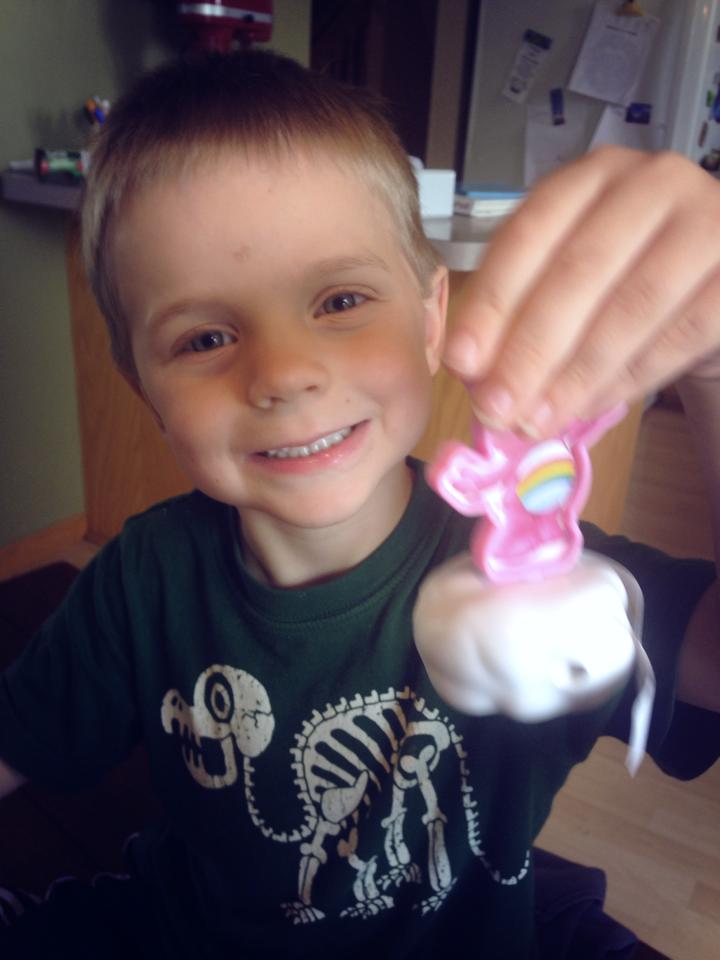 We live in a world of limiting factors – boundaries, speed bumps, regulations, rules, ideas, expectations and more. Sometimes they can leave us stuck and missing the bigger picture of life – from seeing the possibilities. Who would have known that a two minute exchange at a Burger King in Minnesota would have let me see some of mine.
I don't want non relevant limits to define possibilities. I want to see like he sees.
So with that, to my sweet Samuel, today, today I learn from your wisdom. I learned to see the good and to not see what's not right in the beginning. I see how quick I am to judge a situation sometimes and not look for the good. I see how the moments really matter more than having everything perfect.
For being less than a month away from being five you're pretty smart.
And I'm simply grateful.
For you.
~Rachel (and to Samuel, that would be – mom)