Please note: this is a sponsored post. To read my disclosure click here. And please know that I'm really really selective about these and ONLY will write for things I love and this is one of those things that made the awesome cut.

Let's face it.
I'm so busy. All the time. I wake up and get moving. Packing lunches, folding clothes, waking kids that are way too tired up, making oatmeal, driving to school in a van not quite warmed up for the Minnesota fall, saying goodbye's to the kids who were so tired when I tried to wake them up,  cleaning floors and tables left with the preschool rush, working, answering emails, checking homework and on and on and on. And most often, by the end of the day happens, there I am busy and accomplishing much, but not laughing much either.
Being busy isn't bad. Being busy is part of motherhood.
As long as we don't forget us in the process.
So a couple weeks ago I was approached asking if I would write about a television show and my first thought was who has time to watch tv? but then I thought about it and the push that I have for us moms to laugh again. So I thought about it and said yes.
Because I need to laugh. And I want you to laugh.
And it would be time for me to feel normal.
And I know that taking a break feeling normal and just laughing time is a premium for us moms.
You know what I mean. If we sit for thirty minutes then the to-do list might get backed up. And then we wrestle with mom guilt because we probably could be doing a couple other things. Or a lot of other things. Or we should be sorting or folding or doing the fall clothing switch (that's what I should be doing). But but but – we could be so busy that we never sit and take time for us.
And that's why I'm writing about chilling out and actually laughing. Do you see that pic? That's me practicing what I preach and chilling and laughing.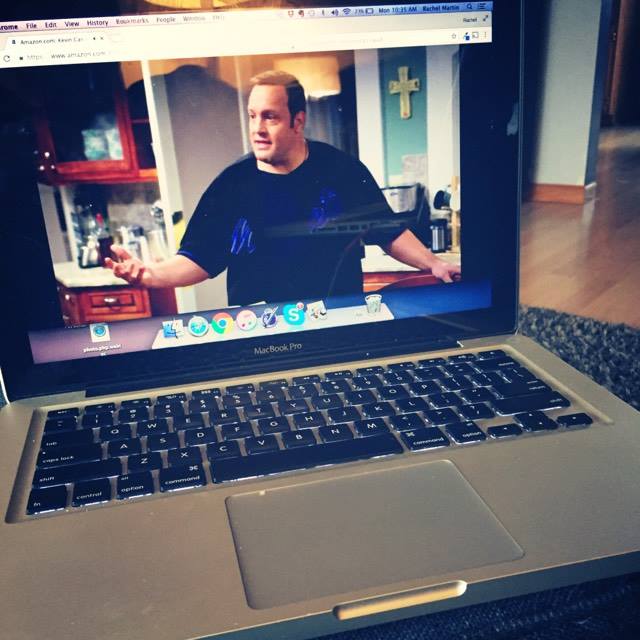 So, I said yes to writing about Kevin Can Wait because, well, first I love Kevin James (who doesn't?) and it's the kind of show that makes me laugh and reminds me of my childhood. You know what? My parents would watch  Family Ties with us every Thursday night when I grew up. And we'd have pizza or popcorn and sometimes chicken nuggets and tater tots and so forth. But I don't remember the food – I remember the anticipation of laughing with my parents. And that's what this show is for me. I laugh and laugh and love my normal life which is totally celebrated in these 24 minutes of awesome.
Because it's not about perfection on the show. It's about life. About a college daughter coming home.  About boundaries and kid raising and girls getting together and parents getting everything done and not losing ourselves as the kids grow. And as a mom to two college age daughters and those that are younger – I get this show. I get it because it's about living life and realizing that there is so much life to live even as the kids grow and that there is time needed for us in the process.
Kevin James always makes me laugh and this show – Kevin Can Wait – of his is super funny. And, friends, not much makes me laugh in this busy life of mine – but he does. And I've put myself on hold for so long that I've decided that I will write about this and that because it makes me laugh and my hope is that you, too, will take a moment to watch so that you can have just a couple minutes a week laughing.
You can fold laundry. Cook dinner. Check homework.
But laugh.
So to those that asked me to write – thank you. Thank you because you made me actually live my words about taking time for self and for laughing. I appreciate it so much. And Kevin James? You're my hero (Someday I hope to tell you thank you in person). And this show? It's really a celebration of the normal, ordinary, crazy, beautiful and not-so-perfect life.
~Rachel
ps. my favorite episode is "The Chore Weasel" simply because I need someone like that at my house helping me out. Wait. Who am I kidding? I binge watched them all on Amazon but you can watch them Monday nights. 🙂
Interested? Because you should be -> Watch Mondays at 8/7c on CBS!

About Kevin Can Wait
#1 New Comedy moves its time period to Mondays at 8/7c on CBS!
A newly-retired police officer looking forward to spending more quality time with his family discovers he faces tougher challenges at home than he ever did on the streets. Whether it's at Kevin's retirement party or just making plans with his fellow retiree buddies, Kevin realizes that life at home will not be as carefree as he had hoped. But with the companionship of good friends and the love of his family, Kevin will make the most out of the next chapter of his life.