Today's Miscellany revolves around food. (anyone else a foodie? did you see the finale for The Next Food Network Star? Love the winner. — I won't say the name — don't want to spoil it for those who still have it on the dvr.)
1) I am pondering, and please note the word pondering, doing once a month cooking. (That was even hard to type). I think actually, I might try once every two weeks cooking. Have any of you ever done this? Or am I totally insane?
2) This all started due to finding this book for 50cents at a garage sale.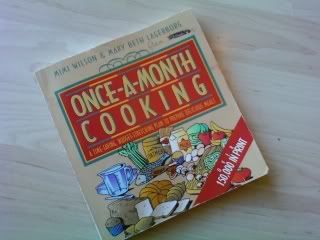 see it says 150,000 in print.
3) I've thought about it before. Never acted. But, now fall is coming and I need to start planning. I have gone to places like Let's Dish and made a bunch of meals. Expensive, but oh so convenient.
4) I am sipping an iced latte right now. Dunn Brother's Coffee sells this "Infinite Black" cold pressed coffee. They told me it should last for 2 weeks. I'm lucky if it lasts for 10 days.
5) My homemade iced lattes are amazing. (That's probably because the coffee comes from Dunn Brothers) And they're much cheaper than buying one. Even with the cold-press coffee factored in.
see that bottle? I'm on day 9. 🙂
6) My kids eat cucumbers like apples. Literally. I think that cucumbers are my boys, especially Brennan, favorite food. Do your kids have a strange fave? Or is it just mine?
7) I'm glad that fall is coming. It gives me an excuse to use my crock pot. Or maybe I should just try that once a month cooking.
8) I've tried using coupons. I save money, but I am so slow. Literally. I stand in the store and have to figure stuff out and then I block the aisle with my red Target shopping cart and tick off everyone who wants to get by me and actually purchase the items that I'm blocking as I look through the coupon that I dropped on the floor back in the produce section.
9) I can talk fast. The previous post illustrates that point.
10) I'm going to end reminding you that besides using my crock-pot (and attempting this bulk cooking thing) that I am still a grill master. Early this spring I wrote about taming the grill. I've posted this classic finding joy photo of me grilling. Enjoy!
Remember to link up to the Miscellany Monday fun. Carissa is awesome. And a great friend.
And tell me honestly what you think of bulk cooking. And couponing. Maybe I need to try again. Or maybe you were the poor person trying to pass my overloaded Target cart. If you were — sorry. Really.