You guys know my heart. My heart? It's about my family. About seeking joy.
And living intentional.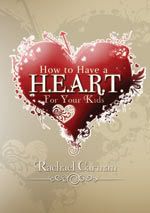 When I was given the opportunity to review the book – How to Have a HEART for Your Kids by Rachael Carman (published by Apologia )- I knew I had to jump in. Not because she has seven kids — which I, of course, think is very cool — but because her heart seems to mirror many things that I seek. I am going to tell you that if you have kids, no matter whether you homeschool or not, that you really should put this book on your recommended reading list. Why? Because instead of being this guide and checklist of things that need to be done or changed this book is instead a look at your own heart. Your thoughts. And your direction.
Throughout the book she gives examples from Scripture about the heart of mothers — from Ruth, to Moses' mother, to Mary, to Hannah. All moms. So often we can read the Bible and gloss over those stories and not really think about what those mothers dealt with. Giving up a child at age four? Putting a baby in a reed basket and letting him drift down a river? Come on. I get stressed over signing my kids up for the right classes or whether or not we've done enough math or if they've watched too much tv. Reading Rachael Carman's words puts my own mothering and the real important back into perspective. She made me grateful for all those moments, those gifts of time, where I can walk hand in hand with a little one of mine.
It's not about the stuff.
It's about character and teaching our children to live a life that is not of this world, but rather is about living for our Savior. That's the important. And that is why I highly recommend this book to all of you. Read it. Heart is an acronym and as you read it you'll discover that having a heart for your kids really starts with looking at yourself.
H — Have a heart for the things of God
E — Enrich your marriage
A — Accept your kids
R — Release them to God
T — Teach them the truth
So take the time, grab the 197 page book (that's it), grab a cup of coffee, and read. Or, if you're like me, grab the book, put it in your purse, get a cup of coffee through a drivethru, and read the book throughout the day in your moments of rest. You will be blessed.
******
Now some nitty gritty disclaimer stuff. I was given this book to review as part of The Old School House Review Crew. All the opinions expressed are my own. I did not receive any form of compensation for this review. If you'd like to purchase this hardcover book for $13 via Apologia click here. To read a sample chapter click here. To read other reviews by other participants click here.