The other day I was on the phone with my insurance company trying to unearth why there was a delay in our insurance and stressed out because my Samuel was dealing with asthma and I had just paid a hundred some dollars for medications that insurance should have covered and I had spent eleven agonizing minutes on hold thinking that someone was actually clicking over only to hear welcome…and thus starting the torturous hold cycle again while I sat in the school parking lot waiting for my kids to be done.
And at the exact moment a live and breathing human finally chatted with me my son Caleb came running to me after school eager to tell me something.
Mom mom mom mom!!
I did the universal hand signal of waving and giving the look with my eyes and mouthing I'm on the phone (as if it wasn't obvious) and ignoring and trying to get him to wait.
Mom!! Mom!
Again. Repeat of above, but this time, shutting of the door, sitting down, and a much more force full look of you need to be quiet now. (That communication with the eyes is a mom gift, btw.)
Then I saw him slump in the back seat defeated. You know, the sigh, the slight roll of the eyes, the mom doesn't have enough time for me, nine year old portrayal of irritation and defeat. It annoyed me, honestly, because I just needed to finish up this call and he seemed to have no respect for the frenzy of his mother.
Finally I finished up on the phone after finding out that my insurance was messed up and felt frustration that even the best latte could never even attempt to touch. Let me just assure you – I was at a bit of a breaking point with a child with low oxygen due to asthma and spending all morning at the clinic and then finding out my insurance was not active and well, you know, it was a lot. Like a lot. So I replied in the mom way.
Caleb. Honestly. (I was very short….like irritated short sounding) I was on the phone trying to fix the insurance issue and your brother Samuel is super duper sick and you cannot wait even five minutes to tell me something? 
Instant tears.
And in that moment Caleb pulled from his hand a sheriff's star that he had made for Samuel and that sobbed out the words I knew he was sick and I made this for him to feel better.
Oh my word.
For real.
Like knife in the mom gut of guilt real.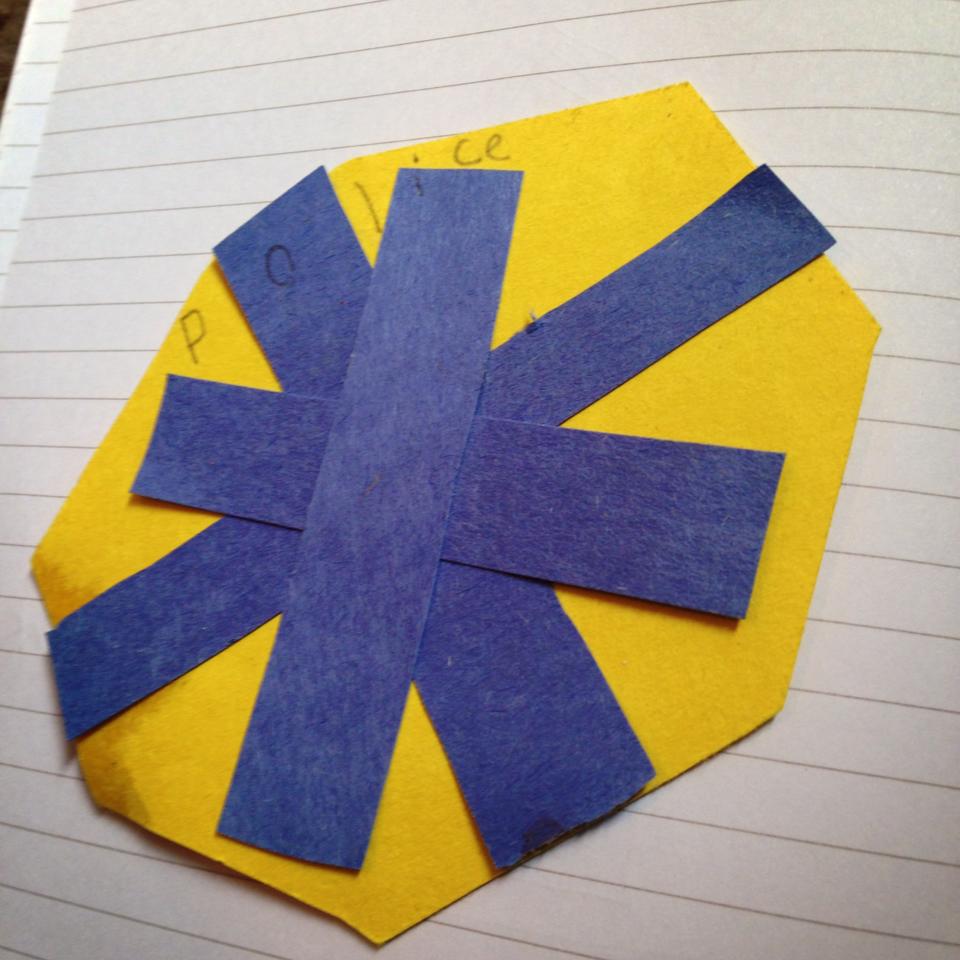 I stared at him and felt that deep deep pang of parental pain that can only be happen in those moments where you are like no way did that just happen – is the world conspiring against me as a mom?  Like the worst parent moment – those moments where it is shocking how poorly the stars aligned and there you are staring at your kids and all that I could mumble out was a very pathetic I am so sorry, Caleb, I just didn't know.
Tell me you get it.
In fact, if you are a mom, you get it.
We have those ridiculous moments where even if we were the world's most perfect mom ever we still could start our own YouTube channel of worst mom ever moments. Oh yes, and just so you know, I know, I know…he could have waited and not interrupted and obeyed the crazy mom who's giving the don't bug me I'm on the phone signal.
Whatever. I don't care about that.
You know what I care about? You. Because I know you've had those moments too where you're thinking you are simply not cut out to do this motherhood thing. You have those moments where the mom guilt of messing up overshadows the undeniable awesome mom hat that you wear every single day.
Do you know why?
Motherhood is hard.
There is no <insert word of your choice in those moment> manual that gives us a million steps to do – instead there is an unwritten manual stating a million steps that we think we should be doing. And then we are so so so so so exponentially hard on ourselves. Like ridiculous pile on the shame and call ourselves the worst mom ever hard.
Listen. I told my friend Maria about my little in the van moment and she said Rachel. For crying out loud – you are not the worst mom ever! He should have waited. And he knows you love him. She was so about me not piling on that mountain of mom guilt that we all seem to carry around with us day after day after day.
Are you carrying that guilt too?
Guilt about the birthday party that wasn't. Or the time when you yelled and lost your cool? Or when you missed bringing them to practice (even though you just brought them at the wrong time.) Or that your child's project wasn't as cool as everyone else's. Or that dinner tonight was macaroni and cheese and not the cool and healthy grilled chicken and salad that you always thought you'd make. Or that you're a single mom. Or that you have to work. Or that there are days where you don't like being a mom. Or that sometimes your kids watch more media than you think. Or that you don't like homework helping. Or that, you choose,  because that mountain of mom guilt is crazy.
Sometimes the mom guilt can just creep up and pile on and weigh us all down.
It's amazing what we remember about ourselves that is negative.
You know what I didn't see in that moment?
I didn't see me on the phone working hard to get insurance fixed for my kids. I didn't see me sitting in the doctor's office holding a nebulizer mask up to my five year old. I didn't see carrying him around Target. I didn't see me up at 6:15 am packing lunches. I didn't see me up at 3am checking on his brother's breathing. I didn't see me sitting in the parking lot of school on time picking up my kids.
I only saw where I messed up. I only saw where I thought I fell short.
Don't do that mom reading these words.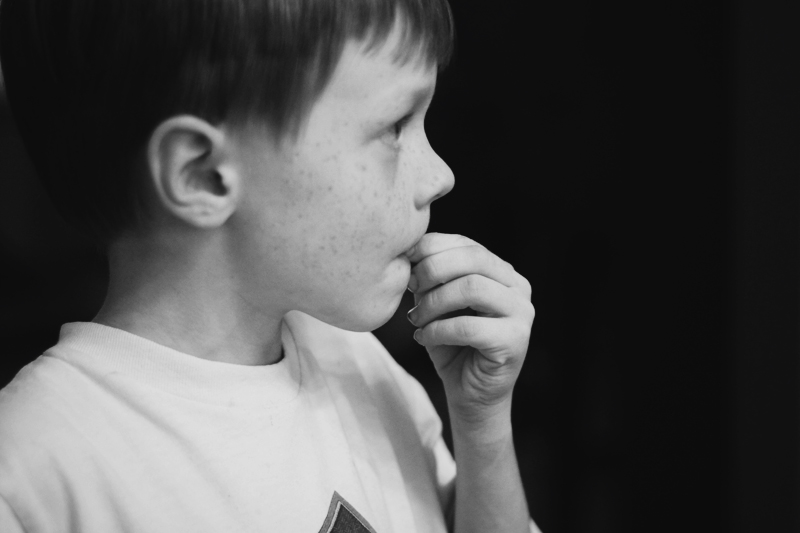 Here's the truth. You will mess up. Like a ton. Like it's impossible to get through motherhood without having those mess up cry in the bathroom moments. Or those times where you think that you're not cut out to be the mom. Or any of those. But, honestly, those mess up moments aren't definers of weakness – more often than not they are definers of strength.
Yes, strength.
The strength to push through, to try again, to stay up all night with a colicky baby and to deal with a two year old. To not give up. To suck in the pride and say I'm sorry. To help and give and love. And to do it over and over and over and over again. Until all those do-overs becomes your motherhood story.
It's not a story of mess ups. And those mess ups don't ever need to result in guilt.
It's a story of you.
Being a mother. 
Dude. That is the coolest sheriff's badge I think I've ever seen.
I told him those words with tears in my eyes.
And Caleb, I'm sorry that I didn't share your excitement right away — what you did matters so much to me.
I know mom. It's okay.
It's okay.
That's what I want you to remember today.
Those kids don't need the world's most perfect mom. They don't need the mom that keeps the house immaculate all the time. They don't need the mom that doesn't mess up ever. They don't need the mom who never seems to stumble and fall.
They just need you. No more mom guilt.
Do you know why?
You're their mom.
I love you Caleb.
Love you, too, Mom.
And we drove home and started again.
See you today. See your awesome.
And let go of that guilt.
~Rachel