I was thinking about how to start this Finding Joy Tidying Up Letting Go Challenge. In fact, I've spent a great deal of the last week thinking about it – what would be most inspiring or what would kick all of us into motion or what would make you want to come back and do next week's challenge – and in all of that thinking I realized – hmm, maybe you just need to start.
Here's the truth: I'm a bit overwhelmed about starting.
Here's why: I know that starting this tidying up thing will result in a mess.
Do you hear me?
We are going to be making messes so that we can find order.
Isn't that like life? Sometimes in order to fix things in life or to get through things in life we have to endure a mess. And honestly, I've discovered that I like to sometimes just bury my head in the sand just a bit and AVOID THE MESS.
That doesn't result in joy.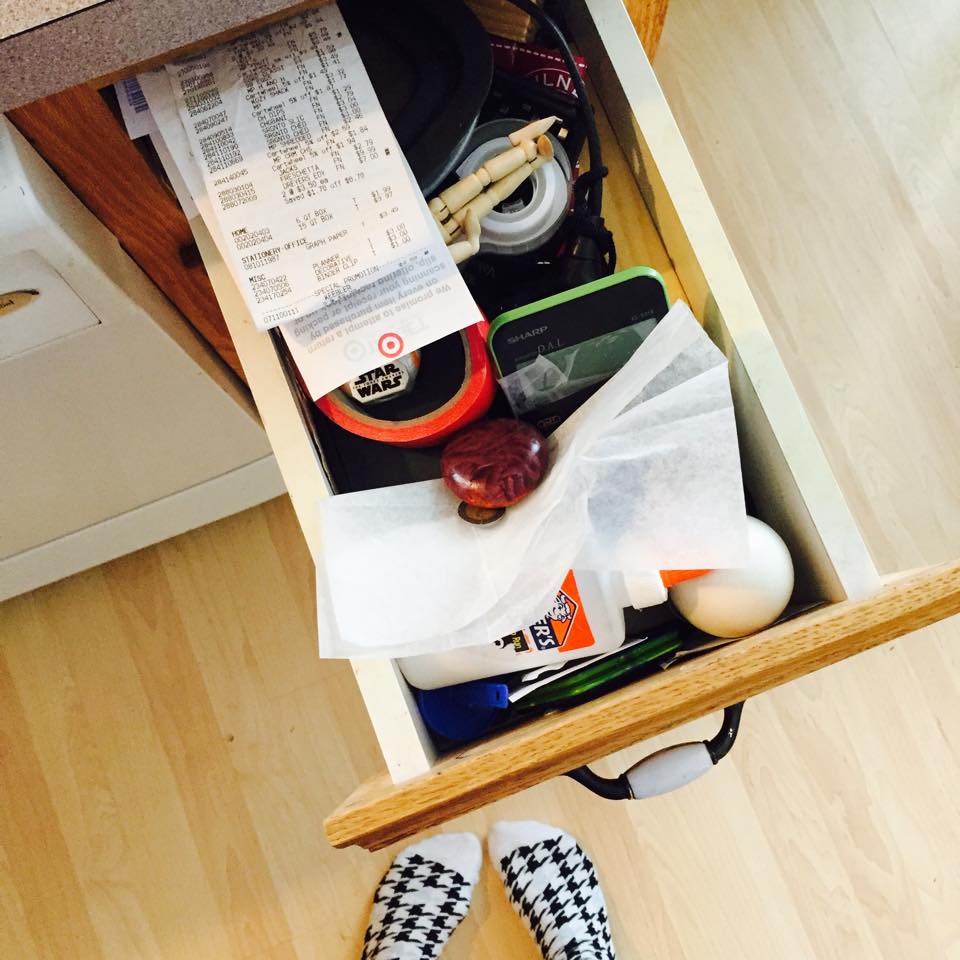 That just results in the illusion of having everything together or everything clean or so forth. It's kind of like my junk drawer in the kitchen (which, for all of your enjoyment I've shared above). Stuff is on the counter and instead of dealing with it I open the drawer, shove it in and push it shut so that no-one sees it. Until days like today when it no longer shuts well because there is TOO MUCH STUFF crammed in it.
Too much stuff.
It's like when our plates get way too full and we say yes when we should say no. It's about no longer shoving all of our dreams into the junk drawer reserve portions of our lives but instead deciding that the time, today, is the time to start.
So we're going to work to start.
Together.
I've read the whole book and love it more than when I decided to start this challenge. Do you know why? She realized that so much of our life is hidden under all the stuff that we must manage. Friends – this is the year of YOU. Yes, you. You are no longer going to be held back by all the should have's, could have's and stuff crammed into the junk drawers of our lives. Instead we're going to start with our stuff and work to let it go so that we have room to grow.
It will be messy.
Let me repeat: It will be messy.
But we'll get through.
We'll get through.
One bag, one letting go, finding joy moment at a time.

Here's your TO-DO LIST for Week One.
(If you haven't gotten the book and want to here's the link ->the life-changing magic of tidying up )
1. Read through Section One called Why Can't I Keep My House in Order. (You can go ahead if you want — hahaha — that was me in grade school when they'd say only read one chapter and I wanted to read the whole book). This is a REALLY short section but it deals with a great deal of mindset stuff.
2. Take note of which section impacts you the most – for me it was the idea of sorting by category and not location. For some reason that really changed my thinking because I'm the type of person that will think today I'll clean the pantry or today we'll switch the clothes. This is the part that also strikes terror in my perfectionistic spine – I just cannot imagine the mess it will create.
3. Think about this phrase: The Moment You Start You Reset Your Life. What are you looking to reset? Are you simply looking for less stuff? Are you looking to start something new? Share your thoughts here, on our facebook page or on instagram. If you instagram something please use the hashtag #findingjoy so we can find you and celebrate your progress!  (You can find my instagram here -> finding_joy)
4. Invest in garbage bags (that link is to my fave kind — need the flex). And a place to keep track. I was thinking it could be pretty fun to see how many bags of stuff we get rid of over the next week.  Every week on the thread on Facebook (join here) I'll ask for you all to share how many bags you got rid of and then we'll get to see our huge tally. In fact, I've noticed with myself that I've already started to throw more – maybe in anticipation of the day I have to bring all the books into one room and sort them. Ackk!!
5. There isn't journal pages or anything with this – because I really want this to be about less! So you'll get this email Monday, a reminder on Thursday (And a link to the FB page to share your "I got rid of x bag counts) and a follow up on Saturday. That's it. And hahah – delete them when you're done. #lessismore
Thanks all!

This is my phrase for the week — what's yours?
~Rachel
ps. If you haven't found a friend to join you on this challenge I highly encourage you too. She/He can sign up for emails here -> The Tidying Up Letting Go Challenge