First — and most important — thank you for your prayers. Samuel's little life was spared and I am so grateful for every single prayer that was said. Even the GI Surgeon was amazed at how close everything was. I am amazed and humbled over God's grace.
Yep. That's the infamous star. An expensive star — worth every single cent to get it removed.
The story.
I had just vacuumed our family room on Wednesday night. I had even used the crevice tool and was underneath furniture. The girls and I grabbed a load of laundry and carried it to our family room and dumped it on the floor. We started to fold.
Then Samuel started crying uncontrollably and I thought he was going to throw-up. My first instinct was he was choking on something. I patted his back — and his lips still looked blue and he was shaking. Finally he stopped gagging (this is when I think the star lodged in his throat) and just cried with a high-pitched shrill. Todd arrived home and we couldn't calm him down. He was also drooling like crazy.
I drove to the hospital. It was almost 10pm.
Samuel fell asleep. I took him out of his seat, and he was cooing, mesmerized by the clouds and flags. I took him back to the car, and he ate. He cooed. I sat there for 15 minutes, and thinking that he was okay I drove him.
He slept till 11 pm. Then he woke up and cried with this piercing cry. A cry of pain. Still not sure he swallowed something I thought that I would give him some baby ibuprofen. He calmed down, and went back to sleep. He woke again at 1am. Still seeming very uncomfortable. Back to fitful sleep. Then at 2:30 he woke up and was shaking. Lower lip trembling. Wouldn't eat. Drool pouring from his mouth.
I left immediately and went back to the hospital.
I remember pulling onto the deserted interstate heading north with tears welling up in my eyes as I raced passed a lone semi. I prayed. I talked with Samuel. He was just whimpering and my momma's heart aching.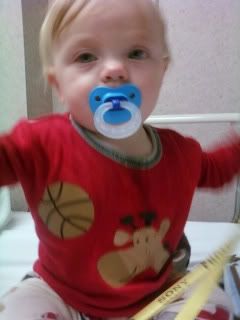 When we arrived I'm sure they thought I was just another paranoid mom with a baby with an ear infection. They pulled me to a room, and began to check him over. No hairs stuck on toes. Belly soft. No temp. Ears clear. Then the doc picked up this slight wheeze. And a very irritable baby. In fact, on the notes it stated, "baby is in obvious distress".
Off to get an xray. Make that the first two of 12. The doctor calls me back at 4:45 and brings me to this computer screen. He shows me this thin white stripe in Samuel's neck and asks if I would have any idea what it is. At that point — I had none. In my mind I couldn't figure out what it would be. I had literally just baby-proofed the family room minutes before this happened. The doctor and I chatted with a radiologist and we agreed to wait until 8am for the radiologist to arrive (the other radiologist was at a bigger hospital in the Cities) so that we could do an xray that was going constantly while Samuel attempted to swallow barium.
Note the word — attempted.
We did another xray at 8am and verified that the object was still there. Then we did the moving xray. I'm sure I got several years worth of radiation as I stuck my head in trying to hold Samuel and convince my breast-fed baby to take a sip from a bottle filled with barium. He got several swallows down. They couldn't see as well — they were thinking it was gone. Then one more side view xray. Still there.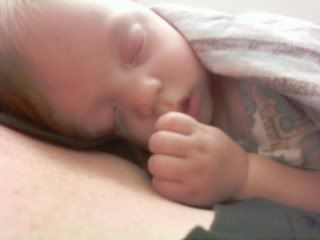 Transferred to Childrens. I drove. But, in hindsight, I should have taken the ambulance. Nobody knew just how precarious that pink star was lodged. I drove fast. I figured if I got pulled over then I'd have a police escort the rest of the way.
At Children's I was greeted in the emergency room. They rushed us back to a room and immediately put Samuel on a pulse-ox monitor and started an iv. Poor Samuel was so uncomfortable and tired. We were trying to wait till the barium he had at 8am cleared. Surgery (endoscopic) was scheduled at 4pm. I waited. Samuel slept. He tried to play with toys. But mainly, he slept.
The hour before he went in he started to develop a fever and his oxygen would drop every couple of minutes. He was miserable. I met with the surgeon and anesthesia team — isn't it amazing how we trust someone that we've only met minutes before? I was so grateful for them — and they took Samuel back.
And I waited.
My mom and I chatted about our upcoming vacation. I tried. But my eyes kept watching the screen telling me where Samuel was in surgery. Then the surgeon comes holding a little bag. In it?
A pink star.
Several hours prior to surgery I started getting an idea what it might be. You see, when we were folding laundry (taming laundry) a metallic star migrated into the laundry basket. I began to remember the bucket of sequins that was knocked over in the laundry room the week of my garage sale. I remembered how I picked up the sequins — I was worried Samuel would find one. And yet, despite my efforts, one made it into the laundry basket.
I thought I was prepared. I vacuumed and baby-proofed. And yet that pink star slipped by.
The surgeon told me that we were really lucky that Samuel was alive. If that star had lodged any other way this wouldn't be the story I'd be writing. And honestly? I truly believe every single prayer held that star up waiting till the GI doctor could pull it out. I'm filled with relief, and peace, and shock.
You see — hours before I wrote about taming the laundry. I wrote about how doing the hard things of daily life prepared us for those challenging times. Little did I know that less than six hours later I would find myself entrenched in a battle.
The doctors and nurses were amazed that I knew to bring him in. They kept talking about mother's intuition and how they take it seriously when a parent come in as insistent as I did. They told me that he really didn't have time to wait for me to just watch. He was in right when he needed to be.
Samuels is sitting on my lap right now. He's got a scratchy voice, won't touch solid foods, and a low fever. But that will all get better — and I am so grateful. I love this little guy so much.
I'm quite starstruck over my little starstuck baby.
And those sequins? Never ever ever ever allowed in my home again.
(Thanks for reading the story — sometimes it helps just to write it out.)