I thought I'd do something new this week and write my miscellany monday post on sunday. I've always been kind of rebellious, I guess. 😉
1 – the shoulder. Again, thank you for the prayers, and the cheers, and the "you can do its" and kind comments. This shoulder journey has been exactly that — a journey. In the morning, like now, I feel pretty good. By the end of the day, my arm is exhausted and simple motions are difficult. But, it's progress — each time I drive, or start a load of laundry, or cook dinner (even though it's much slower) is a step forward. Sometimes I'd like to be like Elijah and really let those emotions show! Ha haha.
2 – the coffee run. Yesterday, I went to get my $2 latte from our local Caribou Coffee. Now, I live near an outlet mall and at Christmas time my Caribou gets overrun with all those shoppers. So I sat in line waiting to order for a good 15 minutes. Which is when I snapped that picture with my cell phone below.
3 – the coffee drive-thru move. Drivethru is out the left window, right? My arm cannot move well to the left and out so in order to pay and receive that $2 cup of delicious hot coffee I had to improvise. Meet the coffee-move: start sitting facing ahead. Greet the 18yo drivethru gal in the $10 over the top Christmas sweater with all the glitz (she told me the price — at a consignment shop). Remove money. Be confident as you go into the full body turn and rotate to hand her your money. Smile and nod as she looks at you wondering why on earth you didn't just hand the money out the way most people do. Be bold in your move. Receive your coffee and slowly rotate entire body back into normal driving position. And yes, always make sure your vehicle is in park.
4 – the e-book. Tomorrow I'll be talking about 31Days to Clean, the ebook by Sarah Mae. She was one of my sponsors, those last minute wonderful sponsors, that helped me to get to the Relevant Conference in late October. As days pass I become even more grateful for the opportunity that I was given to attend. So, tomorrow I'll talk a bit about her ebook (which I've read and is wonderful) and will be offering you a 50% off code. And, yes, it would be an excellent gift. 🙂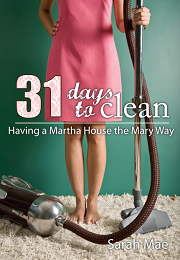 5 – the feed, google friend connect, and facebook. I've been hearing rumors that google friend connect (that little widget on the sidebar) will be going away in March. Now, I believe the goal is to get everyone to use google plus, but I don't know, and I believe it might only be for non-bloggerblogs. So, here's my first little suggestion — if you're a subscriber via gfc you might want to consider subscribing to the email (it comes once a day, around noon), grabbing the rss feed, or joining my facebook page. All of the options are on the sidebar. Facebook, by the way is super fun,and of course, there are questions about coffee.:)
6 – the baking. I'm going to start making Christmas cookies this week. If you remember from last year, this is a huge tradition in our family. However, now this year, they'll all be gluten free. I remember when Samuel was first diagnosed with Celiac Disease thinking that I'd just make some gluten free and some gluten full (that's our code word for stuff with gluten). Well, in the last 10 months as we've adopted an almost completely gluten free household I can't imagine doing it the half and half way. Plus, he's two, and I hate (yes, I'm using that word) the moments when I have to tell him he can't have something because it has gluten in it.
7 – the cookies. I'll be sharing them with you. Pictures and all. And, thank you for all the gluten free cookie suggestions on facebook and twitter (see, I told you it's fun over there). Now, if I could just find flour that was less expensive. And oh yes, please do tell me what your favorite Christmas cookie/treat is — I'd love to know!
8 – back to the arm. I think the biggest frustration for me is the arm fatigue/weakness. I've been typing this for about 15minutes and already my arm is extremely tired. They told me this was to be expected – they removed one of the 2tendons that holds the bicep in place (which is why I have that popeye type arm) and as a side effect are muscle fatigue. I know, it's only been 13days, but oh my, I just want some strength back in that left arm! It's better than it was when this pic was taken — on post op day4 (that's why there's no makeup and I'm sporting hair that is a bit messy….hee hee hee)
9 – presents. I haven't bought one. Just had to put that out there.
10 – some more of our Truth in the Tinsel crafts. Just had to share. Because they are so cute. And my kids are learning so much about Christmas and Advent and the birth of Jesus. It's a beautiful way to set the tone, and align the posture of their hearts to reflect the true and real meaning of Christmas. Any of you doing it? If you're interested in getting it here's the link –>> Truth in the Tinsel
And that's it! Hope you enjoyed my Sunday miscellany. And, yes, of course, I'm still putting the monday button up. And I'll link up with my sweet and dear and awesome friend Carissa tomorrow. Who knows? Maybe I'll be the first link-up. Wouldn't that be cool. Who am I kidding…I'll probably be sleeping. 🙂
{affiliate disclosure: this post contains several affiliate links. If you click on and purchase I will receive an affiliate commission for recommending these products. Please know that I only recommend products that I love. Federal Trade Commission 16CFR Part 255}