Ahhh — some confessions for Miscellany Monday
1) I don't understand feedburner. My reader numbers jump all over. This confuses me.
2) I do not look good with a mohawk. This was taken while I was riding on the boat in July. At full speed. (please still like me even after I humiliate myself with this picture. And post a comment — even if it's a slight fib like, "you look FAB with that crazy hair. It'll make me feel better.)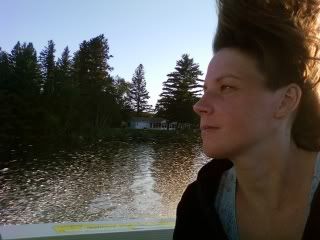 3) Posts about canning beans are not popular. I'm okay with that. Note to self — refrain from anything to do with beans. Or canning. 🙂 (They did turn out great. Just had to add that.) Still curious? Here's the link.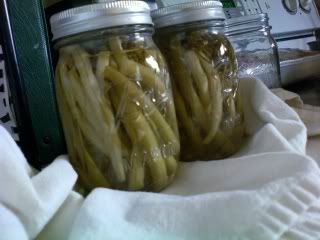 4) I always think that I will have nothing to write about for Miscellany Monday. Then, sigh, I end up with too much to write.
5) The lady at Caribou Coffee knows my name. And the drink that I love.
6) My kids spend half their day in the pool. Before you think that we have this fabulous in-ground pool or an amazing Intex pop-up pool let me tell you the truth. We have a small pool. That I move every 2 days (otherwise it ruins the grass). And the kids love it.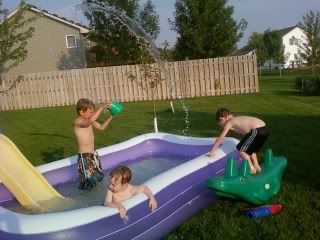 7) I love the pool too. It keeps them busy. Shhhhhhhhhhh……
8) It annoys me when my kids come in upset because they got splashed in the pool. I'm thinking, "come on, you are in water!" But, sigh, it probably happens numerous time throughout the day. Like below.
9) I have not started planning for our homeschool for the fall. I think I am in denial.
10) Last one. Can you believe it? I didn't write about laundry. Well, unless you count this comment. Rats. Wrote about laundry again. (I have lots to do — don't act so surprised!) Though I should write about laundry because I have so much laundry due to wet clothes from the pool pictured above. You know — they just happened to get splashed while they were running by the pool in their clothes that they just put on five minutes ago. That's why.
Remember to link up to my blogging pal, Carissa's Miscellany Monday. You can also pop over to Mingle Monday.
Have a great and random and awesome Monday!!