Yep. It's that day of the week again. Monday — a day where I write with just a touch of randomness. So hold on, here we go…
1} Our church took part in a community worship service in the middle of town. Loved standing in the midst of believers and singing praises to our Savior. My sweet friends, Amy and Julie,who went to Hilton Head with me were there. It's an amazing blessing to have dear friends attend the same church as me — to share our faith and our life journey together. That sweet picture below is Julie and me – in South Carolina – four weeks ago. {can you believe it's been that long?}
2} Is this tacky or what? They had those blow-up jumpy slide thingies for kids to play on at the festival where our community service was located. I was at our grocery store and saw them blow this one up. Seriously? They thought it would be cool to recreate the Titanic sinking? And then let the kids slide down it? To me? No taste. I'm just saying. And how do you promo it to the kids — let's go slide down a sinking ship, okay guys? I'll explain the history later — Sigh.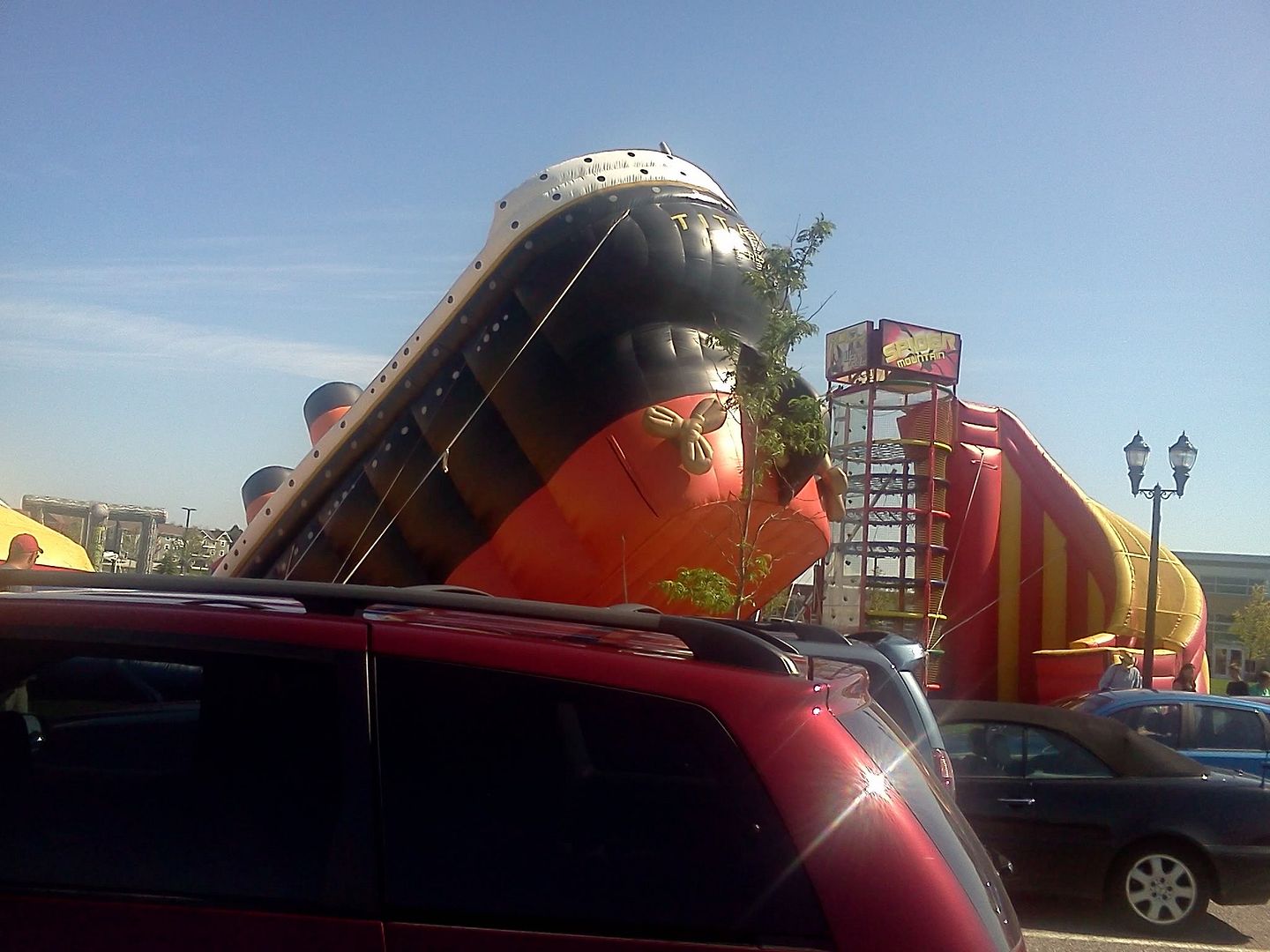 3} History for the fall. I'm thinking we're going to study American History this year. Every couple of years we loop around and come back to American History. Then we'll be eating Johnny cakes and corn meal mush and creating different flags and singing patriotic songs. I love these years. And I love reading how our Founding Father's had a heart for the Lord. Inspiring. And convicting.
4} Most of this weekend I was down in my office and family room going through our homeschool books. That takes work. Good work as I found a great deal that I can reuse with my kids. And I found some work that the kids had done in years past. Love this stuff. Learning. Life. Memories love them — just look at my little Gracie and Chloe when Gracie went through the book (2years ago) that Brennan will be using this year.
5} Totally random. But, I'm loving Seattle's Best Iced Coffee. That I buy at the grocery store. When I drive by that inflated ship that I think is tacky. But, I'm drinking it now while I sit on my deck with the green and white striped umbrella up, and the cicadas (is that right? do we have those in minnesota?) making their late summer hum while I try to ignore the grass that needs to be mowed. By the way, do you see my shadow in the netbook screen? Yep, that's me. Writing on the deck.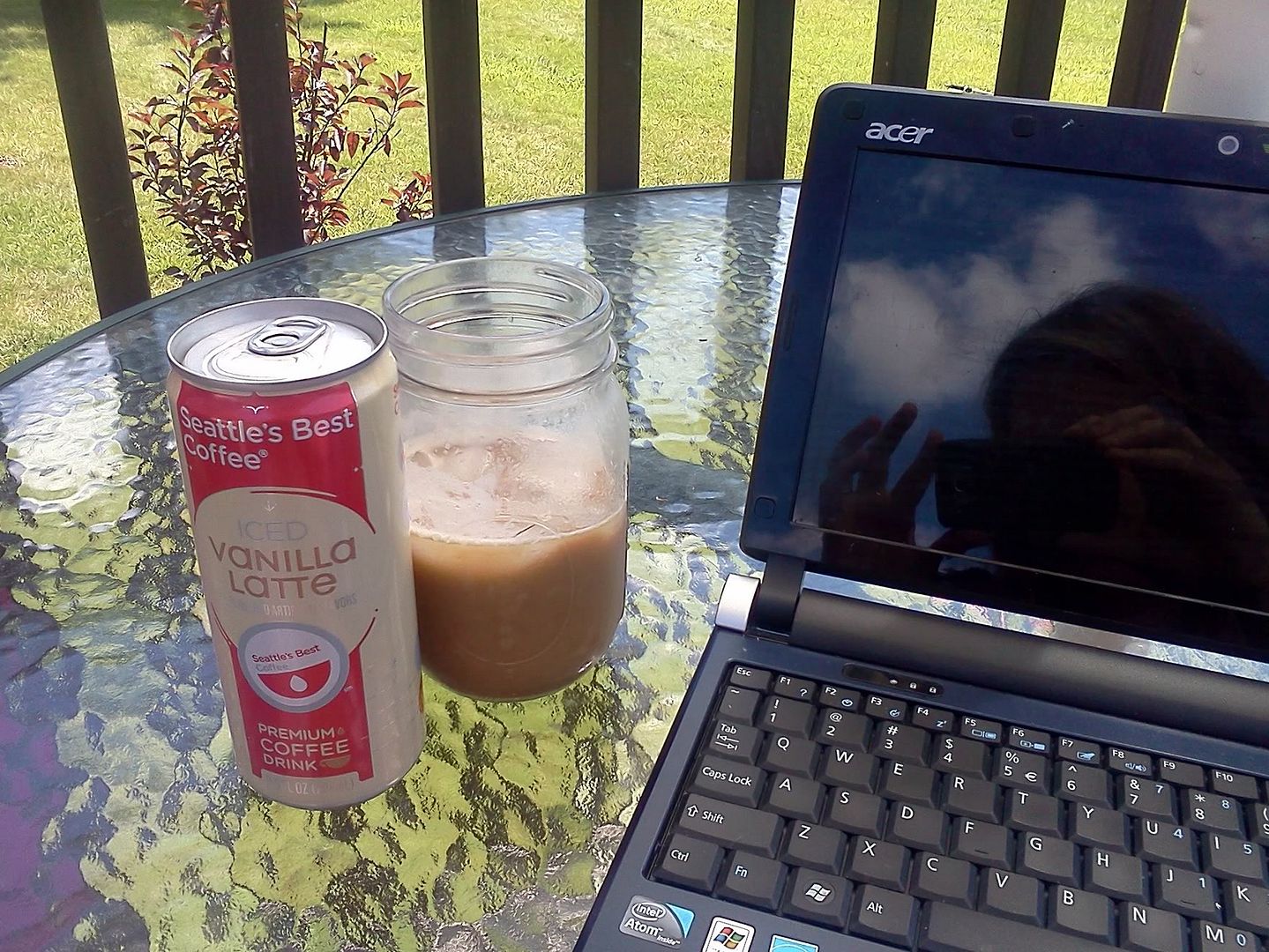 6} Mason Jar. Yes, I'm drinking my coffee in a mason jar. And, yes, I started using these as glasses before it became trendy. I'd like to think I'm a trend setter. But, no, it's because I was too cheap to ever replace my glasses that broke and I just started reusing the jars that had wonderful canned goods in them.
7} Printer ink costs an arm and a leg. Went to buy some on Friday. $67 for ink. After I lifted my jaw off the ground I looked around and grabbed a new printer/scanner with two packages of ink for $42 (half price sale). So take that overpriced printer ink. I'll just get a new – and better- printer. Anyone out there want an old printer/scanner/fax for free?All you'll need to do is buy some ink….j/kidding.
8} We're going to end on eight totally random facts today. However, homeschool readers, I've got a question for you — what are you studying for history this year? Just curious if there are any other American History plans out there. Could make for a fun link-up at some time. We'll see….any interest out there? While you're thinking I'm off to get myself one of these…little vanilla lattes…
Have the most wonderful Monday. Head on over to my lovely friend carissa's blog and link your own miscellany right on up.