We're a techie family. Seriously, we are. Instead of running from media we use it (in moderation of course) — from blogging to reading, and fun to learning. What if you could mix the two? The learning and the fun?
That's where Big IQ Kids comes in.

It's an online learning site where the kids tackle tough subjects — math, spelling, vocabulary, states/US geography — and then after each "class" they earn points to play fun games. That sold my kids. Each of these lessons took my kids about ten minutes to complete. They are mastery based, meaning you don't progress until you "get" the subject matter presented.
Gracie and Brennan were the lucky kids who got to try this program as part of my participation with The Old Schoolhouse Homeschool Review Crew.
Of course, they had to start by creating their avatar/character. Gracie's? Pink. Brennan's? I think he was going for the ninja look. And then, during the school day, while I was working with another sibling they each had time to polish up math facts or spelling words or really brush up on the state knowledge. That was our favorite part of the whole program — even above the games. I think it has to do with the fact that I am kind of a geography lover. Okay, I admit it, I read maps for fun. So I'm trying to have at least a couple of my kids follow in my state loving, river identifying, "tell me the highest mountain", and what's the population? geography path. 🙂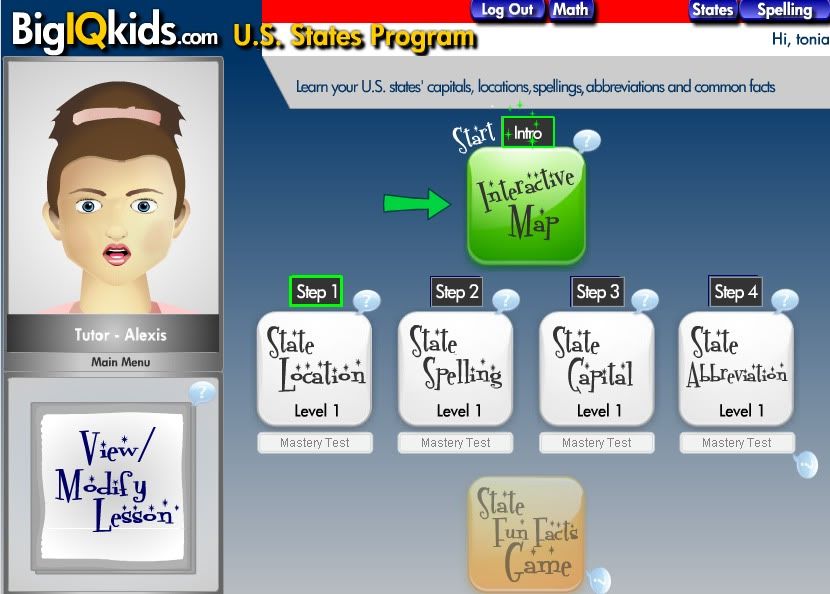 Overall, I'd recommend Big IQ Kids as a supplement to your homeschool day. It wasn't something that the kids were begging to do, but then when I'd mention it to them they were always eager for that screen time. Plus, you can add in your spelling words to the spelling list and pick and choose what you want your kids to master. And, seriously, it really helps fill in those times when one child needs something educational to complete and you're in the midst of helping another.
Some details. There are several pricing options for Big IQ Kids. You can always start with a free membership — see if it works for your family. Then they have the Premium Membership which is either $19.95/month or $99.99/year. If you want, they have some individual subscription options as well. Click HERE to see all the different selections. If you are interested in a free trial click HERE. If you'd like to read more opinions about Big IQ Kids click HERE. And to visit the Crew's website click HERE.

I received my version of Big IQ kids for free in return for an honest review.