Edited to add: January 2017 – THIS has been one of the most life-changing books that I've ever read. It not only decluttered my house, but also my life. It opened up space for courage and bravery and helped me to LET GO of old paradigms. So because of that, I'm going to re-open the challenge and the email list and share each challenge because it is THAT GOOD. Trust me, this is one thing you will not want to miss. ~Rachel
For years I've been wanting to get rid of stuff.
Let me tell you – being a mom of many has allowed much stuff to accumulate in this house. And I know that  so much of my time is spent managing it. Putting it back, sorting it, organizing it, buying things to store it and on and on and on. I'm kind of tired of it.
I want to live with less. Freer.
In fact, in my 16 Things I'm Letting Go of in 2016 post I talked about how one of my letting go things is all of the stuff. Friends, it's kind of hard for me. I'm just going to be open and admit it, but it is. For so many years there wasn't enough money to pay bills and people breathed down my neck and I lived in fear. So I learned to be fearful of letting go of things in case I couldn't replace it.
But this is the year of not only letting go but of also finding ourselves in this journey.
And in that realization came the truth that there must be changes.
That's why for Christmas I asked for the life-changing magic of tidying up. Yes, I know, a book on cleaning. But for some reason I've been drawn to this book simply because it's different. Kind of a plan. I may be good at writing about motherhood, but tidying up and letting go of? I wanted an expert.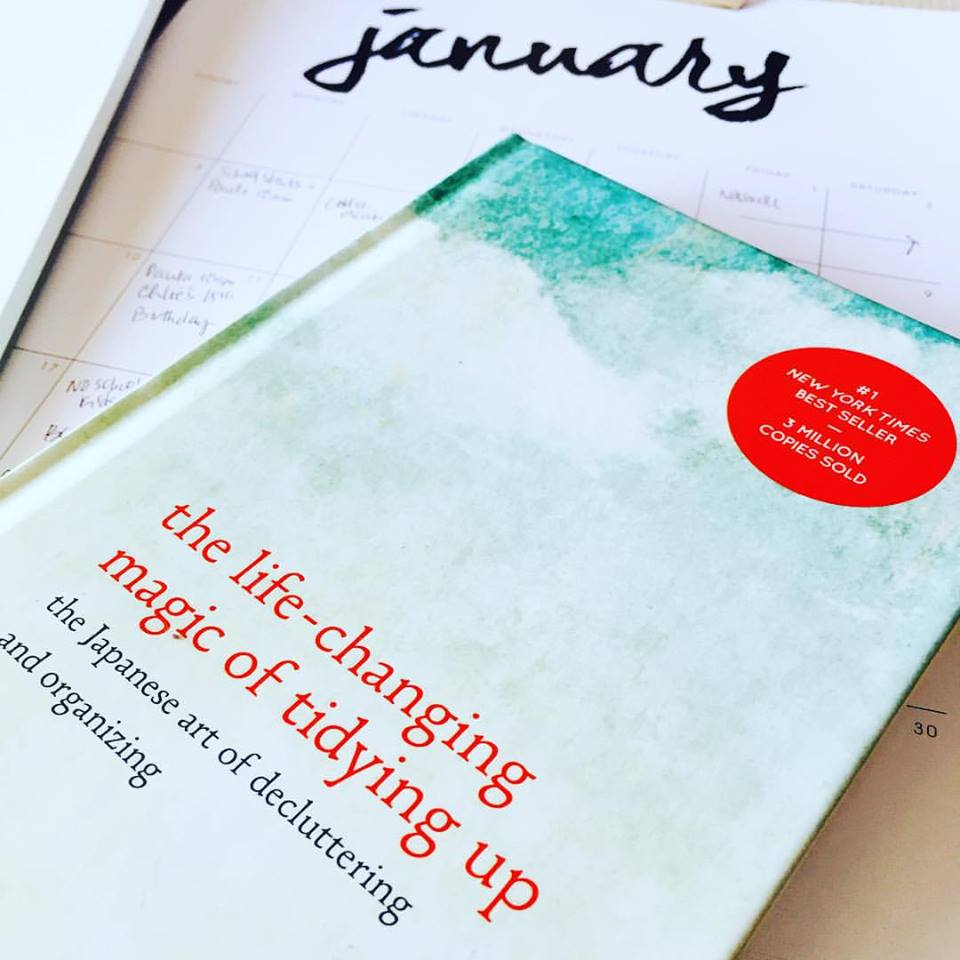 So I've made a commitment to read the book and to implement the strategies. And I want to know if you would like to join me in this journey. We're going to be doing much this year – working really hard to find happiness and ourselves again and I just have this feeling that we're going to have to let go of stuff. So lets actually start with some physical stuff.
If you'd like to join we're going to work through the book in six weeks starting on Monday, January 11 For 2017 we will start on Wednesday January 11. Don't worry about buying the book (although it would probably help) because I'll write a bit about it and share my tidbits on a post. But, for deeper insight if you'd like the book here's a link from Amazon ->
Here are the other three (easy) steps to join.
1. I've created a special six week email loop for the book – you can join below where I'll send you a link to each week's post and a special challenge for us.
2. Find a friend to join you in this challenge. I have found that having an accountability partner is an awesome thing – when I needed to write my book having someone check in on me made such a huge huge difference. And if you can't find someone specifically join my Finding Joy  page on Facebook (<– link) and we'll be chatting about progress.
3. Be prepared for a journey of freedom. Because that is what I think will happen. And the more honest and real we are with each other about this journey – because you know I will be – the more we can grow.
Thanks all! I look forward to connecting more with you and starting this challenge.
~Rachel
Sign up here to be a part of this tidying up letting go of stuff challenge. ALSO — if you signed up last year you will need to sign up again because this is a new email list with new thoughts and some new challenges. Woohoo!
Also make sure to check your email for a confirmation email – you'll have to click confirm in order to get the weekly emails – if you don't it will just be listed as pending and hanging in cyber space forever.
Looking forward!
~Rachel
ps. As you'll read in my first email I think we all might need to invest in garbage bags. Hahhaah.