I'm sorry I wasn't the village.
This is why.
It will be okay.
That's what I wanted to tell you. I wanted to tell you that while you snipped at your probably eight year old who was taking a bit long to get his drink or when the older girl bumped you or when you just seemed overwhelmed.
I wanted to just tell you it's okay.
But I stood there.
Because sometimes I want to be the village, but I don't know how. I don't know how to step in and love and care in a world where we are running and pushing and overwhelmed all the time. I have seen the village in action – after and during my van fire – and there I was standing there, holding my gluten free bread and some mango slices and frozen meals and I was lost to what to do.
I know motherhood is overwhelming.
But this last weekend I came minutes away from losing my family. And last Monday my friend's seventeen year old daughter died in a car accident by a distracted driver. And so, you could say, I'm a bit raw.
Exposed by life.
Seeing the fragility, perhaps.
I know it doesn't last, that perspective. I know sooner than later I will be in Target and the act of shopping and kids and everything will have others wanting to tell me "it will be okay"….and I know how hard life is. But I also have been reminded of the illusion of invincibility.
So I wish I had said, "it will be okay." Or "can I help?" Or "no worries, let him pick out the drink he wants. I am in no hurry." But I didn't. Because I was afraid of stepping on toes. Afraid of making things worse. Afraid of putting myself out there.
There's a beautiful thing we all have that I think we forget.
It's space.
There's this little gap between our response and our emotion that gets lost in the busy. It's the part of me that gets frustrated when we're late and misses my first grader working hard to tie his shoes. It's the part of me that assumes before listening. It's a choice.
I should have said something.
Because, it will be okay.
The sun will go down, the sun will come up, and the moments you have in-between where you breathe and your children breathe – they are all gifts.
So if it takes your eight year old longer to get his drink, then it does. In the scheme of life – that twenty seconds changes nothing. But our responses? Our space to choose happiness?
That can change a life.
Next time I won't be silent.
Because life is WAY TOO short to live in fear or frustration or overwhelm and without that space.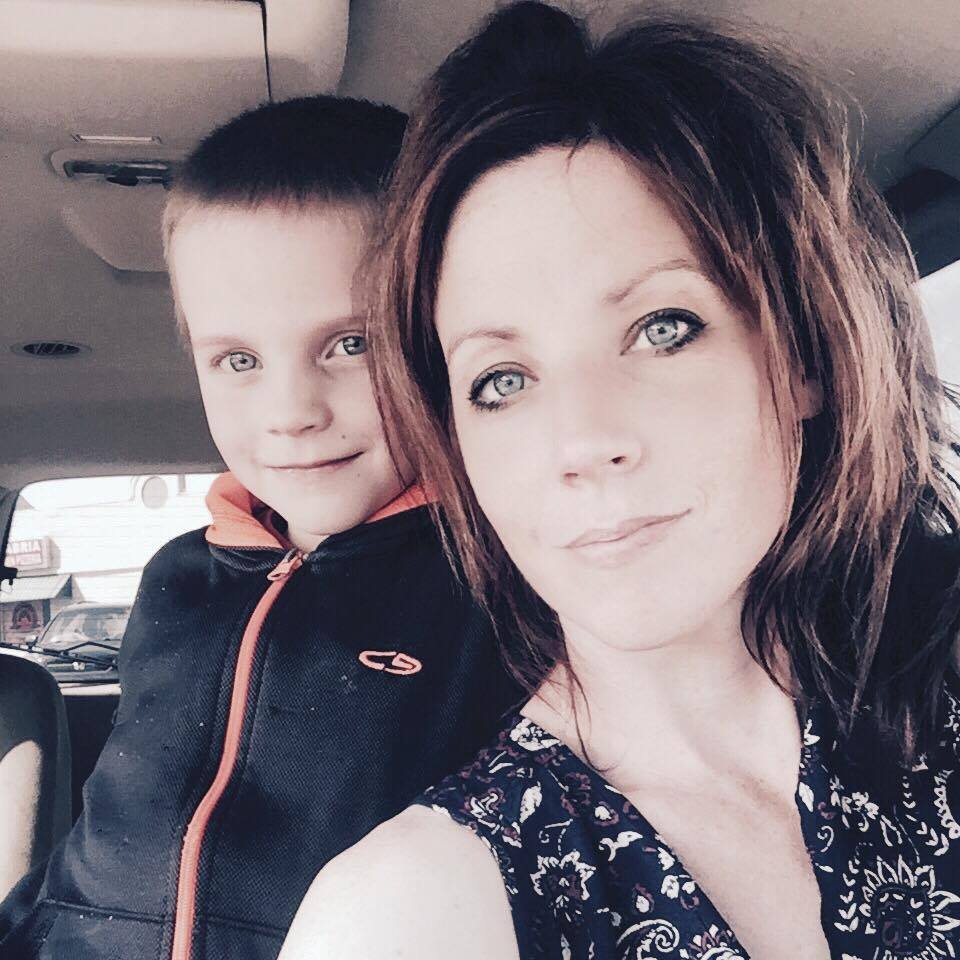 You know why I know? That picture? It is of me and my almost eight year old in my van two days before it burned up in front of us. That, my friend – because in the end we all are friends, changes perspective.
Love those kids.
Even when they exasperate you.
And world in Target who sees all of it – be the village.
And I'll join you.
~Rachel