He will be like a tree planted by the water that sends out its roots by the stream. It does not fear when heat comes; its leaves are always green. It has no worries in a year of drought and never fails to bear fruit." Jeremiah 17:8
Where are my roots?
Lately, I've felt enslaved to flickering hope.
I've been adopting an attitude that wants to just become numb to the world. You know – the functioning mom – moving around, smiling, looking like she's got it all together. When on the inside there's ache.
What does it mean to have no worries in times of drought? My earthly mind cannot understand not worrying. I try. But, then, once again, I slip into worry.
Worry does not produce fruit.
I was thinking that I needed to just keep going. Fighting. Grinning and bearing it. But my roots were shallow, and not centered on Christ, but on the sands of this world. Then today, when I was sitting on my couch, I realized I could either continue doing this world on my own terms or surrender my agenda and sink my roots into Christ. So I prayed. And this is all I could muster.
Jesus, Jesus, Jesus.
That's it. Over and over.
Those tap roots, those words, began to fill me with hope. Not mine. But His.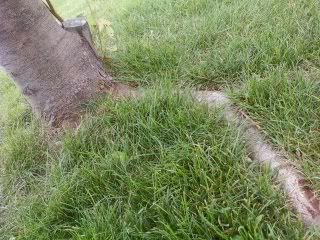 sprawling roots from my silver maple