I'm kind of vain, I think.
hahaha. Who am I kidding? I am MY WORST CRITIC. I am the one who will go to a speaking engagement with back up options for the back up options for clothes to wear just because I don't know if I'll like option 3 or 4 and probably not ever option 1. I hate the vanity part of me. But I'm here to write about it, because at this point I've pretty much thrown my whole life on the table, so I might as well talk about that part.
Like I can find the flaw in anything. Anything. And and and I can tell you everything that needs, in my opinion, to change. Which, in case you were wondering, the whole blonde to brunette thing has been a crazy eye opening discovery of self. Which all of my friends — thank you all for staying my friends through this — can attest too.
I blame it on Instagram and the abundance of filters out there. Too many. Addicting, kind of. And the fact that we can always see us. Like I'm pretty sure my grandmother didn't have photos of her taken ALL THE TIME. It's just way to easy to look at the stream of stuff and think that's the way we are, right? Like we all walk around with a couple extra filters on us and then when we meet we're like whoa – you don't look like you've got lo-fi on you today. 
I've been working on this part. This crazy working to be unfiltered pressured part.
I recently started to not look at pictures taken of me and to just love them. Well, not love them, but to not ask for a dozen more to be taken. I think this was after an experience with someone and we ended up taking over 50 selfies hoping for the perfect one and then they were touched up. Um, not a selfie. So a couple weeks ago at Finding Joy Meetup there was a series of pictures taken of me that I would like to argue look NOTHING LIKE ME. Ha. Unless you think I should go out for football or something. And friends – those pictures made me feel badly – about me. Even though you probably will look at them and think those are okay. Or not. But you know what – it's not whether the picture is good or not – this is about the presuppositions and paradigms that we are all existing underneath right now.
I missed the beauty of the pictures because I was so stuck in myself. Seriously. I'm just going to admit it. Stuck on myself. Apologizing for me. Like normal.
You know most of the pictures out there of me – the professional and speaking ones – well – they're professional. Which means, as the beautiful Glennon wrote years ago, they take a bit of work to look that way. Most of my life I'm always looking like just me – jeans, pony tail, maybe mascara and probably some type of stain somewhere on me left by a Dorito eating child (gasp. Did I just admit that we eat Doritos as well?) But on the social world, the professional world, well it would be really easy to think that I (or many others) had it together if you based things off of pics with great lighting, cool shirts, photoshop and more.
It's just not really real.
I don't even like makeup that much. (you may gasp now)
And I apologize way too often for being real.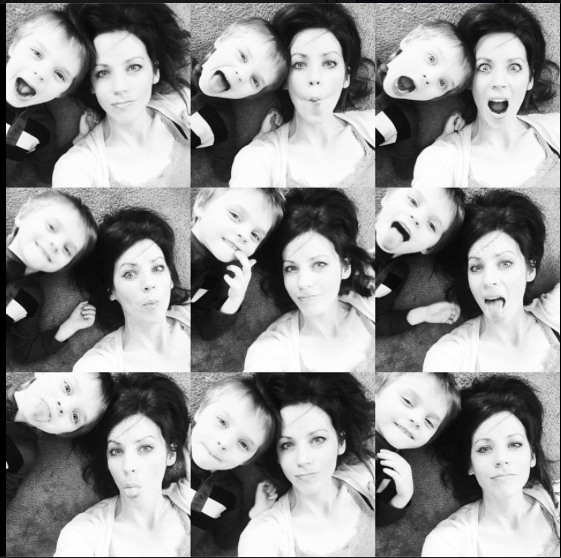 I apologized when I met a mom at kindergarten who asked if I wrote FindingJoy — joking that it was morning and yoga pants was the outfit for sure — then I realized it was the afternoon. I apologized when i met another mom at Starbucks out of the blue for the crazy hair on top of my head. Ha. But back to that photo that I almost didn't share. I let my own vanity and self conscious nature about being in a room with yellow lighting and me in a puffy coat that I took off after I realized that I looked like I could be a line backer for the Denver Broncos in it and my hair that I love all of a sudden looking like a helmet – got more POWER than the truth behind that photo.
You see – those women and I met and we laughed and cried and talked about MOTHERHOOD in a REAL WITHOUT BOUNDARIES way. No precedents, no worries, just us being real. Who am I to ruin a memory in my mind by a superficial image that captures things in a way that it wasn't? I mean it caught the fact that the coffee shop in Salt Lake City appreciated yellow lighting and all, but did that keep me from seeing the real truth? The truth about the COMMUNITY and FRIENDSHIP?
But the real me? She's the gal that's up at the lake in Northern Minnesota sitting on a boat with the freckles popping on her face and her hair a tangled mess as the boat races across the water.
It's the me with wrinkles that the world tells me to hide. The me with freckles that my grandma loved but for so many years I tried to bleach. The me who has birthed many children. The me that is no longer 20 years old but now 41 years old. The me that now invests in anti-wrinkle cream – when did that happen? The me that feels young at heart.
The me that loves meeting moms and women and encouraging them to be real. The me that celebrates normal. That me. Not the put together me every second me.
We live in a world where we have to look like we have it always together all the time. I'd like to blame the Kardashian clan for this unhealthy crazy precedent of never not being put together. But, hahah, they'd like the publicity and it will just fuel the egos. So instead, I'm being real. Celebrating the moment of sisters who gathered together and laughed and shared life.
Unfiltered.
Because oftentimes the most beautiful moments in life happen in the most unglamorous of ways.
Don't let instagram and photos of others determine your picture of real. Filtered, baby, filtered. Instead, celebrate the moments.
Rachel
whose favorite filter is Sienna, by the way.
Oh who am I kidding. Here are some of the pictures. Without a filter. And after writing this article I've come to realize that they're my fave.