Secret: I've been waiting to do that title for months.
You all know me. I joke about how there isn't one parenting book out there that will teach how to master the art of motherhood in thirteen steps spread out over two weeks with just three hours a day spent at the low cost of $19.95. Nope. Not one. Not one easy program for becoming the perfect mother.
So what's with the title? What's with this Be a Better Mom stuff from me?
Well, I'm going to write five ways to be a better mom. But, it's probably not what you're thinking it will be. Nope. It's not about steps. It's not a program. It's not going to guarantee that you wake up tomorrow and that your hair is fabulous so you don't need the shower and that your go-to jeans look killer and your black top doesn't have spit up stains on the shoulder. Nope. It's not going to put the dinner in the oven early, nor guarantee that all of your laundry is completed and <gasp> actually put away in drawers. Nope.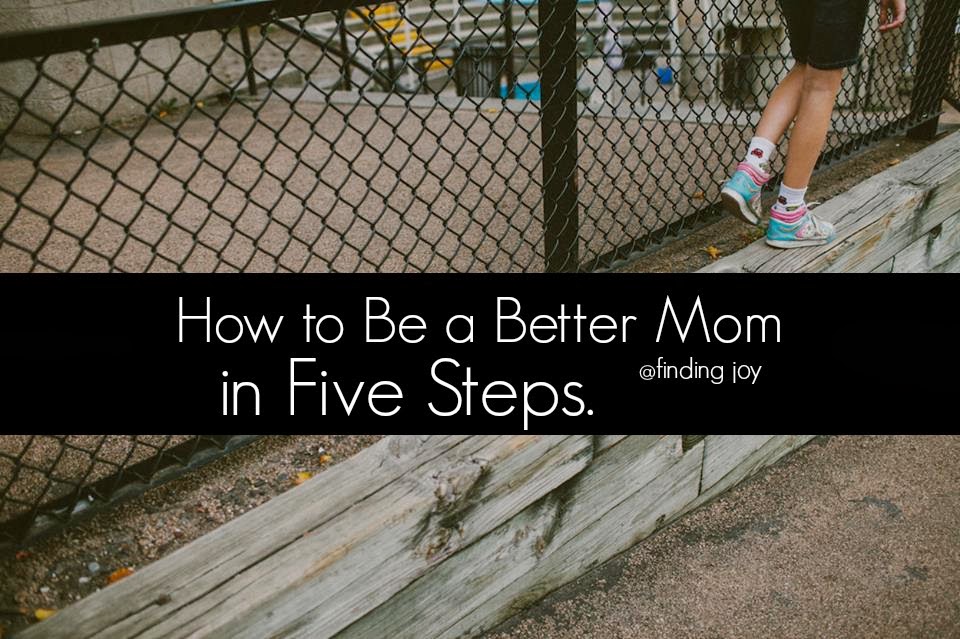 These five steps are things you
already
do. They're the
Being a Mom is Enough
steps of motherhood.
Here you go.
1. Stop Comparing. Your kids need you.  You. You're the perfect mom for those kids of yours. I know sometimes you might not feel like you are or you might even be thinking how in the world you got stuck with such a crazy spitfire of a little human that refuses to ever stay in bed. Yeah. I get that. I've had those moments wondering why I'm qualified to teach, to raise, to train, and to be the mom to my kids. But, I'm telling you, that you, right now, are the mom that they need. Not your friend next door. Or the mom at soccer that seems to always always always have it perfectly together while you come racing in with your double stroller late. Again. (That doesn't matter. You made it there.) Not the mom on facebook with the cool fall craft and clean kitchen.
So, no more comparing. No more thinking that if I was just like her that life would be perfect. Nope. You are their mother. And they need and love you. Even if sometimes they slam the door shut to their rooms and yell I hate you. Even then.
2. Love yourself. Take care of yourself.  I know, kind of weird, right? But, it's true. You need to take care of you in this motherhood journey as well. Now, I'm not talking about the kind of take care of yourself where you count your shower as your free time. Wait. There are seasons in life where that is free time. New moms – I want you to savor every single shower that you get. Savor. Okay, wait, again. All moms – savor the shower moments – or at least the 48 seconds between knocks and cries for mom.
But, seriously, take time for yourself. And love yourself – value yourself. Cultivate your gifts, your talents, and don't let them fade away just because you're mom. Let them grow and let them flourish. It is so good for your kids to see you doing things you love and to take care of yourself. That's what they need to remember – not a mom who wore herself out completely. Rest is good. Laughter is good. Taking care of yourself is excellent.
3. Don't expect perfection. From yourself. From your life. From your kids. From your friends. Just don't expect perfection. Life is so far from perfect, but that doesn't make it any less beautiful. In fact, I will argue that because life isn't perfect that is what makes it most beautiful. The moments where you discover your strength and your bravery and your capacity to love another person aren't in the moments when everything is smooth sailing. They are in the moments when you surprise yourself with this deep strength tucked inside.
They are in the times when you simply decide to give yourself grace and keep on trying. They're when you pull up your bootstraps. When you decide that even if it isn't perfect that life is beautiful. They're in the simple seconds of breath in between the crazy moments of stress. It's in simply being a mom and trying again and again and again.
4. Let Your Kids Be Kids. They are kids. They are not mini adults, nor mini-you's. They are unique, fabulous, challenging at moments, wonderful, crazy, energetic, emotional, crying, laughing, jumping on couches, learning, unbelievably cool, independent people. And right now, they are kids. They are learning what it takes to be adults, they are growing, and they need to be taught.
But they also need to be kids. They need to spend times making messes. Playing with paints. Running outside. Creating. Building. Taking apart. Laughing. Learning. Jumping. Exploring. Reading. They need to be kids. And you can gift them with that space – that wonderful space called childhood that can so easily be sucked out of the everyday by the busy demands of our culture. Let them be kids.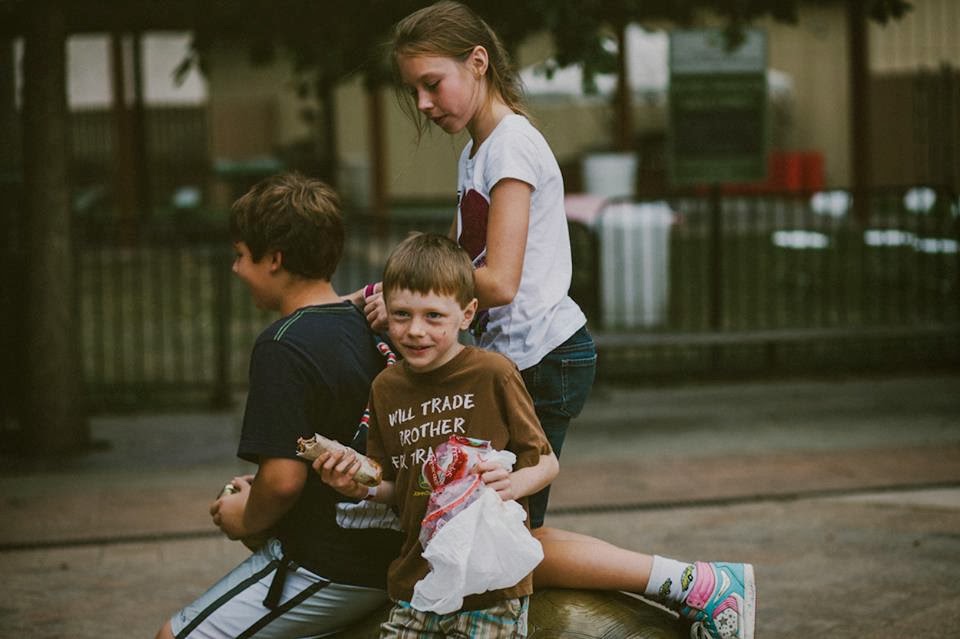 5. Celebrate the Little Things. My hashtag that I put on almost every single instagram that I do is about the little things  – find me at finding_joy – and there's a reason. Life is a collection of these little moments, these snippets of time, that when woven together creates your story, your life, your motherhood journey. It's easy to constantly look to the next big event as the moment that will make motherhood amazing or your kid's life fabulous. We all know those moments are fabulous.
But so are the simple moments. Looking at the stars at night and pointing out Orion's Belt. Letting your three year old dump the powdered cheese into the macaroni noodles and letting them stir. Playing in the sandbox together. Reading books at night. Being a family. Maybe your time is fragmented. Maybe you only have moments at night. Those times matter. Greatly. Your seven year old will remember the extra scoop that you put in the ice cream. Or when you let him stay up fifteen minutes later. It really is the little things.
Five steps.
Here's the real secret -> You probably already do these things.
Maybe instead of this being a post about being a better mom it's a post telling you why you're a fabulous mom.
Onward brave mother. Onward.
Those kids grow. You're doing fine. One day, one mothering moment, after another.
What things would you add to this list? I'd like to put on there that laundry completed doesn't matter. And you? 
~Rachel
the, oh so not perfect mom in the trenches with you.
PS – If you want to REALLY know about being a good mom and my thoughts on bravery and how perfectionism kept me stuck for years and how I broke it I'd love for you to read my book.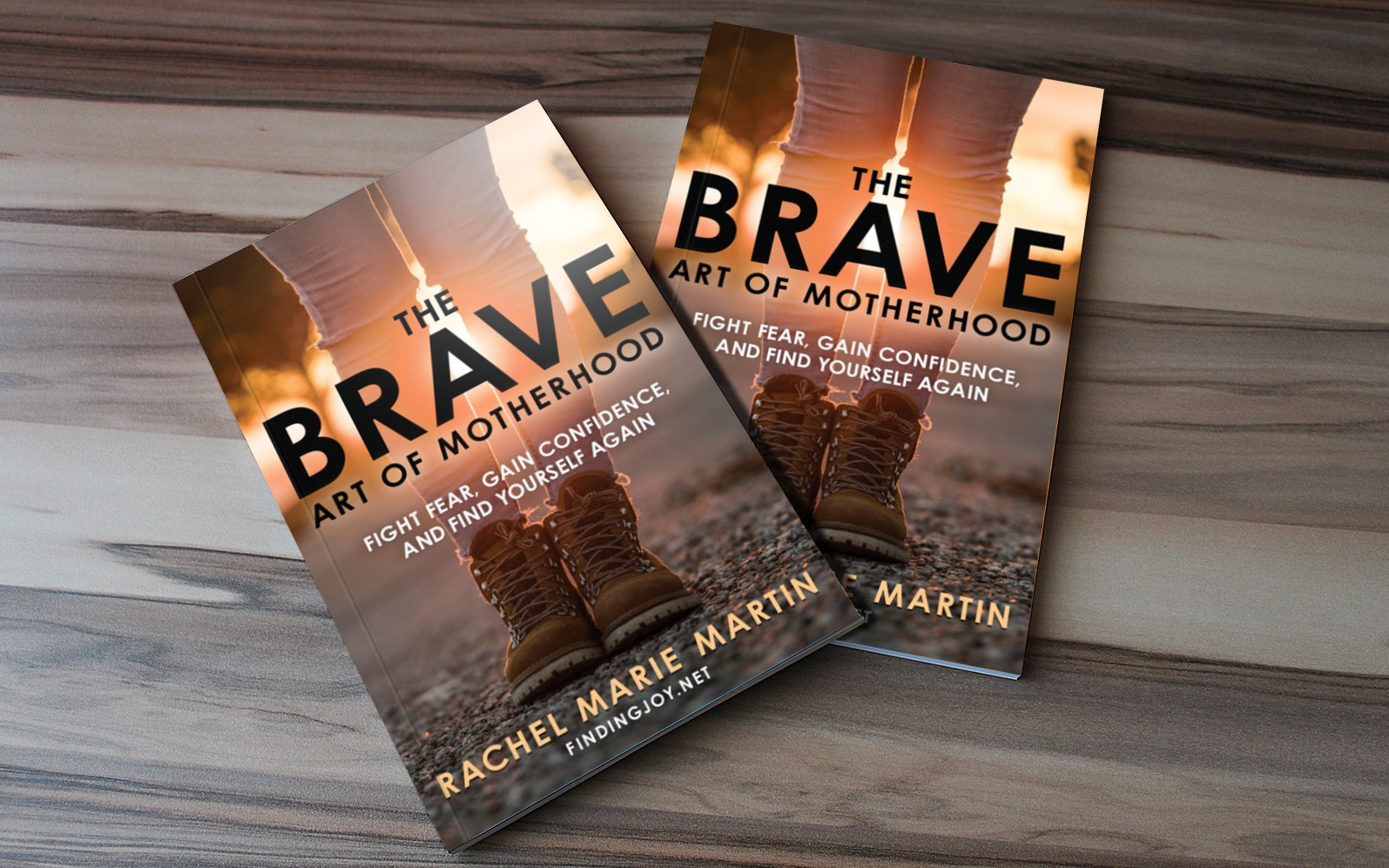 Images and original content are sole property of Rachel Martin and may not be used, copied or transmitted without prior written consent.